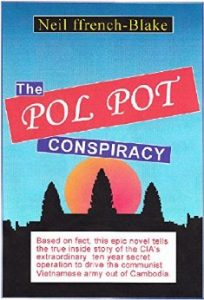 Many thanks to SWLing Post contributor, Mike Barraclough, who writes:
Neil Ffrench Blake is a former BBC producer and journalist who launched and was Managing Director of Radio 210, first station Mike Read and Steve Wright worked at. He was also involved in psychological warfare radio stations broadcasting to Aden, Afghanistan and managed ones to the Falkland Islands and Cambodia.

The Kindle book The Pol Pot Conspiracy, a work of fiction, but solidly based on autobiographical fact, covers in one of its chapters his work on Radio Atlantico del Sur.

[Radio Atlantico del Sur was] run during the Falklands War using requisitioned BBC transmitters on Ascension and aimed at Argentinian conscripts. [T]he majority of the book [focuses on the] Voice of the Khmer (on the air from 1985 to 1992) and operated by members of the two non-communist factions who were in alliance with the Khmer Rouge and opposing the government set up following the Russian backed Vietnamese invasion of Cambodia in 1978.

Radio Atlantico del Sur met opposition in Whitehall particularly from the Foreign Office and from Douglas Muggeridge at the BBC World Service though behind the scenes he says the BBC could not have been more co-operative. This resulted in stories fed to the press about amateur broadcasters speaking the wrong kind of Spanish which Neil asserts are not true.

Voice of the Khmer received covert funding from the CIA, some of which was siphoned off by the corrupt Thai military. It was received worldwide on 6325 [kHz]. Transmitters were in Thailand or just over the Thai-Cambodian border in areas not controlled by the Vietnamese.
Details of the background to the book and link to it on Amazon below.

It's long and perhaps overly detailed in parts but written in a very readable style.

Two links to a summary of the 20 May 1982 programme of Radio Atlantico del Sur and an interim assessment of its programming in the comments:
Thank you for sharing, Mike!