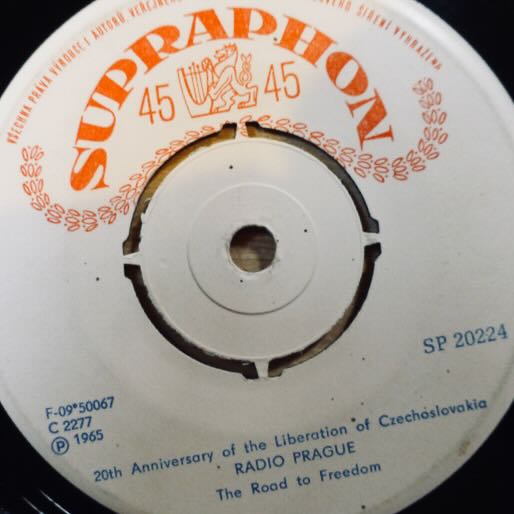 Many thanks to SWLing Post contributor, Mike Barraclough, who shares the following partially in response to Sam's search for the Radio Prague's Forward Left interval signal:
---
In 1965 on the occasion of the 20th anniversary of the liberation of Czechoslovakia Radio Prague offered their listeners a free copy of a 45rpm record they'd produced. There were 5 versions issued with commentaries in German, English, French, Italian and Spanish. Information and images here, at the time of writing there are two copies of the French edition for sale from record dealers.
https://www.discogs.com/artist/463619-Radio-Prague-2
I've digitised my copy of the English one I received.
Side One
Side One Recording
Side One has a recording of their interval signal at the time and the Communist Anthem Forward Left it is taken from.
Side Two
Side Two Recording
Side Two The Road to Freedom has an account of the liberation of Czechoslovakia in early May 1945 and the role of Radio Prague during it with recordings of their broadcasts, including one in English, at the time.
I'll be submitting a slightly expanded account of this to the British DX Club for next month's bulletin as picking up Radio Prague and other English language stations from abroad on mediumwave such as Radio Moscow was the reason I bought a shortwave receiver. Living on the East Coast of the UK I could pick up AFN Bremerhaven daytime as well as a Dutch station Radio Veronica playing pop records all day as an alternative to the BBC. Radio Luxembourg, which you've most likely heard of, for nightime listening. Will check, think it would be early 64 when I bought my first shortwave receiver.