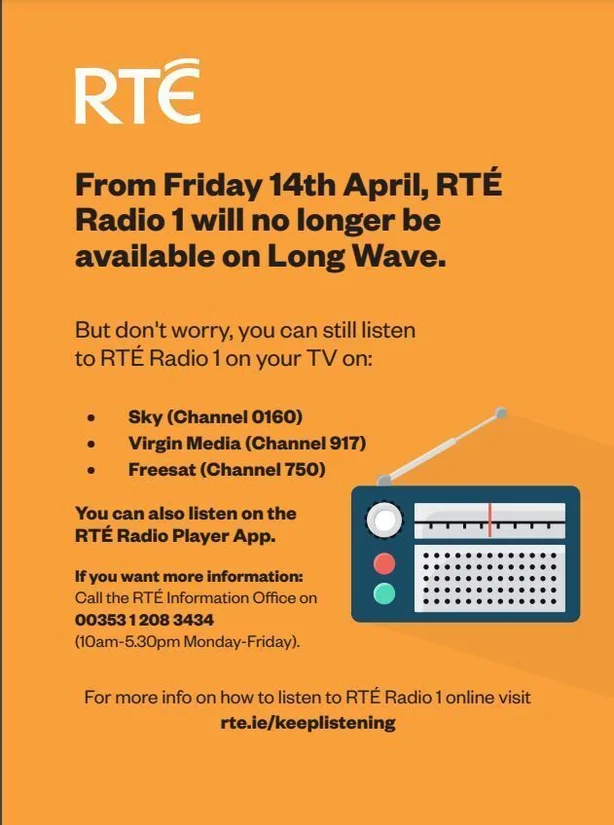 RTÉ has announced that it is ceasing the long wave 252 service for Radio 1 from next month.
The move was originally announced in 2014 but was postponed because of protests from Irish organisations in Britain.
RTÉ said in a statement that the LW 252 is no longer sustainable as the transmitter in Summerhill, Co Meath uses up 2.5% of the organisation's energy use.
The current cost is €250,000 a year and this could rise to £400,000 next year, it says.
When the move was announced originally there were complaints from Irish people in Britain, particularly the elderly, who would no longer be able to get RTÉ Radio 1 on their transistor radios.
The closure was deferred – initially for three years – but the long wave service will now end on Friday 14 April.
However Radio 1 will be available in Britain to listeners on Freestat (channel 750), Sky (channel 0160) and Virgin Media (channel 917).
It will also be available on streaming devices including RTÉ Radio Player and Irish Radio player apps.
In Ireland it will continue to be available on FM as well as through TV channels and online. [Continue reading at RTÉ…]
RTÉ Radio 1 will cease broadcasting on Long Wave 252 from Friday 14th April 2023.
The station continues to broadcast on FM, on Saorview and Saorsat, along with RTÉ Radio Player and Irish Radioplayer apps.
In the UK, Radio 1 will still be available on Freesat, Sky, and Virgin Media, along with online streaming services such as smart speakers.
The phasing out and closure of the Long Wave service was one of the recommendations of the Future of Media Commission Report which was published by the Government in July 2022. This was part of a wider recommendation aimed at ensuring RTÉ could invest available resources in innovation and digital services. [Continue reading at Radio Today…]