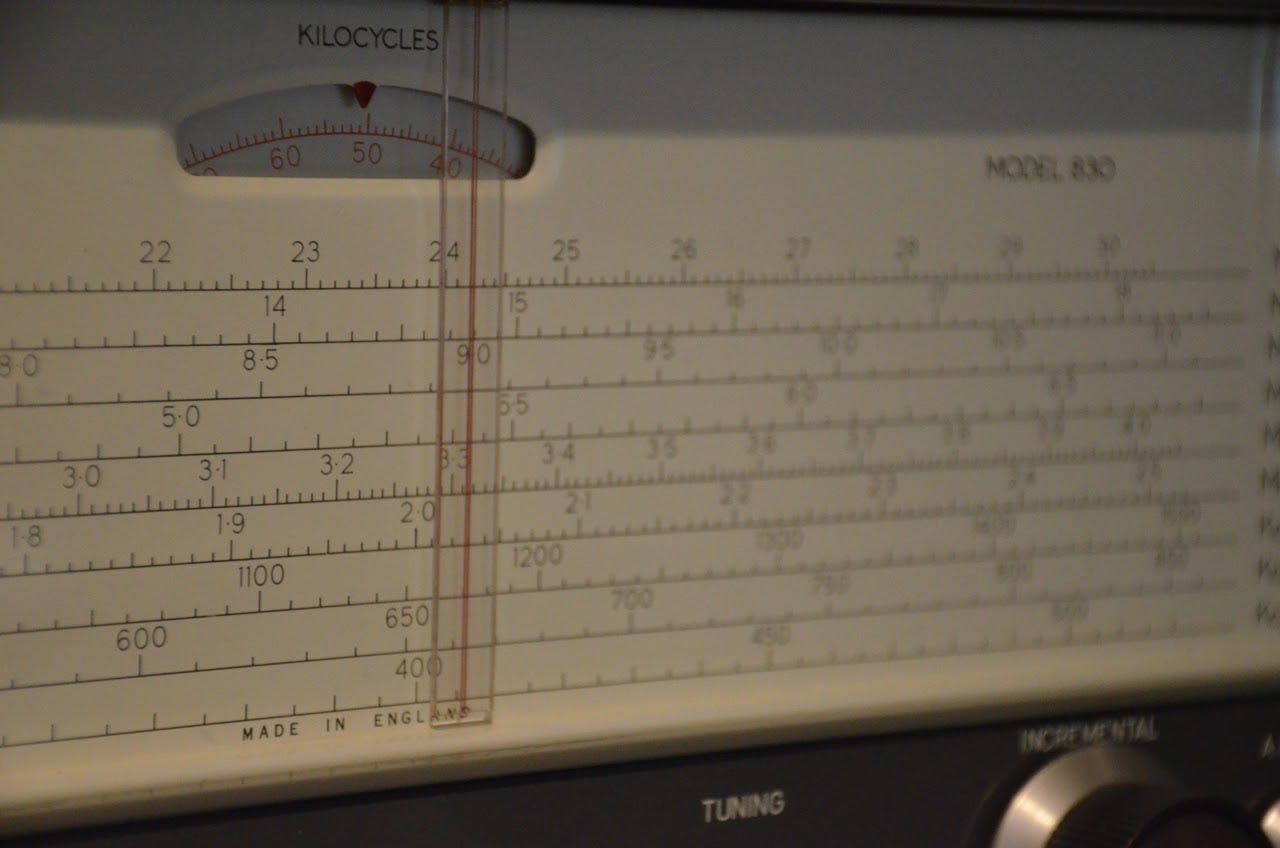 Radio Waves:  Stories Making Waves in the World of Radio
Because I keep my ear to the waves, as well as receive many tips from others who do the same, I find myself privy to radio-related stories that might interest SWLing Post readers.  To that end: Welcome to the SWLing Post's Radio Waves, a collection of links to interesting stories making waves in the world of radio. Enjoy!
Many thanks to SWLing Post contributors David Iurescia, William Lee, and Radio Ado for the following tips:
---
Saturday, March 27 at 2:00 p.m. via Zoom – Learn the true and inspiring story of centenarian Agnes Joan Negra.  During World War II, using her shortwave radio from her home in Nutley, NJ, Agnes listened to Radio Berlin each night and notated the names of U.S. Prisoners of War as they were announced.  Agnes then went on to send personal letters to each family to inform them that their loved ones were still alive.  Author, Nutley native, and Son of Agnes, Ronald along with his wife Valerie, will discuss the creation of this book and this inspiring story of his mother.  You must register in advance at nutleypubliclibrary.org/waves-of-hope to attend.  When registering you will receive a confirmation and one day before the event you will receive an email with log-in instructions through Zoom.[…]
"People have learnt that they can listen to radio in new ways and they will be listening to more, not less, when the pandemic is over," according to HT&E chief executive Ciaran Davis.

Speaking to radioinfo this week, Davis explained that the company had "a very tough second quarter" in 2020, but the rest of the year turned out better than expected.

"There was a huge improvement in quarters 3 and 4, compared with that horrible quarter 2 where radio revenue was back 46%," said Davis.

With about 30 people losing their jobs at the height of the pandemic, "regular communication and honesty was important in getting the staff through the worst of the pandemic." It was "a very unsettling time" but the company "kept people involved and focused on the positive," which kept the company performing well despite the tough economic conditions.

After early pay cuts, salaries have now returned to normal. "The revenue book was empty, so we had to take the decision to cut pay, but radio listenership and advertising has come back strongly and more quickly than we thought it would then… we were looking at some troubling numbers if the pandemic had of kept going."

Luckily, the worst fears were not realised. HT&E revenue was 22% down on the previous year, but could have been a lot worse. The outlook seems positive for 2021.

"I think there was a perception that radio would suffer the same fate as out of home because people were not listening in the car during lockdowns, but it didn't.

"We in the industry knew that our content is engaging enough, strong enough, local and live enough to be resilient. The emotional bond between listeners and their favourite stations and personalities meant that they easily switched to new platforms when they were at home. It took some convincing for the ad market to understand that this had happened, but they understood in the end.

"This is an exciting time. I think people have learnt that they can listen to radio in new ways and they will be listening to more not less when the pandemic is over."[…]

Read more at: https://www.radioinfo.com.au/news/people-will-be-listening-more-radio-when-pandemic-over-ciaran-davis © Radioinfo.com.au
RTÉ is to cease transmission of its radio services on the Digital Audio Broadcast (DAB) network on 31 March.

However, its digital radio services, RTÉ Gold, RTÉ 2XM, RTÉ Radio 1 Extra, RTÉ Pulse, and RTÉjr Radio, will remain available on other platforms.

In a statement, the broadcaster said the move to cease DAB transmission was driven by three main factors – the fact that DAB was the least utilised platform in Ireland; that RTÉ is the only Irish broadcaster on the DAB system, and cost avoidance.

A public information campaign will be held to show customers how they can continue to access the digital stations.

In 2019, RTÉ had announced that its digital radio services would cease transmission as part of cost cutting measures.

However, although the DAB service will stop in March, the stations will now still be available on other platforms.

The broadcaster said this is due to the value audiences still derive from them.

The latest JNLR report, Radio in a Digital World, compiled by Ipsos/ MRBI, found that while 8% of the population in Ireland (330,000 people) are accessing radio stations via digital means, the smallest number in this cohort opt for DAB.

According to the report, just under 5% of adults in Ireland listen to radio via a mobile device, 2% listen on a PC, around 1.5% listen on a smart speaker, 0.6% listen on a TV set and 0.5% DAB. 77% of adults in Ireland listen to radio on FM.

For details on how to continue to listen to RTÉ digital radio services visit www.rte.ie/keeplistening 
In 2007, the Voice of America ceased operations at the Delano Relay site in Central California. The site is destined to be bulldozed along with several relics of Collins Radio Company's Broadcast Communications Division. The Collins Collectors Association, with assistance from the Antique Wireless Association, hatched a plan to retrieve one of the Collins 821A-1 250 KW Shortwave Transmitters from the site and place it on display for all to see. This presentation gives some history of VoA and the Delano site and follows the disassembly and relocation of Delano Relay DL-8.

Dennis Kidder, W6DQ, is a retired Aerospace Engineer, having spent nearly 45 years in System Engineering. His career spanned many fields – from building and operating large scale sound systems, computer systems used to publish newspapers and control communications satellites, 4 years as the Chief Telecom Engineer during the construction of the New Hong Kong International Airport, and finally, air defense radar systems and networked radio communications systems used by the military. First licensed as WN6NIA then WA6NIA over 50 years ago, Dennis was granted the callsign of one of his High School Elmers, Chek Titcomb (SK), W6DQ. Amateur Radio has been a nearly life-long passion.
---
Do you enjoy the SWLing Post?
Please consider supporting us via Patreon or our Coffee Fund!
Your support makes articles like this one possible. Thank you!