I had a number of important plans and goals yesterday which I conveniently set aside to build kits instead. Have you ever had one of those days?
Building kits is a little like therapy for me. I find it relaxing, fun, and it gives me an opportunity to tune out everything else in the world while that soldering iron is hot.
The first kit I built was one I purchased this year at Hamvention: the Ham Radio Workbench 12 VDC Power Distribution Strip.
I've been on a search for two types of fused Anderson Powerpole distribution panels: a portable one for the field with at least 4 ports, and a large one for the shack with 12-16 ports and at least two USB 5VDC ports.
Sadly, there is no large one on the market that I would like right now. I checked every vendor at Hamvention and the Huntsville Hamfest this year and while there are large panels available, none of them have USB ports. That and the price for a 12-16 position DC distribution panel can easily exceed $120.
As for the small panels for field use, many of them are a bit too bulky and pricey. The inexpensive ones lack individually fused ports.
My buddy Dave (K4SV) knew I was on the hunt, so at Hamvention he directed me to the Ham Radio Workbench podcast table. There, I found the ideal portable solution in kit form.  And the price?  A whopping $25.
Take my money!
Yesterday, I built the kit in near record time. It went together so fast, I forgot to take progress photos.
What I love about this DC distribution kit is it actually has more features than other products on the market:
There's a green LED to indicate power has been applied to the panel and a red LED to indicate any faults
Each position is individually fused with standard blade fuses
Each position also has a red LED to indicate if the fuse has blown
I also love the size and configuration.
The kit does not come with an enclosure or base of any sort, so I had planned to simply attach it to a dielectric plate to prevent the bottom of the board from shorting on a conductive surface.
This morning, however, I discovered a 3D-printed enclosure from Rocket City 3D: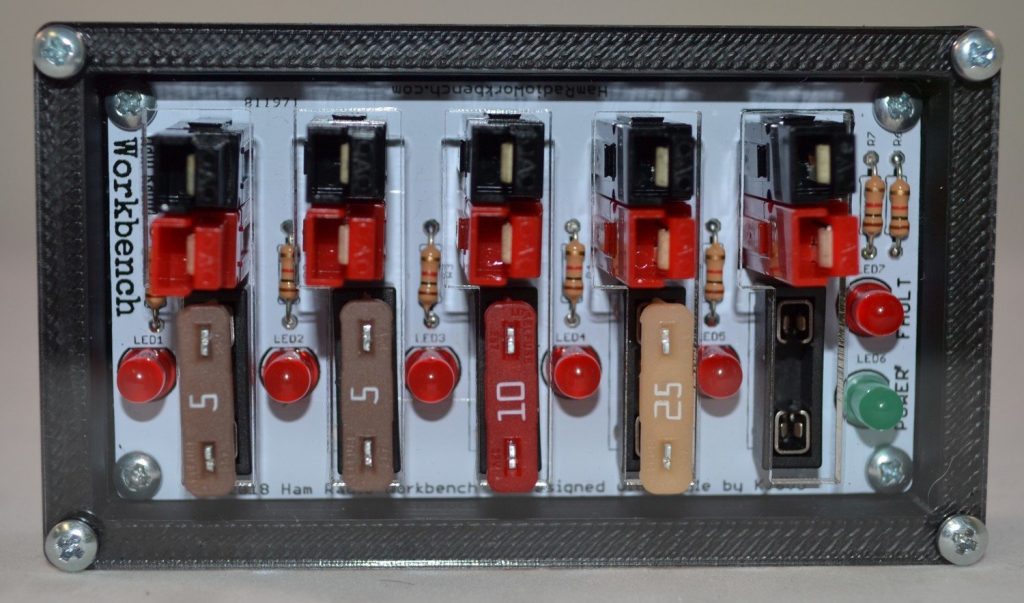 This enclosure protects the entire panel on all sides so I'll be able to throw it in my backpack and not worry about the connectors snagging on other items. The price is a reasonable $12 shipped. Done!
This little DC panel pairs well with the 4.5 aH Bioenno Lithium Iron Phosphate battery I purchased on sale at the Huntsville Hamfest. Together, they'll power the portable SDR system I'm putting together. More on that in a future post! Stay tuned!
Click here to check out this kit at HamRadio Workbech. It's currently out-of-stock, but you might contact HRW and see if a future run is in the works. Click here to check out the custom enclosure from Rocket City 3D.
UPDATE: I understand Ham Radio Workbench may eventually print the circuit boards for this project. In the meantime, another affordable option I've used is this pre-built panel from Electro Sales on eBay: https://ebay.us/UyJPkh
---
Do you enjoy the SWLing Post?
Please consider supporting us via Patreon or our Coffee Fund!
Your support makes articles like this one possible. Thank you!