The National Geographic online store has a few Grundig radios on sale. Most notably, the Grundig G8 for $24.95.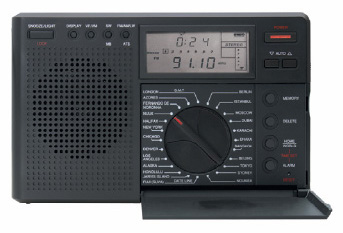 The G8 is a great little shortwave receiver. I'm very impressed with the performance, especially for a $25 radio (normally, these sell at retailers for $50.00 US).
Features include:
FM/MW/SW/LW
Auto/manual tuning
Auto Tuning Storage (ATS) function (on FM, this will auto-populate memory slots with available stations)
Digital tuning with digital frequency readout (LCD)
Local timer setting + world timer settin
Sleep timer & alarm clock (either radio or buzzer
Snooze
Key lock function
3.5 mm headphone output
DC jack – 6V
Comes with warranty, manual and a nice travel case
Of course, with a radio in this price class, there are some compromises:
No single-side band.
There is muting between frequency changes, so while tuning you will notice a slight "chug" sound.
No manual gain control.
Speaker is small, though audio (as with many Grundig portables) is quite impressive.
At $25 US, this is a no-brainer. Pick up a G8 today as I have no idea how long this sale will last.
If you're reading this post after the National Geographic sale, check G8 prices at the following places:
G8 documentation: