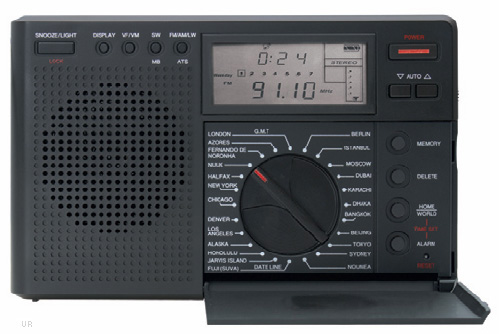 Many thanks to SWLing Post reader, Mike (K8RAT), for informing me that the Grundig G8 Traveller II is now available for a close-out price of $34.98 at Universal Radio and $33.99 at Amazon.com.
I'm sure this low price is to make space for the new Eton Traveller III.
I owned a the G8 Traveller II for a few years and eventually gave it to a friend. It's a simple radio, but quite an effective receiver. I love the international time dial (and glad they kept it on the Traveller III)–it came in handy when crossing time zones.
Negatives? Well there is no keypad for direct entry, very few controls and the receiver mutes between frequencies. Still, the audio is great and it gets high marks from me for MW/SW and FM reception.
For $35, it's an excellent bargain for a handy, über-portable, travel radio. I'm tempted to buy another…