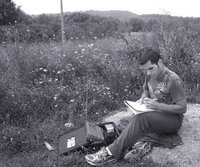 Myke Dodge Weiskopf, who we've mentioned on the SWLing Post for his shortwave radio recordings, has informed us that he will be hosting a long-form radio show May-19-20th, showcasing live radio recordings from Mali. You can listen to the show online, or live (if you live near Cambridge, MA, USA).
Details from Myke:
I'll be producing and hosting another long-form radio broadcast on the music and sounds of Mali for WHRB 95.3 FM, Cambridge, MA (USA). The broadcast is part of the biannual WHRB Orgy® tradition.

Mali is perhaps the most popular and influential hub of African music. This continuous, 22-hour-long broadcast will feature rare live recordings from more than a dozen of Mali's finest homegrown musicians and bands, as well as extensive folkloric and regional music from the libraries of Malian state and community FM broadcasters. Recordings were made in January 2012 during a three-week overland journey ranging from the country's capital, Bamako, to the legendary Saharan city of Timbuktu. Fans of Malian music, African community radio, and world folklore should consider this required listening.

Available via terrestrial FM (95.3 FM) or streaming online at www.whrb.org.

The details in short:

FROM HERE TO TIMBUKTU: The WHRB Mali Orgy®
WHRB 95.3 FM (Cambridge, MA) or www.whrb.org
START: Saturday, May 19 (1800 UTC / 1 PM EDT)
END: Sunday, May 20 (1600 UTC / 11 AM EDT)

Further details will be posted soon at www.maliorgy.info.