This past weekend was the Ten-Tec Hamfest, which is held each year at the Ten-Tec factory in Sevierville, Tennessee, USA. I'm particularly fortunate in that I live within a few hour's drive of the factory, so I make it a point to attend the Hamfest each year.
Hamfests, for those of you not familiar with them, are basically flea markets or swap-meets for amateur radio operators and radio enthusiasts of all stripes.  It's a place to reunite with hobbyist friends and to trade, sell, or purchase new or used radio equipment. The Ten-Tec Hamfest is free, draws a sizable crowd, and what's more, attendees get the opportunity to try out Ten-Tec radio equipment and tour the factory where their products are made. The Hamfest also coincides with the annual SEDCO DXer/Contester Conference, which is held in the same town, and begins just as the Hamfest winds down.
This year, I had not intended to buy anything. Still, I'm pleased to admit I bought only one item…
My purchase:  an LS-166/U loudspeaker. This small speaker has been used extensively in military operations around the world. It's built like a tank, was perhaps mounted in some, but used primarily used in Jeeps, trucks, and on portable radio packs. The case is made of metal and extremely durable. The two watt speaker has a permanent magnet.  It is also fungus, gunblast, and immersion resistant:  if you drop this speaker, you don't need to worry about damaging it–rather, you may need to worry about the floor (or your foot).
The really cool thing about this speaker is that it contains an audio transformer that–via a switch on the side–will allow you to chose between a 600 ohm primary and 8 ohm secondary impedance. The speaker sounds crystal clear, even though mine has obviously received extensive usage. That's the great thing about military gear–it was designed for functionality, often over-engineered, and certainly built to last!
The LS-166/U is not for listening to music–it was designed primarily for radios that require a high impedance load, and for voice audio clarity. If you're receiving orders over the radio from your commander, the LS-166/U will punch through the noise from your vehicle and surroundings. It sounds "tinny" if used to listen to shortwave broadcasters, but is actually quite effective when used to listen to amateur radio transmissions and morse code. The 300 Hz to 7 kHz frequency response is ideal for this type of application.
The first rig I hooked up the LS-166/U to was my Hammarlund SP-600, which has a 600 ohm output. Though I know I can hook up a larger, more responsive speaker for better fidelity, there is something rewarding about hearing a speaker that has seen so much service being used once again, and still playing as if new.
As you can see from the photo below, mine lacks the knob on the side of the case.  I'll be looking for one of these at the next Hamfest–or may just order one from Fair Radio.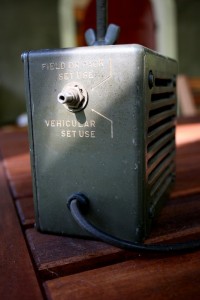 If you happen to locate the LS-166/U loudspeaker at your local Hamfest, grab one! There are a lot of them floating around and they're usually quite affordable–typically between $10-20 US (more if mint). I was lucky to pick mine up for $4. Not only is it an affordable piece of military radio history, but I think it would make an excellent external speaker for amateur radio use during outdoor events like Field Day. Indeed, I think this speaker will weather any radio challenge!
So, what else did I see at the Ten-Tec Hamfest this year? Quite a few classic receivers. Though I didn't take many photos, I did snap a few gems…
Photos