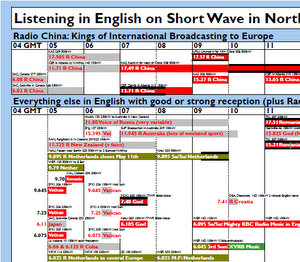 SWLing Post reader, Alex, has just informed me that he's updated his shortwave frequency charts once again. Alex said he has, "improved the layout of the charts so that they have a bigger, clearer type." He continues:
"They should be more legible this time, even if you print off from a basic printer and carry the bits of paper around when travelling. They also now divide the day into Early and Late, rather than Dark and Daylight, which seems to work better."
Note that Alex creates his charts based on actually listening to broadcasters, rather than importing schedules from other sources.
You can download the free charts on his website:
Shortwavetimes.com
Here are the direct links to download the charts:
Thanks, Alex, for the time and dedication you put into these fine charts!