As I've mentioned before, I love to travel with one bag and efficiently pack my radio gear.
This year at the Dayton Hamvention, my good friend Eric, retiree of the Air National Guard, took me onto the nearby Wright Patterson Air Force Base. Eric is a good buddy and fellow ham, and for several years now, we've made it a point to visit both the National Museum of the US Air Force and Wright Patterson AFB while at the Hamvention. This year he was in need of some gear, so we visited the store where those on active duty purchase Air Force-approved gear and clothing. Being a bit of a pack fanatic, I of course quickly found the backpack section. I was searching for the perfect small radio gear pack, and I think I found it: The Spec-Ops Pack-Rat Organizer
.
.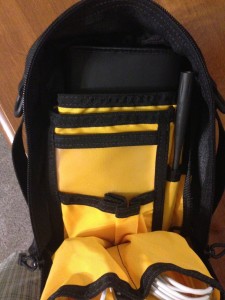 This little pack (roughly the size of a larger-format paperback book at 10″ high, 7.25″ wide x 3″ thick) is built very well–it seems nearly bullet-proof.  It immediately suggested several uses. Here are a few of its advertised features:
14 separate storage compartments/ slots
A unique "inside-out" design which allows for instant open access while inside packs
12″ gear-keeper leash for keys, lights, etc.
Clear business card/ID window
External mesh pocket
External accessory loops and carrying handle
"D"-ring attachment points for optional shoulder strap
Fully zippered perimeter allows for a 90° opening
Extremely tough Cordura® 1000D nylon exterior lined with heavy duty nylon pack cloth
Fully seam-taped interior
High-tensile nylon web attachment points and
Bar-tack reinforcements at critical stress points
One glance at the Pack-Rat, and I knew that one of its two largest interior pockets could hold my larger shortwave portables, the other could hold my Kindle Fire tablet, and there would still be plenty of room for wires, cables, accessories, and headphones.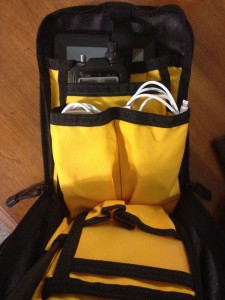 After bringing it home, I was simply amazed at exactly how much gear it could readily hold.  And indeed, this summer I've taken it on several trips; including my July trip to Belize for which I packed all of my gear into one small convertible carry-on pack (a small Timbuk2 Wingman
).
Here's the list of items I stashed in the Pack-Rat:
Grundig G3
Kindle Fire and power cord
Zoom H2n Handy Recorder with wind screen and mic stand holder
Eight AA batteries
Ear buds
Icom ID-51A HT and adaptor
2 Cliff Bars (a guy's gotta eat!)
3′ stereo audio patch cable
two alligator clip leads
keys
pen, pencil, notepad
At this point, the little pack was full, but could close very easily and didn't even bulge on the sides; even with all that (somewhat bulky) gear inside.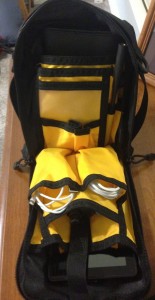 Best yet, as I moved around in town, I could use the shoulder strap from my convertible backpack on the Pack-Rat, making it very easy to carry. Even though most of the internal pockets are open from the top, I never had anything fall out, even when the pack was upside down.  When the pack shuts, it seems to put enough pressure on the pockets to hold items securely. It's bright yellow interior makes it very easy to see the contents even in dim conditions, such as on a night flight.
Spec-Ops packs
are made with pride in the USA and obviously meet military standards for durability and construction. They also carry a lifetime warranty. You don't have to visit a military base to purchase one, either: Spec-Ops has an online store where they carry their full product line. Spec-Ops Brand also has a store on Amazon.com.
You'll find the Pack-Rat on this page–note the number of positive reviews from customers.