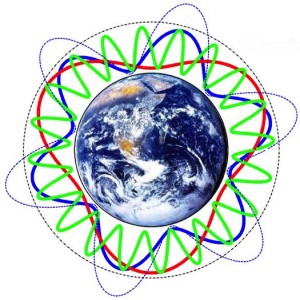 Two weeks ago, at the W4DXCC conference in Tennessee, I met Lyle Juroff (K9FIK). Not only did I find that Lyle and I had many radio interests in common, but he also told me a story about hearing, recording and analyzing a double echo on the HF bands. I asked if he would explain in an email and include the recording so that I could share it on the SWLing Post. He kindly agreed!
Lyle writes:
I worked a DX station [9A1A] on 10 meters this past spring.  As the band improved, I heard an echo develop on his signal and guessed it might be long path so I began recording the audio.   I then began to hear a double echo and looked at the waveform on AUDACITY.  The timing marks on AUDACITY indicated 140 milliseconds between echos.

I went to Wolfram Alfa, one of my go-to sights for things I can't remember, and looked up the earth circumference.  It not only gave me the distance but also the time to travel it at the speed of light,  133 milliseconds.   Not sure if everyone working DX has heard this sort of thing, I played the recording at the next East Tennessee  DX Association meeting.  Nobody said they had heard that kind of double echo.
Click here to download an mp3 of Lyle's recording or simply listen via the embedded player below (note that the second recording is .WAV format):

Have you heard a double echo this profound? Please comment.
Many thanks to Lyle (K9FIK) for sharing his story!