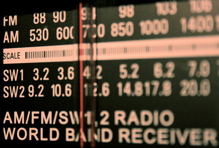 Neil Goldstein's radio story is the latest in a new series called Listener Posts, where I will place all of your personal radio histories. If you would like to add your story to the mix, simply send your story by email!
In the meantime, many thanks to Neil for sharing his personal radio history:
---
Neil Goldstein
I developed a love for electronic things in general at a very young age. My folks had a huge problem with me taking phonographs apart to try to figure out how they worked. I remember my older brother Lee, starting a log of AM radio stations that he could receive, and getting a Wards Airline multiband radio that received Shortwave. It was right about then (early 70's) that I was given my first Shortwave radio. We had a family friend who lived nearby that had traveled the world. She referred to herself as The Baroness Charlotte Serneaux Gregori. She owned an import/export company in New York, and was an accomplished painter of abstract art. Her house was filled with things she had collected in her travels, and she found out that I was curious about Shortwave radio. She gave me a small National Panasonic AM/SW transistor radio. That hooked me.
My second radio also came from her. Another National Panasonic. I still have this one, but it is not functional anymore. I went through a series of radios, including some of the classics (Panasonic RF-2200, Sony 6500, Sony 2010, Sangean 803a). I owned some Ham Radio equipment for a time, hoping to get my license, but that didn't happen till about 2 years ago.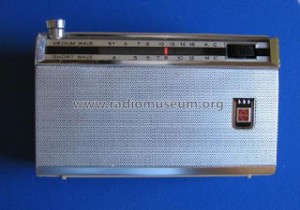 Charlotte passed away when I was a teenager. I have a couple of her paintings in my possession, as well as that radio. I recently purchased a Bulova AM-SW transistor radio that reminded me of the original one she gave me. I am having it restored to its original glory, which I hope to also have done to the second one. That might be a bit more of a job though.
I think one of the most valuable things I got from radio listening was to get more than one view on world events. When something happened in the world, I would listen to the BBC, Radio Australia, Radio Canada, Radio Tirana (for comic relief mostly), and many others.
These days I'm a licensed Ham. I love experimenting, and playing with low-power equipment, and I'm thrilled with the way Ham radio has embraced my career in computers now with digital modes, SDR, and so much more. I have gotten back into building things. I have to think that being a SWL for 40 years before getting my Ham license gives me a different perspective on the world of Ham radio. With everything going on in that world for me, I still listen. I'm a little disappointed in the direction that Shortwave radio is heading, but there's still something to hear, and multiple views and opinions to absorb. I miss the good old days, and wish I had some of todays technology back when there was more to hear. Can you imagine having a SDR in the early 80's?
---
Many thanks, Neil, for sharing your story!
Readers, be sure to check out Neil's blogs: Fofio! and Radio Kit Guide.
Click here to read our growing collection of Listener Posts.