Many thanks to SWLing Post contributor, Bill Rogers, for the following guest post:
---
"Lost Radio"
by Bill Rogers
When I was ten years old I lost my first wristwatch and my first radio. I think I have been trying to get them back ever since.
It was all part of a rather catastrophic family vacation trip around the Canadian side of Lake Huron, Port Huron across to Sarnia and then up around the shores of Georgian Bay all the way to Sault Sainte Marie and points north.
We had planned to go on around the north shore of Lake Superior too. We drove north to Wawa and saw the Goose statue. Then we headed north from there.
This was a long, long time ago, so I may misremember. But as I recall it, the Goose memorialized the completion of the Trans Canada Highway, and once past it you were really getting into the back end of beyond.
Not far past the Goose we came to what looked like a tollbooth, which surprised us. We hadn't been aware there were any tolls along the Trans Canada. Dad pulled up and stopped.
"Hello," the uniformed officer inside said. "Where ya going?"
"On around Superior."
"Good. When do you expect to get to Thunder Bay?"
Dad was curious. "Why do you need to know?"
"Oh, for your own safety. So we know to send out a search if you don't make it."
Dad looked around and back at all of us. "I think we should head back instead."
It was a wise choice. It had been a fun trip but it had a few challenges, so to speak.
We were five people in a white 1965 Dodge Coronet 440 pulling an old travel trailer we'd borrowed from one of my cousins. The Dodge was a comfortable car- it had an add-on air conditioning unit that occupied a good chunk of the space under the dashboard, and a radio (AM only of course) that worked well, and these were great luxuries at the time.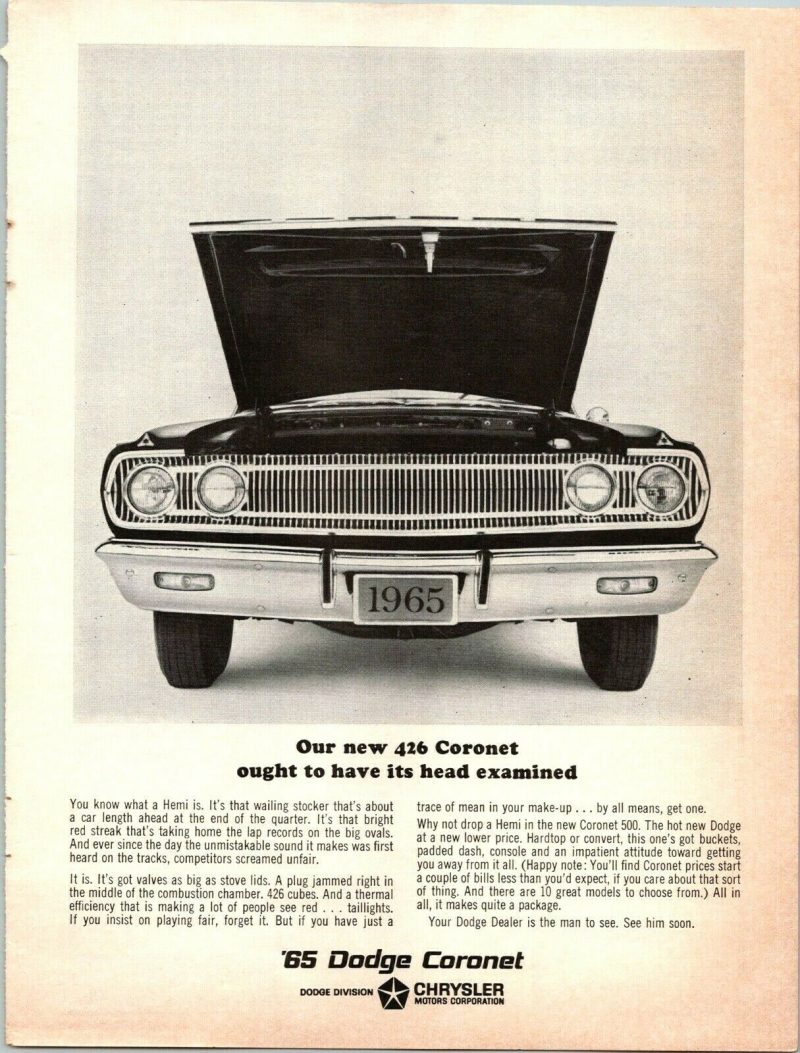 Dad had bought it used from his School District after it had served for a good while as a driver's education car. First call on surplus vehicles was one of the benefits of working for the school district, but I don't think being hammered by all those would-be new drivers had done the Dodge any good.
We'd borrowed the trailer. It was a heavy thing. The Dodge strained to pull it even though the car had a big V-8 engine. The trailer wasn't big either. I remember wood paneling and too-small windows that kind of opened to let the inside heat and outside heat mingle when you stopped for the night and tried to sleep. Dad grumbled that the trailer weighed twice as much as a newer one would have.
Having borrowed a trailer to use one time only, Dad hadn't gone big bucks on the trailer hitch. It simply clamped to the back bumper. Somewhere near Sudbury the bumper started to rip off.
That was another reason we wimped out and didn't go on around Superior. We were behind schedule. The loose bumper had made us lose several travel days.
We'd limped into the nearest campground on Friday and stayed there while Dad wandered around to locate someone to weld the bumper back on. On Monday he did. "Guy said 'This isn't strong enough to pull anything heavy, I'd better weld on a couple bars fastening it direct to the frame.' I told him that was a good idea."
Along the way we'd seen much beautiful countryside and lots of rock cuts for the highway. Rock cuts impressed me since I was from southern Michigan where actual surface geology is unknown.
We bought a pretty basket of fruit at a farmer's market and were 30 miles down the road before we found that everything below the top layer was green or rotten.
I had my transistor radio and was listening to it in the back seat. This was my first radio. It was a prized Christmas gift and made my sister jealous. "I was two years older than him before I got a radio," she sniffed. She kept track of things like that.
My radio was branded "Sportsman." That meant it came from the local hardware store where they also sold Sportsman brand outdoor gear and Sportsman brand rifles and shotguns.
I have no idea who actually made it. I can't remember what it looked like. I do remember it had a Genuine Leather case and an earphone for private listening.
It didn't work well in the back seat of the car, but I could get something if I held the radio up near the window. I listened to the different Canadian radio stations and noticed for the first time that Ontario English sounds just slightly different from my own, in a way that I can't really describe. The difference is tiny but it is there. In Ontario they do not say "out and about in a boat" as "oot and aboot in a boot" as we on this side of the Lake say they do, but there is the tiniest twist to the end of the vowels in that direction. I can't do it and I've made myself crazy trying.
At one point I picked up a Morse Code transmission at the lower end of the band, obviously a non directional beacon at the upper end of the longwave navigation frequencies. I played it for everyone in the car. They were not impressed. This is the first time that I learned most people aren't as intrigued by odd radio signals as I am.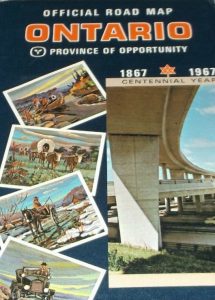 But I kept amusing myself with the radio. I borrowed our Province of Ontario official road map. As many road maps did, at the time, it had a listing of some of the more powerful radio stations, by city. That gave me signals to try for. I tried for the nearer ones and even received some of them.
The campground where we were laid up to have the car welded together was in an Ontario Provincial Park. The place was crowded because of some Boy Scouts gathering, but they found a place for us.
We went to the beach and did not feed the seagulls, since we were trying to be polite and proper and a sign said not to. But the gulls impressed me. Somebody must have been feeding them; there was a regular cloud of them.
We came back to find our trailer door pried open and a number of small valuables gone. Among them were my dad's transistor radio and mine; Dad's was his constant companion and must have been one of the first. Dad's cheap wrist watch and my child size, hand-wound Timex watch were gone too.
The most expensive item missing was Dad's "Palomar" binoculars. (In case you don't know, the Mount Palomar Observatory contains what was the largest telescope in the world for many years. It is still there, although with creeping streetlights making sky glare all across Southern California I doubt it is able to do as much research as it once did.) Transistor radios were still fairly costly back then, but binoculars cost a fortune.
We reported the theft to the park rangers who didn't care. Eventually one of them brought the binoculars back. "You left them on a picnic table on the far side of the park, near the Boy Scouts groups," he said. Which was quite a trick, in that we hadn't gone to that side of the park. Also he never explained why we would have smeared soap over all the lenses.
But the soap cleaned off easily and caused no permanent harm. My sister still has that set of binoculars. The watches and radios and whatever other small items we lost which (coincidentally, no doubt) could have fit unnoticed in a Boy Scout's pockets or pack were never seen again, at least by us.
Anyway, after the car was welded back together we continued on our way. We got as far as Wawa. From there we headed back south, crossed the International Bridge and the Mackinaw Bridge, and went home.
The transmission on the Dodge never was quite right after hauling that heavy trailer so far. That contributed to that car's early demise. (Of course it was the cheaper of the optional automatic transmissions, the two speed model instead of the three speed. The two speed automatic transmissions were always pretty crappy anyway.)
Today my home is crowded with more radios and watches than I know what to do with. Here at my writing desk I have three of each within sight, and there are plenty more here and there around the place.
I think I may have them all because I am trying in vain to get back that Sportsman AM transistor radio and that child-size Timex watch, the first radio and watch I ever had, the ones never saw again and never will. The sorrow of their loss might explain why I have collected so may others. It doesn't explain the fountain pens, though.