My friend, @K7al_L3afta, posted to Twitter, the following fax he decoded from the Kyodo News Agency on 12,745 kHz today: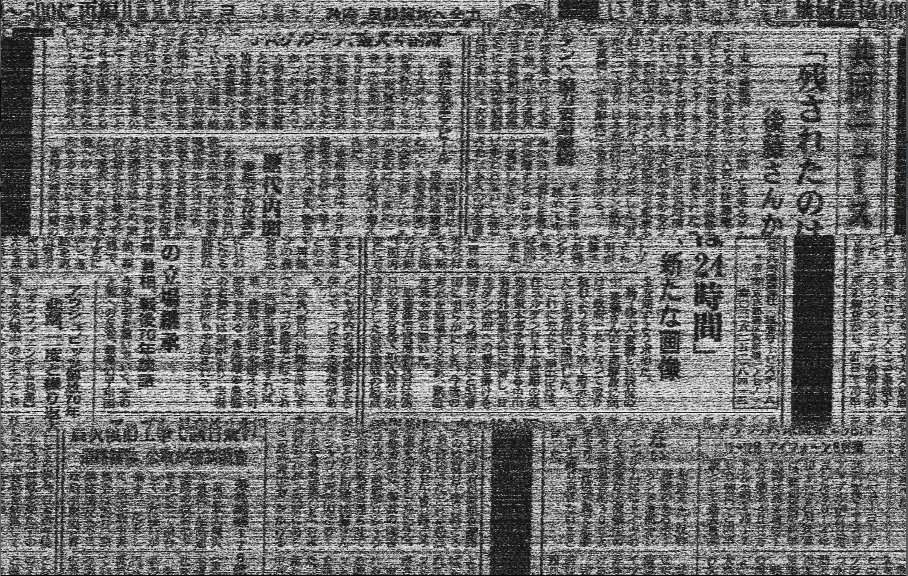 The Kyodo News Agency is possibly the last marine weather fax station which faxes daily news (full newspapers) and navigational warnings to ships at sea.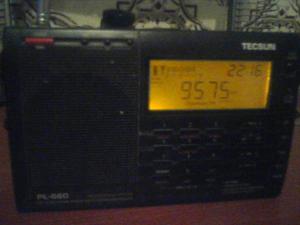 For those of you who might believe it takes a sophisticated setup to decode a FAX transmission, you would be incorrect. @K7al_L3afta uses only a Tecsun PL-660 portable hooked up to his PC running the MultiPSK application. He lives in Morocco–in an urban environment with lots of RFI as well, so those of you living in a similar situation should feel encouaged.
After posting the FAX image, our friend @LondonShortwave then sent a link to a Sony radio I have never seen before: the Sony CRF-V21.
The CRF-V21 is a full-featured shortwave radio receiver with built-in printer and decoding for FAX and RTTY. In fact, with an optional AN-P1200 satellite antenna, the CRF-V21 will even copy and print G.O.E.S. satellite weather transmissions.
Here is Universal Radio's archived description of the CRF-V21:
The Sony CRF-V21 Visual World Band Radio is the first portable to offer integrated facsimile (FAX) and radioteletype (RTTY) shortwave reception. You can print RTTY and FAX transmissions directly with the built-in thermal printer. Supported RTTY modes include Baudot at 60, 66, 75 and 100 WPM and ASCII at 110, 200, 300 and 600 bps. FAX shortwave speeds include 60, 90 120 and 240 rpm. Even G.O.E.S. satellite weather transmissions may be copied and displayed with the optional AN-P1200 satellite antenna.

Frequency coverage is 9 kHz to 30 MHz for all longwave, medium wave and shortwave frequencies. Plus FM coverage from 76 to 88 MHz and NOAA satellite channels 137.62/141.21 MHz. The optional AN-P1200 antenna system adds 1.6910/1.6945 GHz G.O.E.S. satellite reception. Another highlight of this radio is built-in spectrum display showing a visual picture of 200 kHz or 5 MHz of the shortwave spectrum.

Other refinements include:   Mini Earphone Jack, S Meter, 350 Alpha Memories, Carry Handle, Clock, 8 Event Timer, Scan, Sweep, FM AFC, Synchronous Detection, Attenuator, 6/3.5/2.7/14 kHz Selectivity, AF Filter, Record Jack, Dial Lamp, Keypad and LCD Contrast Adjustment.

The CRF-V21 is supplied with:  AN-V21 telescopic antenna unit, ACP-88R AC power unit, NP-227 battery, BCA-70 charge tray, antenna cable, protective cover, UPP-21 thermal printer paper and manuals. Operates from 110/120/220/240 VAC. Requires two AA cells for memory retention. 16.25 x 11.25 x 6.75 inches (21 lbs.).
The CRF-V21 is basically an all-in-one Holy Grail portable for those at sea!
@LondonShortwave also shared the following video of the CRF-V12 in operation:
Simply amazing. I love the display–reminds me of the Eton E1. I would expect excellent audio out of this rig as well.
When I checked today, there wasn't even one CRF-V21 listed on eBay–not even as a completed listing. I imagine they are rare indeed.
Out of curiosity, do any SWLing Post readers have a Sony CRF-V12 in their collection? I would certainly like to add one to mine someday.
Many thanks to my friends @K7al_L3afta and @LondonShortwave for this radio diversion today!