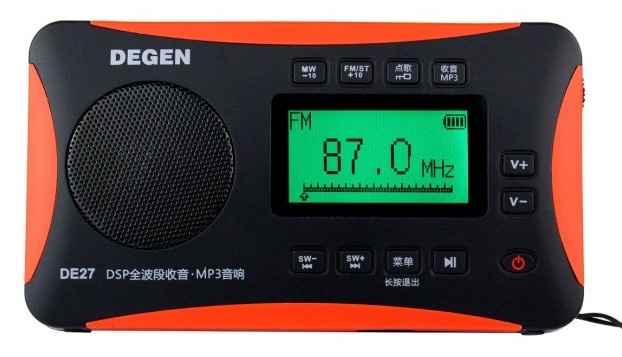 Many thanks to SWLing Post reader, Phil Ireland, who comments:
I've just received my Degen DE27 from China. Interesting little radio, I haven't had a good chance to put it through its paces yet but my initial impressions are the radio seems well built and fairly intuitive to turn it on.

However, all the instructions are in Chinese so luckily there was someone in my office who could set the language to english otherwise, setting up the radio is a nightmare! I will have to take the radio outside to test its performance as the office environment is useless to listen in.

The box says the radio tunes from 3.2 mhz to 21.850 mhz however, I havent been able to work out how to make it tune out of the standard SW Broadcast Bands yet. Toggling between 10 khz and 9 khz steps for AM is easy as it setting the FM band coverage but I'm yet to determine the SW settings. It appears tuning is only in 5 khz as well on SW.

As for venturing into MP3 settings and recording, I'll leave that, it seems too much of a challenge! The clock and calendar, sleep timer, alarms are all fairly straight forward but there is an "E-Book" setting which defies description! It has a USB flash disc function and inputs for a micro SD card. Charging the supplied Lithium battery is via a supplied USB cable.

The display is easy to read and attractive with excellent backlighting. I'm not expecting stellar performance on any band, after all, it was a cheap radio (about 40 AUD with free postage) but it is built around DSP architecture. Only a single bandwidth is available and there is no SSB capabilities. The radio hopefully will be ideal to throw onto a backpack or pocket as a travel portable.

If DEGEN read these comments, perhaps an English manual put online would be extremely helpful to allow users to get the most out of the DE27.

I'll comment more on the performance later but for now, the radio shows promise.
Thanks so much for sharing your initial impressions, Phil! Please keep us informed as you discover more about this little radio!
This reminds me that I have yet to put my Degen DE221 through the paces. Stay tuned!