As of February 1, 2016, the Internet radio pioneer Live365 has closed shop.
I imagine many SWLing Post readers are familiar with Live365, especially if you have a WiFi radio with the Live365 app.
While I've never been an avid listener of Live365, I have certainly enjoyed a wide variety of independent Internet radio stations via the platform.
Why did Live365 close shop? Here's what Forbes.com suggests:
"It is rumored that the service is being forced into early retirement because of new royalty rates that digital radio producers now need to adhere to. Late in 2015, the Copyright Royalty Board handed down its decision about what internet radio services will need to pay per stream, and it apparently hurt Live365 so much that it can no longer afford for the rights to play music. Companies like Pandora lobbied hard for the court to lower royalty rates for the next five years, and while certain kinds of streams will cost internet radio stations and services less, it will cost platforms more overall to continue to play music. This may not be the only reason why Live365 is going out of business, but it appears to have been a factor."
I'm sure the new royalty rates had had a major influence on the decision to close down. Here's a screen capture of the parting message from Live365's web site: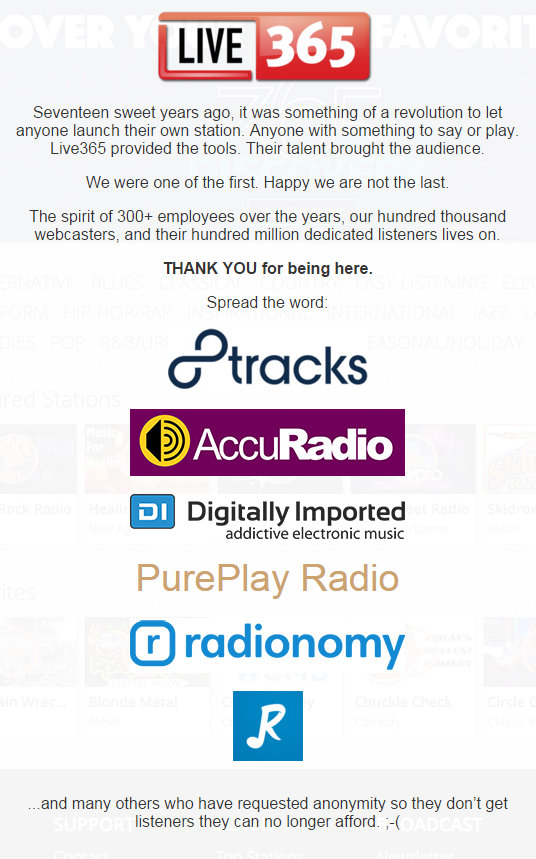 That is the conundrum of Internet streaming services: the more listeners, the more it costs to broadcast due to both bandwidth and royalties. Your success–especially when the music industry moves toward higher costs and more restrictions–might very well lead to your demise.
Perhaps this is where traditional over-the-air radio still has a small advantage–though the barrier of entry is much higher than Internet broadcasting.