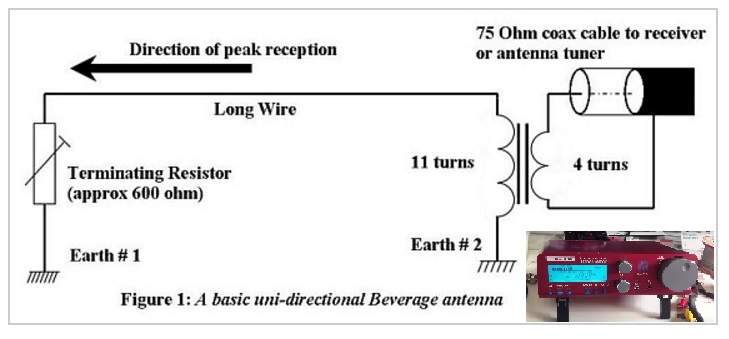 Hi there, I have finally deployed the Medium Wave Circle-design 200 metre Beverage antenna (schematic diagram above) at the woods I use in Oxford, UK. It was terminated at the 'front end' with a 650 Ohm resistor into a 1 metre-long, permanent copper earthing rod that I had previously driven into the ground, away from the route taken by the general public. The actual wire was orientated in a generally westerly direction, and thus nulling signals propagating from the east. At the receiver end, I utillised my self-built transformer, wound for a 50 Ohm input impedance (14 turns on the primary), thus making the entire set-up suitable for the Elad FDM DUO. It was quite a pain to set up, taking over an hour to deploy the wire and connect both earthing rods and the transformer! However, intial results are very promising and here I am very pleased to share 3 reception videos with you:
The reception from Colombia and Ecuador was unprecidented and both of these tropical stations sound like local AM signals, aided of course by the Bose SoundLink Mini 2 (the Elad's stand-alone audio is puny to say the least). The signal from Peru is weak, as would be expected, however, the low-gain/ high SNR performance of this antenna results in audio clarity that is better than I have ever heard previously from this rather exotic station. Further to these recordings, I managed to make two recordings of the entire MW band using the FDM DUO via the FDM-SW2 software and I'm hoping an analysis of the data will uncover some nice MW DX. Thus, all-in-all, a very good result with the 200 metre Beverage – more reception videos using this antenna to follow soon on my youtube channel Oxford Shortwave Log. Thanks for watching/ listening and I wish you all good DX.
Embedded reception videos with text links follow below:
---
Clint Gouveia is the author of this post and a regular contributor to the SWLing Post. Clint actively publishes videos of his shortwave radio excursions on his YouTube channel: Oxford Shortwave Log. Clint is based in Oxfordshire, England.