Many thanks to SWLing Post contributor, Troy Riedel, for the following guest post:
---
A Mini-Review of the Audiomax SRW-710S
by Troy Riedel
Why would someone want a sub-$20 shortwave radio? Wait … I guess I should be answering questions & not asking them, right? But I'll give you my answer to "why I want a sub-$20 shortwave radio": I have many nice radios, but I wanted one that I consider "disposable". I define "disposable" as something I won't be upset if I lose, get it splattered with paint, or leave it outside only to get rained on. Taking the family of four to the movies nowadays costs upwards of $100 (the three ladies I live with can really throw-down pop & popcorn!) so a sub-$20 radio, even a "disposable one", is a true bargain.
I have seen the SRW-710S badged under three different names: Audiomax, VITE and TIVDIO. There very well may be other badging. I paid $18.52 for my Audiomax badged device direct from a vendor in China. I've subsequently seen it as low as $13 on eBay and as much as $37 on Amazon. So much for a sub-$20 radio, huh?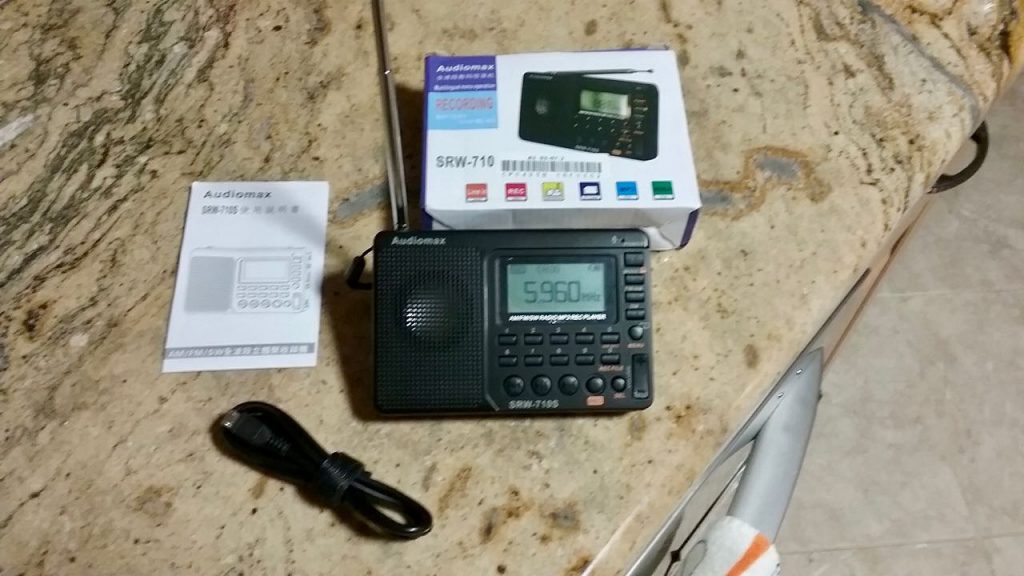 The SRW-710S comes with only a USB charging cable in the box to recharge the Li-ion BL-5C battery (no earbuds, no case or pouch – just a very simple set of basic instructions). The 710S features a small LCD screen that offers menus in three languages: English, Spanish & Chinese.
The screen greets you with "welcome" (lowercase) when turning it on & "Bye Bye!" when you power-off. There is a Sleep Timer function that I have yet to use. All of the ports are on the right side of the unit (nothing on the left). It has a TF Flashcard Slot – no card provided – for recording off the radio & for playing pre-loaded mp3 & wma files from the flashcard.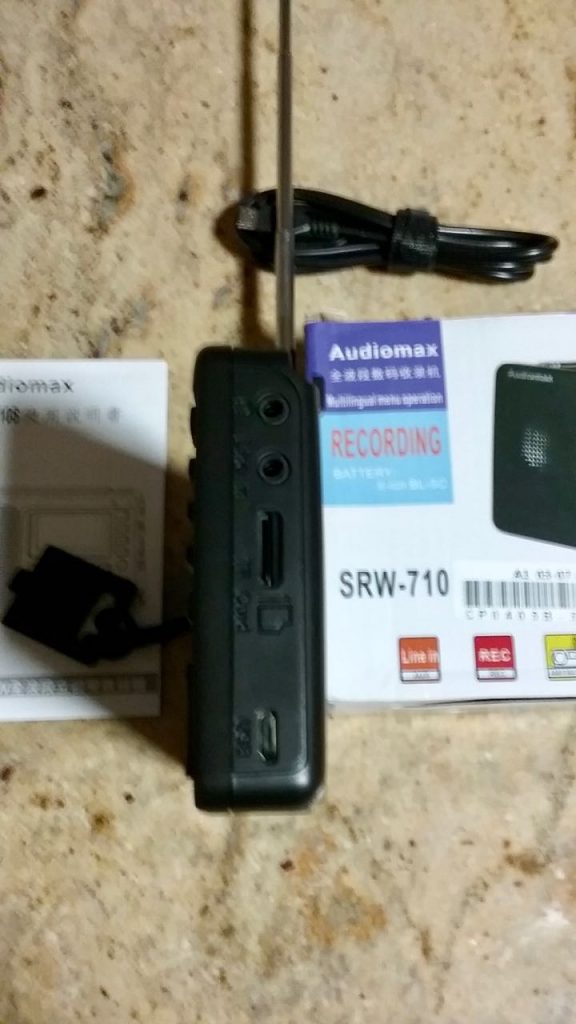 It has 100 memories, a Line-In port, a built-in mic, and a headphone port. There is no ANT-In port. This radio has AM, FM & SW (no LW) with the appropriate international tuning steps. Lastly, there is no folding stand on the back (one is provided and is attached to the wrist strap – it is inserted into a small slot just above the battery cover).
One Chinese web site listed the SRW-710S as having an "AKC6951 DSP chip". Until now, I had never heard of this DSP chip and I frankly know nothing about it. Maybe some more informed readers can comment?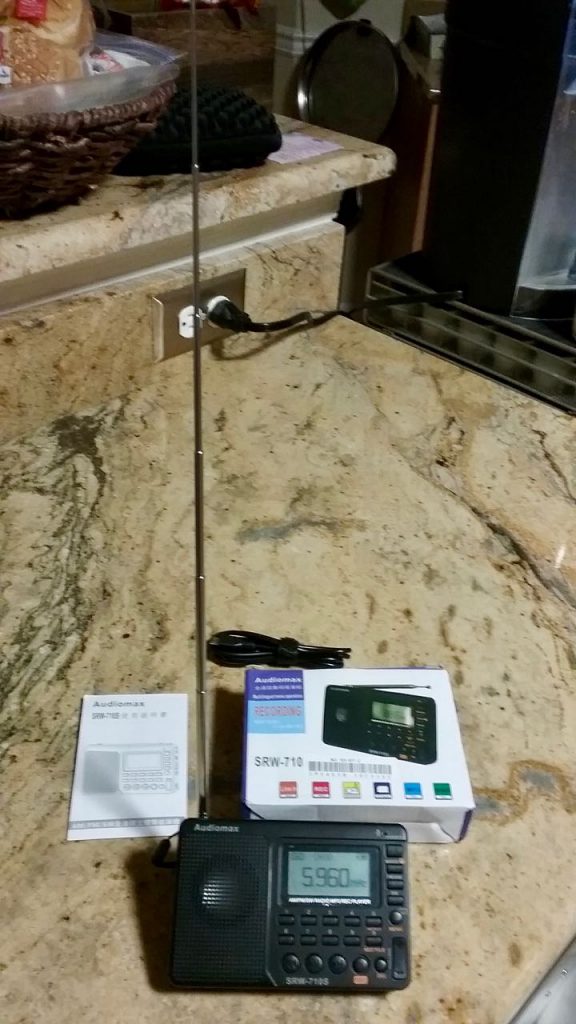 Operation is easy (except for one quirk that I will detail later). There are two rows of numbers for direct input of a frequency. Simply input the frequency … and then wait (there is an approximate 3-5 second delay from input to the radio actually tuning to the frequency … I am still getting used to this pregnant pause). You also have an option of tuning directly to a meter-band.
Of course, there is no SSB for this low price.
The one speaker is a bit "tinny" but adequate (stereo via user-supplied earbuds). And considering the price point, the RF shielding isn't too bad. I can actually use the shortwave band of this radio in my kitchen and breakfast nook (I cannot say that for my more expensive receivers).
The biggest limiting factor in reception is the size of the telescopic antenna (15.5"). However, for its size I am quite impressed (it's exponentially better than the old Grundig G2000A Porsche that has a 21.25" antenna – but that radio is notorious as needing a reel antenna). Just via the telescopic whip, I can actually tune the major broadcasters to NA (e.g., Radio Romania), I can adequately tune to the VOA 15.580 MHz signal to Africa during the North American East Coast AFTN, and the time signals are easily audible (of course, frequency appropriate for the time of day).
I do not plan to open the radio's chassis, but AM reception seems to be limited due to the obvious small size of the ferrite antenna (the radio itself is essentially palm-sized, approximately 4.75" x 3" & less than 1" thick). My postal scale indicates it weighs 5.5 – 6 ounces including the battery. The radio must be propped to support it when attaching the telescoping whip to a Slinky Antenna (even the weight of the Slinky's alligator clip causes balance problems)
One quirk I have found: there is a "Lock" key. However, it only seems to lock the radio power "on" (locks are used to lock the power "off" during transport so the power remains off and the battery doesn't drain). The "Lock" feature is not discussed in the instructions and at present I have not figured-out if this switch works in the traditional way. I find this to be quite amusing because it's either an odd quirk or I'm just not smart enough to intuitively figure it out.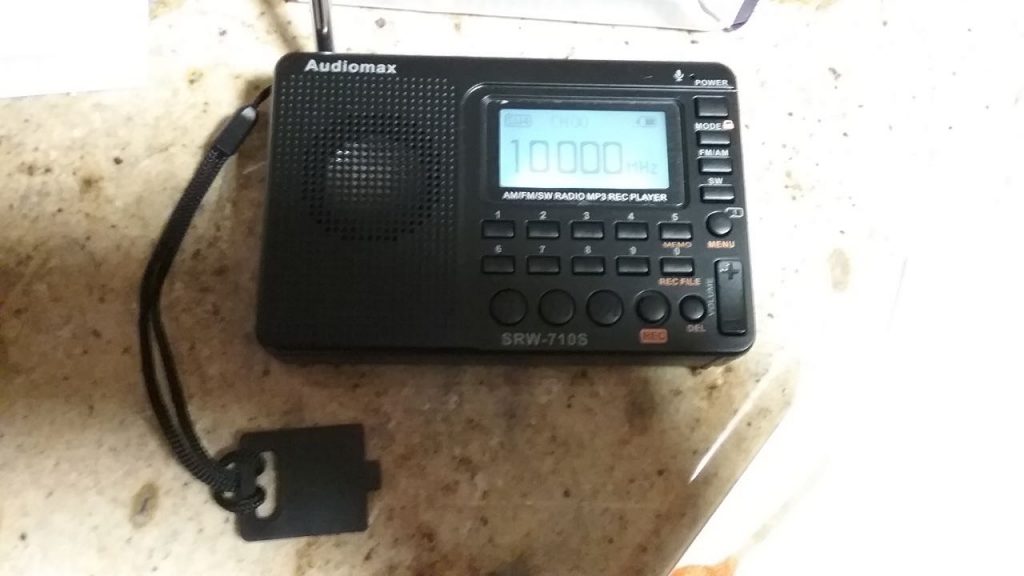 I am quite satisfied with my new "disposable" $18.52 Shortwave Radio (I have no information whether the quality I have considered is consistent through a production run or between badging). For those who wish to listen to a local AM or FM station – or listen to one of the "major" shortwave broadcasters with a booming signal into your part of the world – you can't beat it for this price point. I can see myself using this radio while I complete outdoor household repairs or while cleaning-up the garage. Too bad it's so close to Christmas, this would make a great stocking stuffer to introduce someone, young or old, to the world of shortwave.
Update: Searching for the SRW-710S
Note that the lowest prices omit the model number in eBay search results.
Click this link to search eBay for the SRW-710S on eBay. 
Scroll through search results to find a matching receiver.
---
Thank you, Troy, for mini-review of the SRW-710S! Like you, I have very low expectations from shortwave portables at this price point. Still…for the glove compartment of your vehicle, for outdoor listening, for small gifts? These fit the bill! I'm most impressed you could receive the number of stations you did from inside your home.