Many thanks to SWLing Post contributor, Dan Hawkins, who writes:
This evening I watched the excellent Undercover: How to Operate Behind Enemy Lines on Netflix streaming. This is a 1943 training film for Office of Strategic Services personnel learning how be secret agents. The film was directed by the legendary John Ford who also took an acting role in the film. In this scene, Al is receiving his forged papers from an OSS agent before leaving for Germany. A radio may seen on a shelf in the background.

Undercover: How to Operate Behind Enemy Lines is also available on YouTube:
Click here to view on YouTube.
The next film is much better known. The same model radio makes a foreground appearance in Some Like it Hot. Osgood Fielding III has one of these on his yacht.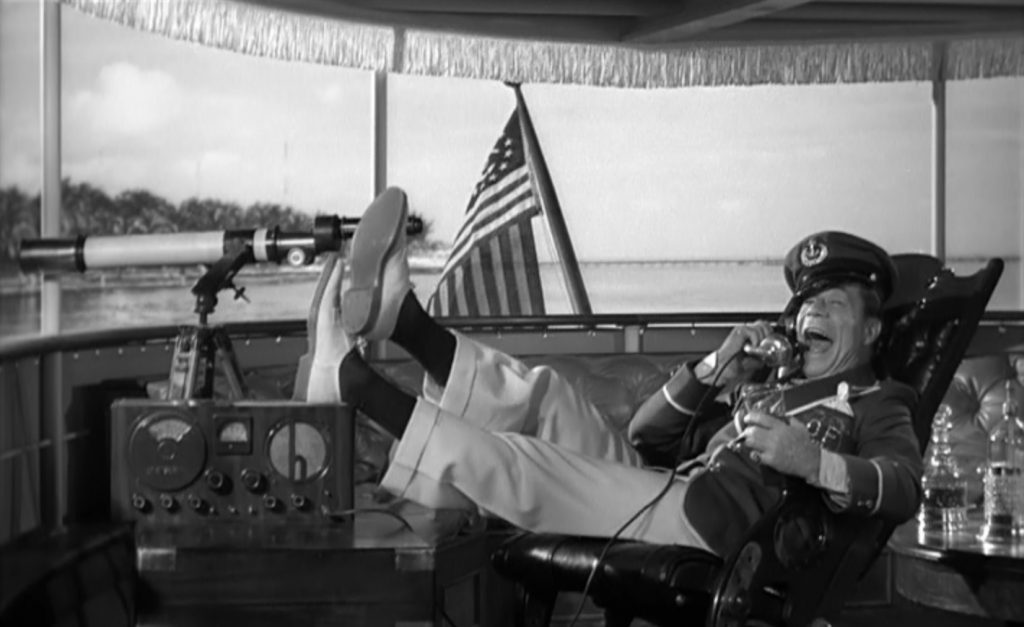 Maybe Osgood is laughing because the film takes place in 1929 and the company that made the radio was founded several years later.

I won't spoil the secret of this radio's maker and model. It will probably not take long for SWLing Post readers to come up with an answer.
Post readers: are you up for the challenge? 🙂 What model of radio do we see here? I'll keep quiet, because it's one of my favorite manufacturers.
And, Dan, many thanks. I really do owe you one because I was not familiar with Undercover: How to Operate Behind Enemy Lines. I can't believe there was a WWII era Ford film I had missed. I, too, have Netflix but the YouTube copy you suggested is actually a better restored version in terms of audio.  Thanks again!