Tomorrow, we will be experiencing a total solar eclipse here in the mountains of western North Carolina.
Instead of enjoying the eclipse at home, I will be volunteering as a docent at the Pisgah Astronomical Research Institute in Rosman, North Carolina. Post readers might recall PARI as it was the location of our 2015 PARI DXpedition.
PARI is expecting at least 1,000 visitors tomorrow, from a number of countries. Many are scientists, astronomers, and guests who want to be in the path of totality.

On the PARI campus, we will be in totality for about 1 minutes, 47 seconds.
What makes the event truly special for PARI is that this is the first time in history a world-class radio astronomy observatory has been in the path of totality. To say the PARI astronomers are excited is simply an understatement. All four of PARI's telescopes will be trained on our local star and gathering copious amounts of data.
If you don't live in the path of the Eclipse, I invite you to check out PARI's YouTube channel where they will host a live stream:
Click here to watch on YouTube.
Gathering spectrum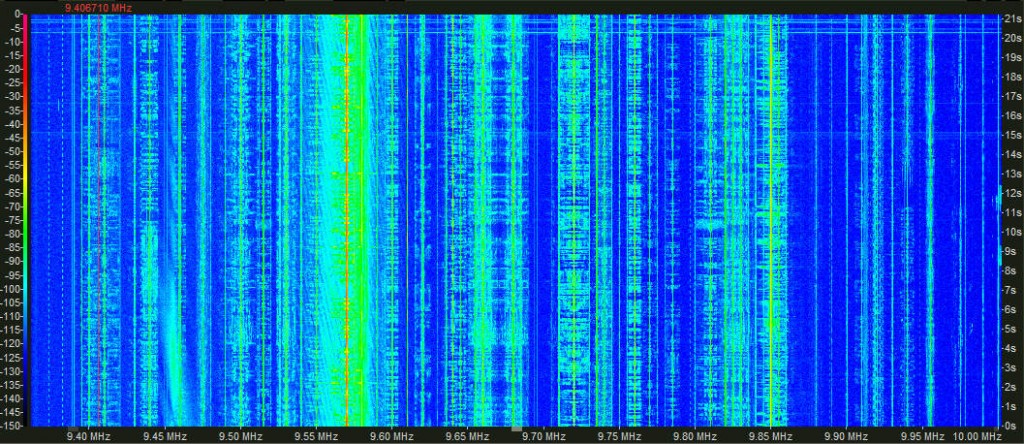 I will also be gathering data of my own during the event.
I will remotely record the entire mediumwave (AM broadcast) band several hours before, during and after the eclipse. I will also set up a separate SDR to record either the 31/30 meter bands and my buddy, Vlado (N3CZ) is kindly using his SDRplay RSP1 to record from 6 MHz – 8 MHz.
What do I expect to see/hear in the spectrum recordings? Certainly a drop in noise. If I'm lucky, I also hope to hear some DX anomalies–hopefully a signal or two that I wouldn't normally here in the middle of a summer day.
I don't expect any dramatic results (though I would love to be proven otherwise!) since the ionosphere takes time to change states. My buddy Mike (K8RAT) likens it to an oven: it takes time for it to heat up to the desired temperature, and it takes time for it to cool down as well. I'm not so sure the shadow of the moon, which moves at a good clip, will be persistent enough to change the state of the ionosphere in any meaningful way.
If it does, I'll be there to record it!
There are many other radio related experiments happening during the solar eclipse. A notable one that you can even help with is the 2017 Ham Radio Eclipse Experiment.
SWLing Post contributor, Dan Srebnick also suggests a few stations you might try catching on the AM broadcast band. Dan notes:
Something to do during the solar eclipse on Monday. There are 13 clear channel AM stations along the path of totality. Give a listen for them:
[LIST OF AM CLEAR CHANNEL STATIONS]
kHz CALL Location Eclipse UTC
—— ——- —————- ————–
650 WSM Nashville, TN 18:28
670 KBOI Boise, ID 17:27
750 WSB Atlanta, GA 18:36
840 WHAS Louisville, KY 18:27
880 KRVN Lexington, NE 17:57
1030 KTWO Casper, WY 17:43
1040 WHO DesMoines, IA 18:08
1110 KFAB Omaha, NE 18:04
1110 WBT Charlotte, NC 18:41
1120 KPNW Eugene, OR 17:17
1120 KMOX St. Louis, MO 18:18
1190 KEX Portland, OR 17:19
1510 WLAC Nashville, TN 18:28

Kudos to Bob WB4APR (of APRS fame) for producing this list.
Post readers: Will you be in the path of totality or do you plan to enjoy a partial eclipse? Have you ever experienced a total solar eclipse?  What are your plans if any? Please comment!