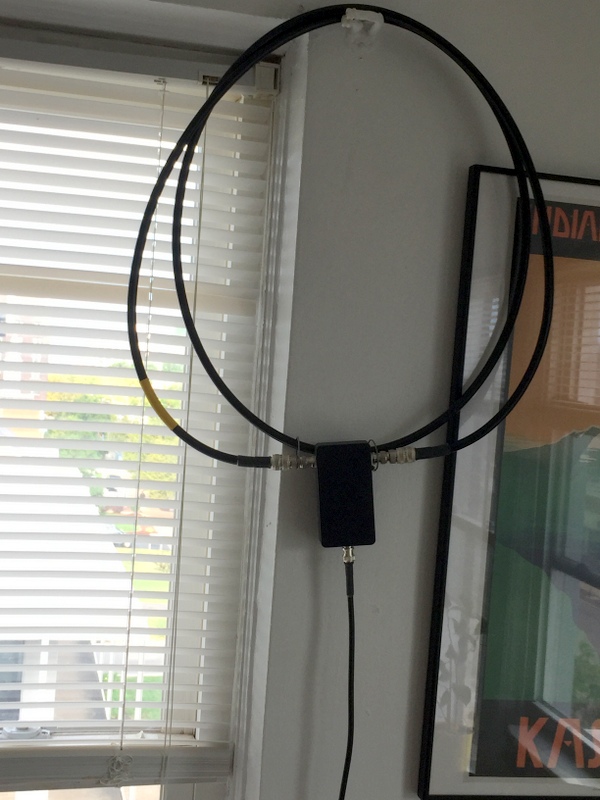 Many thanks to SWLing Post contributor, Larry Thompson (WPE8EKM), who writes:
I've just finished building a variation of the W6LVP amplified magnetic loop antenna. I was able to purchase the preamplifier, power inserter, and the power supply separately. I then created my own loop antenna using LMR400Max coax and designed my own knock-down PVC support. I wanted something extremely compact and portable to take on sae-kayaking expeditions and to DXpeditions to Africa.

I spent many years teaching in the DRC Congo and hope to return.

I've used a 6' loop, a 9' loop, a 12' loop, and an 18' loop. All do very well, but the 6' and the 9' seem to do the best. I've been using the 9' length of coax doubled into two loops and that seems be be doing extremely well.

The signal strength from the W6LVP variation is equal to my Parr EF-SWL End-Fedz 45' dipole, but the reduced noise level on the bands is amazing. I live in a central city high-rise with no possibility of an exterior antenna. The EF-SWL is strung out a 5th floor window down the side of the building. It performs well, but with a high degree of noise. My QTH is rampant with QRM and RFI noise. The W6LVP amplified magnetic loop has really resolved that in a big way.

The bands are horrible at the moment, so evaluating the loop antenna is difficult. But the cleaner, stronger signals of CHU Canada on 3339 kHz and 7850 kHz, as well as WWV on 10,000 kHz is impressive.

I'm impressed with the reduced noise level on the bands tuning across them, as well as the noise-free signal once you lock into a station. I've heard hams on the 17 mb for the very first time.

So far, I'm very impressed with the performance of this amplified magnetic loop.
Very cool Larry! You've build a compact loop that can bring the RFI down to a tolerable level–I'd say that's a complete success. Thanks for sharing!
Click here to read our previous article about the W6LVP loop.