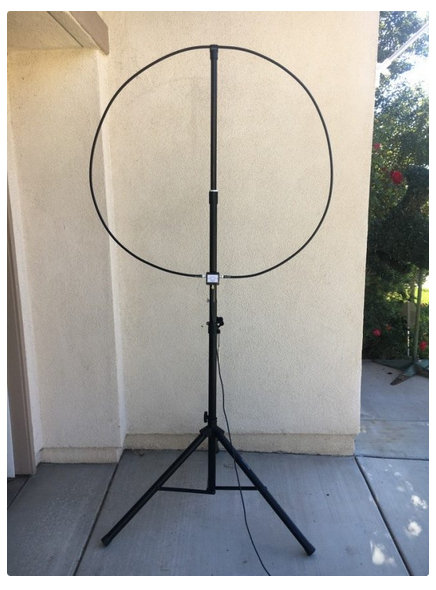 Many thanks to SWLing Post contributor, Troy Riedel, who asks:
Just curious if you or anyone you know have any experience with Magnetic Loops from W6LVP? […]Here's his eBay page – 458 feedbacks and 100%.
Thank, Troy! I've never used the W6LVP loop, but the price–in comparison with other wideband mag loop receive antennas–is very attractive.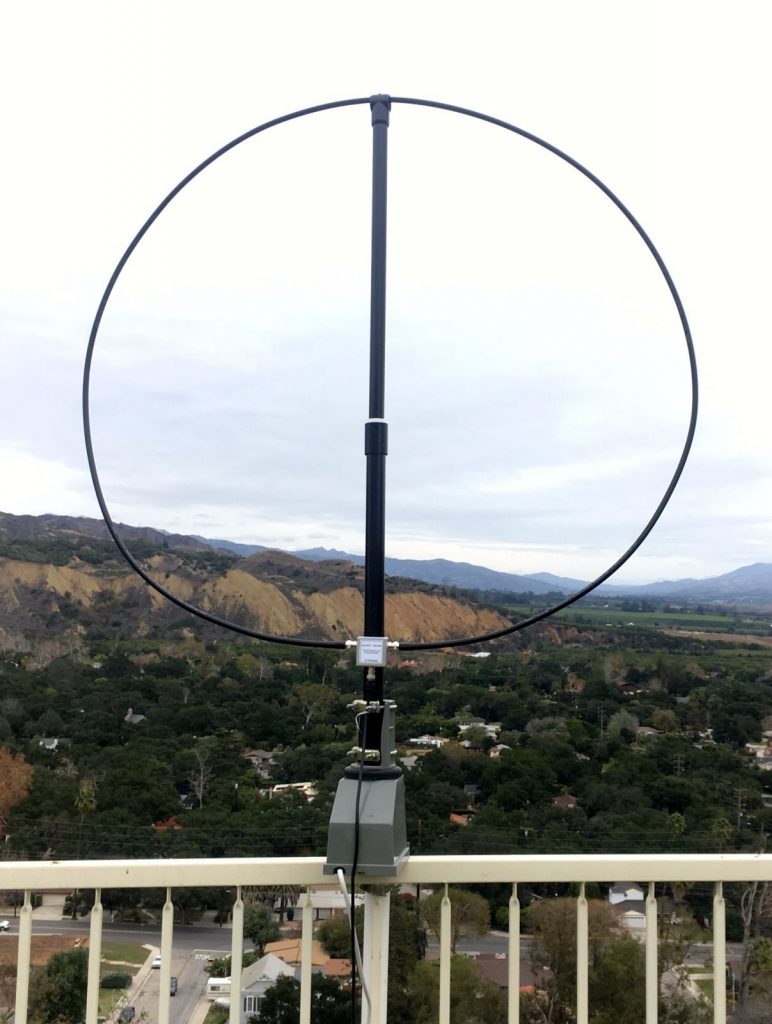 W6LVP currently offers two models of loop antennas:
Here's the product description of the Mag Loop with Power Inserter from the W6LVP website (where orders can also be made–pricing identical to eBay):
The Wellbrook Model ALA1530LN-2 and DX Engineering (Pixel/Inlogis) Model RF PRO-1B magnetic loops are both good amplified receive antennas.  However, they are both expensive.  Shipping the Wellbrook antenna from the UK to the US adds another $100.

Extensive side-by-side testing of the Wellbrook, DX Engineering, and W6LVP receive loops was compiled using simultaneous WSPR signal-to-noise reception reports on all LF, MF, and HF amateur bands.  In addition, extensive laboratory bench tests measuring gain, signal-to-noise ratio, and IMD were also performed.  Signal-to-noise ratio is important to pull weak signals out of the noise and IMD is important to reject distortion caused by nearby strong transmitters such as AM broadcast stations.  In both test regimens, all three antennas performed very well and without significant difference.

The antenna version listed here includes a power inserter for use with receivers or with transceivers that have a separate receive antenna input.  If your rig doesn't have a receive antenna input, check out my antenna with a transmit/receive switch.

If you live in the shadow of one or more high-power AM broadcast transmitters, contact me about a special version just for you.  Please contact me at [email protected].

W6LVP amplified receive-only magnetic loop antenna (boy is that mouthful):

The W6LVP mag loop is a complete receive antenna system delivering top-of-the-line performance to amateur radio operators and SWLs – particularly for those with space and/or budget limitations.  It is a great complement to vertical or wire transmit antennas.   You have a knob to turn up the power but don't have one to turn up the received S/N.
Ten foot circumference (approximately 1 meter diameter) loop.  Small size yields a natural stealth for HOA challenges.  The loop is rigid enough to maintain its shape but flexible for portable transport or attic installation.
Includes a low-noise, broadband amplifier covering 2200 (135 kHz)  through 10 meters (30 MHz) with no tuning or adjustment.  Perfect match for continuous tuning SDR receivers.  Great for contesters to quickly check all bands.  Greater coverage is possible at reduced performance.
Light-weight antenna structure fabricated from furniture-grade PVC yields a strong but very light antenna weighing only 2 pounds (not including power inserter or power adapter).  Great for both portable/camping as well as fixed installations.  Light weight and small size make for lower shipping cost – particularly compared to shipping from the UK.
Directly compatible with a low-cost speaker tripod stand (not included) for portable operation.
Compatible with light-duty rotator (recommended) for fixed operation.  Loop can be rotated to null interference by up to 30 dB or enhance desired signals.
Includes low-noise linear AC power adapter to generate clean 12 volts for the loop amplifier.  Unlike the DX Engineering antenna which requires 24 VAC, power can be easily supplied by 12 volt batteries during portable operation.  Reverse polarity and short circuit protection provided by automatically resettable fuse.
Eham reviews are very positive–so far, 5 stars on all six reviews.
I also discovered this short video of W9OY comparing the W6LVP loop to a full size 80 meter vertical (verticals are much more susceptible to noise than loops):
Click here to view on YouTube.
I am very curious if any SWLing Post readers have ever compared the W6LVP loop to the Wellbrook or Pixel Loop antennas.
I actually own the Pixel Loop and might very well purchase, review and compare the W6LVP loop later this year (if time allows).
If you own the W6LVP loop and/or have compared it with the Pixel or Wellbrook, please comment!
Click here to view W6LVP antennas on eBay.