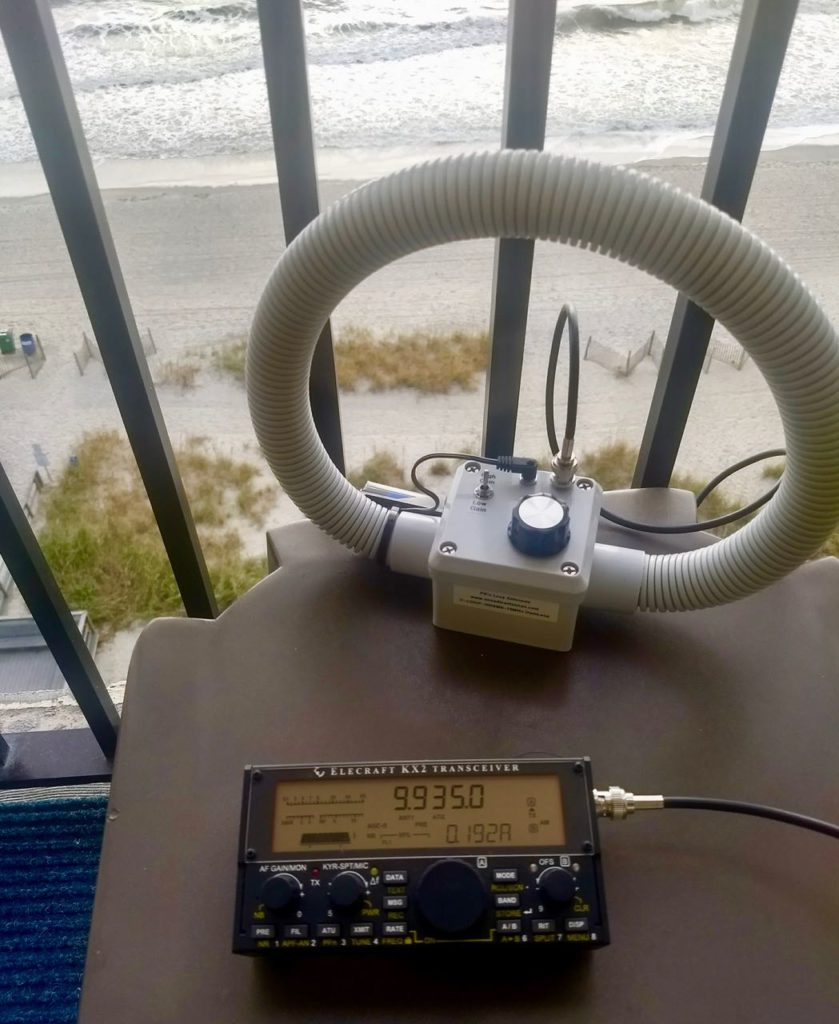 Since I purchased the Elecraft KX2 last year, I find I do almost as much SWLing with it as I do ham radio activity. The KX2 is actually a brilliant shortwave broadcast receiver–check out these audio samples. It's incredibly sensitive, selective and outperforms all of my portables. It's also a joy to operate, once you learn your way around the controls.
I've been at the South Carolina coast all week on an active family vacation. What little time I've had to play radio, I've used the KX2/PK Loop combo.
The KX2 pairs well with the PK Loop (C-LOOP-HDSW6-18) antenna and both can easily fit in one small pack. The combo limits me to the shortwave bands, but that's okay since I always carry an Ultralight DX receiver like the Tecsun PL-310ET, Sony SRF-39FP or CC Skywave should I decide to hit the mediumwaves.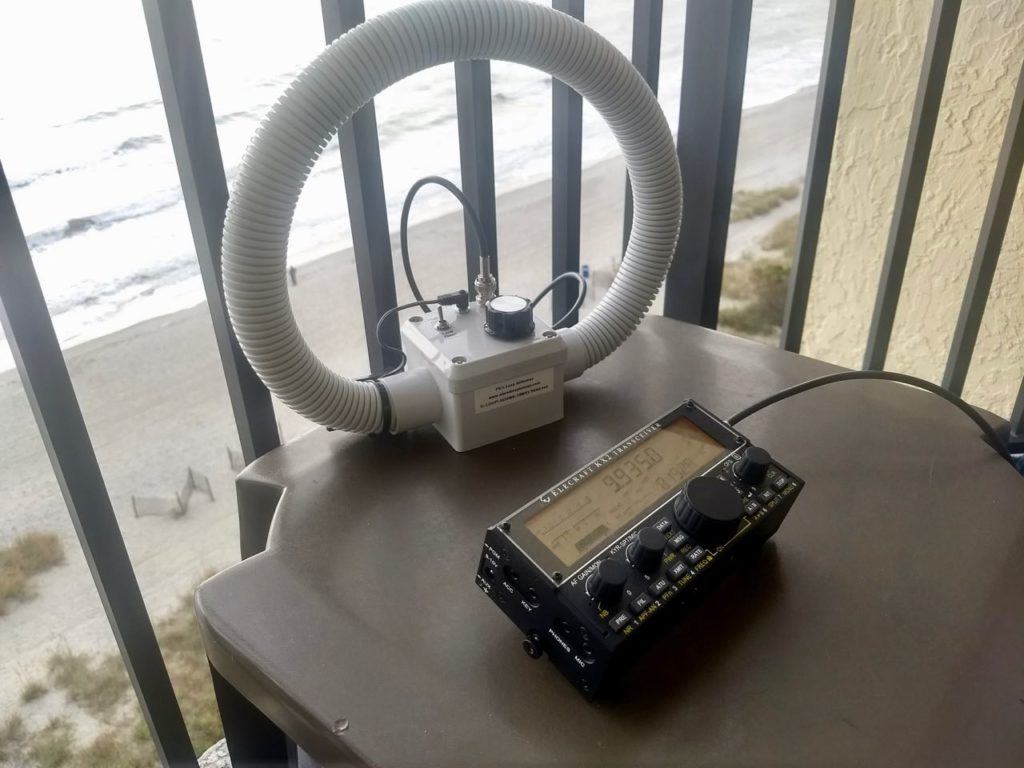 I can set up the KX2 and PK Loop on a small table or foot stool with room to spare. I typically use a pair of headphones with the KX2 since its built-in speaker leaves much to be desired (but is better than the KX3's internal speaker, in my opinion). With headphones, you can also take advantage of the "delay" audio effect which makes broadcasts sound much wider that the 5 kHz maximum bandwidth.
Another favorite travel receiver is the CommRadio CR-1a. Like the KX2, it's compact, has a built-in battery and (unlike the KX2) can even be charged from a standard USB source.
I still manage to take the KX2 on travels more often than the CR-1a simply because I always have the option to put on my ham radio hat and do field/portable operation should I choose.
But CommRadio is cooking up a new radio: I'm watching the new CommRadio CTX-10 with interest since it might also serve both of these radio purposes!
I will review the CTX-10 when it's on the market.
On a side note: since I own both the KX2 and KX3, I'm planning to purchase the KXPA100 100 watt amplifier for the shack next year. At $749 for the ATU-less kit version, it's a hefty sum–indeed–enough to purchase another 100 watt transceiver like the Icom IC-7200.  But in the end, I'm so please with both radios I think it's worth the investment.  Thankfully, the KXPA100 was not included in the Elecraft Black Friday sale. I did not need that temptation.
Post readers: Any others take a compact general coverage transceiver on travels? What model do you prefer?  Please comment!