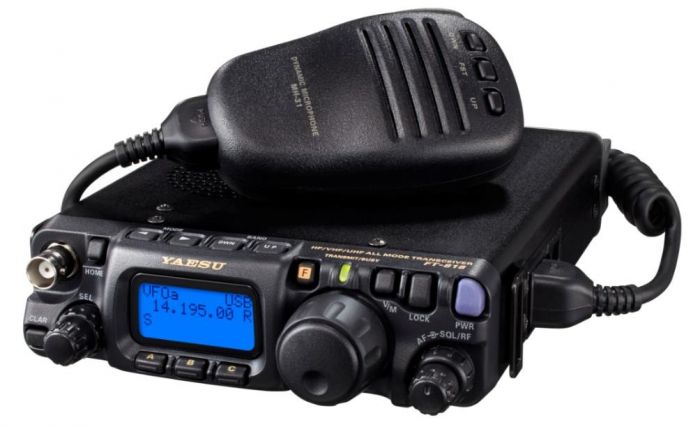 I've been following news about the Yaesu FT-818: the next iteration of the venerable Yaesu FT-817ND QRP general coverage transceiver.
The FT-817 series has been on the market for nearly two decades. I remember purchasing one of the first production models when I lived in the UK in 2001.
It was a revolutionary radio at the time.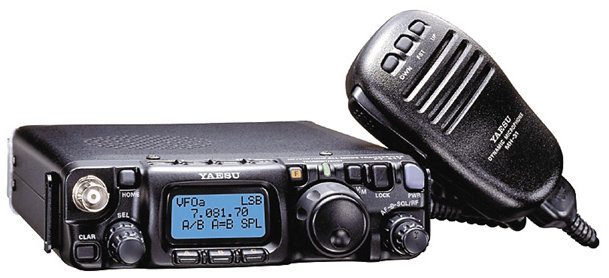 It was exceptionally suited for portable use, sporting an internal battery pack, on-board keyer, had all mode/all band capability and antenna ports on the front faceplate and rear. It was the most compact full-featured transceiver on the market. All this for about $670 US.
In 2004, Yaesu made upgrades and launched the model FT-817(N)D. In no small way, I'm sure this little radio has been a cash cow for Yaesu. It's had an exceptionally long market run and has been the only QRP transceiver in the Yaesu product line for decades.
Recently, Yaesu released specifications and retail pricing of the FT-818.  But before we go any further…
Don't believe the fake prototype photos
It seems like every time a new amateur radio transceiver is announced, someone quickly assembles a "leaked" prototype image and publishes it on the web. Here's the one someone pieced together for the Yaesu FT-818:
To be crystal clear: this is not a leaked photo of the Yaesu FT-818. It's (frankly) a terrible Photoshop job–someone playing with cutting, pasting and resizing bits from other transceivers.
I fully suspect the new FT-818 will not be a dramatic departure from the FT-817 in terms of styling and design. Perhaps it'll be nearly identical. In fact, radio retailers have been posting the following image on their FT-818 ordering page:
This may simply be a placeholder, or it may be that all of the upgrades are internal and the '818 form factor will be identical to the '817.
Enough said…
What we do know about the Yaesu FT-818
Rumors of an FT-818 have been floating around the ham radio community for years. No surprise given the extraordinarily long run of the '817 series!
We do have concrete details now since ham radio retailers have been given features, specifications and availability dates. It appears the upgrades are iterative–this is not a dramatically re-designed rig.
Here's what Yaesu has released (I took this from GigaParts, but retailers are posting variations of the same announcement):
Yaesu FT-818 6W HF/VHF/UHF All-Mode Portable Transceiver

The new Yaesu FT-818 incorporates all of the basic and attractive features of the ever-popular FT-817ND while providing upgrades desired by many existing owners.

The FT-818 provides 6W of solid output power with an external DC power source. The supplied Ni-MH battery pack (SBR-32MH) has been upgraded to now provide larger battery capacity – 9.6v/ 1900mAh. The recent launch of several new satellites is a certain indicator that the large global community of satellite enthusiast are going to be very delighted to learn that the FT-818 includes a Built-in TCXO-9 oscillator that gives the FT-818 fantastic frequency stability (±0.5ppm).

The FT-818 includes all the useful functions that are included in the FT-817ND: Dual VFOs; Split-Frequency operation; IF Shift; Clarifier "R.I.T"; IF Noise Blanker; RF Gain and Squelch control; IPO (Intercept Point Optimization); AM Aircraft reception; AM and FM Broadcast reception; VOX; Built-in Electronic Keyer; Adjustable CW Pitch; Automatic Repeater Shift (ARS); Built-in CTCSS Encoder/ Decoders; 208 memory channels with 10 memory groups; two antenna connectors; Automatic Power-Off (APO) and Time-Out-Timer(TOT) functions; and so on.

Features

Increased power output 6W(SSB, CW, FM) 2.0W(AM Carrier) *NEW!
Improved frequency stability ±0.5 ppm : Built-in TCXO-9 *NEW!
Larger battery capacity : 9.6V/1,900mAh (SBR-32) *NEW!
208 Memory Channels / 10 Memory Groups
Operates on 160-10m , HF, 6m, 2m and 70 cm Bands
Ultra Compact and Portable
Two Antenna Connectors
IF Shift, IF Noise Blanker, IPO, ATT
CW "Semi-Break-in", CW Reverse, CW Pitch Control
Built-in Electronic Keyer
Multi-Color Easy to see LCD
Internal Battery Operation Capability
ARS Automatic Repeater Shift
APO Automatic Power Off
Front Panel Key Lock Mode

Specifications

Frequency Ranges:

RX:

100 kHz – 33 MHz
33 MHz – 56 MHz
76 MHz – 108 MHz
108 MHz – 154 MHz
420 MHz – 470 MHz

TX:

1.8 MHz – 29.7 MHz (5.3320 MHz/ 5.3480 MHz/ 5.3585 MHz/ 5.3730 MHz/ 5.4050MHz)
50 MHz – 54 MHz
144 MHz – 148 MHz
430 MHz – 450 MHz (Amateur Bands only)

Circuit Type: Double-Conversion Superheterodyne (SSB/CW/AM/FM)
Single-Conversion Superheterodyne (WFM)
Modulation Type: A1A(CW), A3E(AM), J3E(LSB,USB), F3E(FM), F1D(PACKET), F2D(PACKET)
RF Power Output : 6 W (SSB/CW/FM), 2 W (AM Carrier) @13.8 V
Memory Channels: 208
Case Size(W x H x D): 135 x 38 x 165 mm (5.31″ x 1.5″ x 6.50″) w/o knob and connector
Weight: 900 g (1.98 lbs) (w/o Battery, Antenna and Microphone)

Includes

Yaesu FT-818 6W HF/VHF/UHF All-Mode Portable Transceiver
Hand Microphone(MH-31A8J)
Battery (SBR-32 9.6V 1900mAh Ni-MH )
Battery Case (FBA-28) (Requires 8 "AA: batteries)
Whip Antenna for 50/144/430 MHz (YHA-63)
DC Cable (E-DC-6)
Shoulder Strap, Ferrite Core, Rubber Foot
Operating Manual
Battery Charger (PA-48)
The retail price is roughly $819 US shipped via GigaParts and $849 via Ham Radio Outlet. I'm sure Universal Radio will post the FT-818 to their site soon as well. At time of posting, I haven't noticed any retailers outside the US including the FT-818 in their catalog.
I will plan to review the Yaesu FT-818, so bookmark this tag to follow any updates: Yaesu FT-818