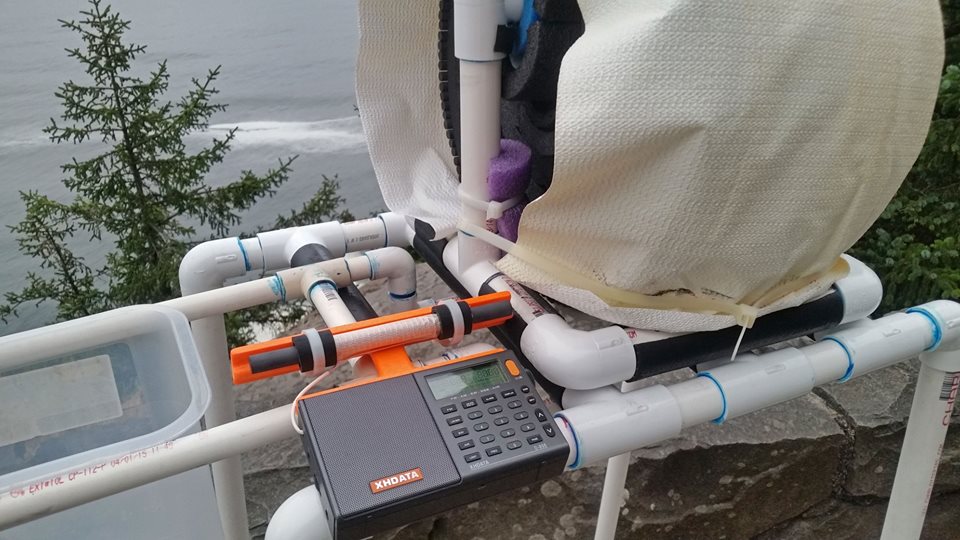 Many thanks to SWLing Post contributor, Gary DeBock, who shares the following notes and recordings from the latest Rockwork DXpedition.
---
Top Ten DU signals from the August 2018 Rockwork DXpedition
– Gary DeBock
Life is good– breathtaking ocean scenery, an innovative compact antenna, thunderous DU signals and even a partner (Craig Barnes) to share in the bounty. Who could ask for more?
Listed below are the Top Ten DU signals recorded during the recent Rockwork ocean cliff trip (near Manzanita, Oregon) from August 1-9, including several low-powered Kiwi stations which acted like "big guns" pretty much throughout the DXpedition. All of these were recorded with 7.5″ loopstick portables (CC Skywave SSB and XHDATA D-808) and "Airport Unfriendly" 15″ and 17″ FSL antennas (guaranteed to send TSA agents into a security alert).
531 More FM Alexandra, New Zealand, 2 kW The obscure modern rock station usually managed at least one S9 peak each morning, and was fully competitive with Kiwi co-channel PI for the first time. This TOH recording at 1300 on 8-8 demonstrates its potent capability at the cliff
531 PI Auckland, New Zealand, 5 kW Pacific island music at a huge level at 1248 on 8-7 was typical from this low band powerhouse, which was frequently in an all-Kiwi snarl with its overachieving co-channel More FM
558 Radio Fiji One Suva, Fiji, 10 kW The donated Japanese transmitter still puts out awesome signals for this native-language powerhouse, including this island music with a Song Medley ID ("Radio Fiji One, na domoiviti") at 1:38 into this recording at 1252 on 8-1
567 RNZ National Wellington, New Zealand, 50 kW After demolition of its old tower the RNZ big gun has sometimes sounded anemic on the west coast, but certainly not at 1320 on 8-3 with Indian-accented English
585 7RN Hobart, Tasmania, Australia 10 kW The RN network Tasmanian must have somehow hacked into the Kiwi propagation pipeline at 1306 on 8-6; at the time it was much stronger than its 576 parallel
594 Star Timaru/ Wanganui, New Zealand 5 kW/ 2 kW Another Kiwi overachiever, this low powered network was socking it to the Oz big gun 3WV all week, including with this powerful Christian music // 657 at 1326 on 8-3
657 Star Wellington, Tauranga, New Zealand 50 kW/ 10 kW The flagship Star station sure was playing the part with Christian music at an overwhelming level at 1238 on 8-6, including an ID at the end of the recording
765 Radio Kahungunu Napier-Hastings, New Zealand 2.5 kW The overachieving Maori station was its usual potent self with island music and Maori chants at 1218 on 8-1; it was usually slightly stronger than its 603 parallel (Waatea)
936 Chinese Voice Auckland, New Zealand 1 kW One of the most incredible signals of the entire DXpedition– the 1 kW ethnic station pounds into the cliff at an S9 level at 1309 on 8-2– ocean cliff propagation at its finest!
1017 A3Z Nuku'alofa, Tonga 10 kW Yikes! The rejuvenated Pacific island big gun thunders into the cliff with the strongest signal I've ever heard recorded in North America, featuring island music at 1314 on 8-1… almost loud enough to wake up the sleeping squatters
73 and Good DX,
Gary DeBock (DXing at the Rockwork ocean cliff near Manzanita, Oregon, USA with Craig Barnes from August 1-9)
---
Thank you for sharing those catches, Gary!  It's amazing what DX you can snag with an ultralight radio and a homebrew FSL loop antenna. Someday, I hope to join you guys on the cliff!