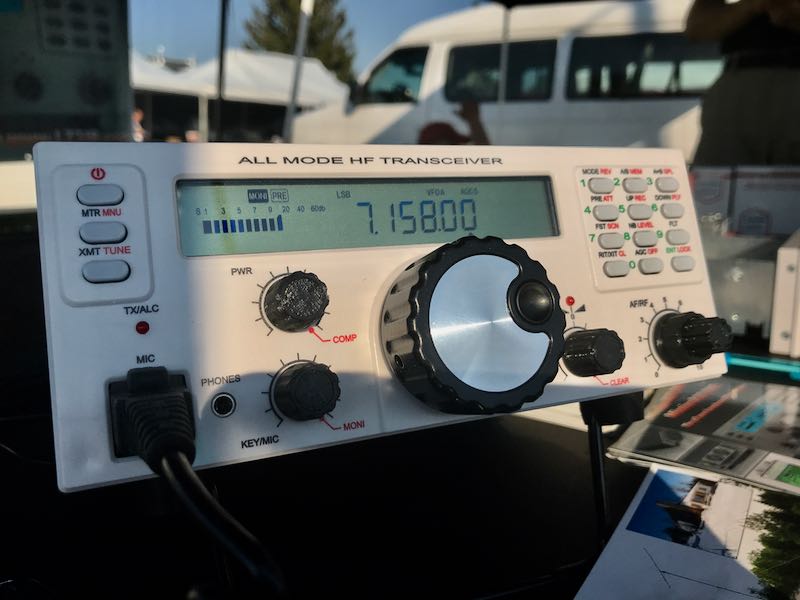 SWLing Post readers might recall that last year at the 2018 Hamvention, I met with radio engineer, Boris Sapundzhiev (LZ2JR), who was debuting the prototype of his 50 watt transceiver kit: the Mission RGO One (click here to read that post).
Since last year, I've been in touch with Boris, and we arranged to meet again at the 2019 Hamvention so I could take a closer look at the RGO One, especially since he has started shipping the first limited production run.
The RGO One delivers everything Boris promised last year and Boris is on schedule, having finished all of the hardware design and having implemented frequent firmware updates to add functionality.
Excellent first impressions
I'll be honest: I think the RGO One was one of the most exciting little radios to come out of Hamvention this year. Why?
First of all, in contrast to some radios I've tested and evaluated over the past two years, I can tell immediately that the Mission RGO One was developed by an active ham radio operator and DXer.
Here are some of the RGO One features and highlights as taken from the preliminary product manual (PDF):
QRP/QRO output 5 – 50W [can actually be lowered to 0 watts out in 1 watt increments]
All mode shortwave operation – coverage of all HAM HF bands (160m/60m optional)
High dynamic range receiver design including high IP3 monolithic linear amplifiers in the front end and diode ring RX mixer or H-mode first mixer (option).
Low phase noise first LO – SI570 XO/VCXO chip.
Full/semi (delay) QSK on CW; PTT/VOX operation on SSB. Strict RX/TX sequencing scheme. No click sounds at all!
Down conversion superhet topology with popular 9MHz IF
Custom made crystal filters for SSB and CW and variable crystal 4 pole filter – Johnson type 200…2000Hz
Fast acting AGC (fast and slow) with 134kHz dedicated IF
Compact and lightweight body [only 5 lbs!]
Custom made multicolor backlit FSTN LCD
Custom molded front panel with ergonomic controls.
Silent operation with no clicking relays inside – solid state GaAs PHEMT SPDT switches on RX (BPF and TX to RX switching) and ultrafast rectifying diodes (LPF)
Modular construction – Main board serves as a "chassis" also fits all the external connectors, daughter boards, inter-connections and acts as a cable harness.
Optional modules – Noise Blanker (NB), Audio Filter (AF), ATU, XVRTER, PC control via CAT protocol; USB UART – FTDI chipset
Double CPU circuitry control for front panel and main board – both field programmable via USB interface.
Memory morse code keyer (Curtis A, CMOS B); 4 Memory locations 128 bytes each
What really sets the Mission RGO apart from its competitors is the fact that it's compact, lightweight (only 5 lbs!), and has a power output of up to 50 watts. Most other rigs in this class have a maximum output of 10 to 15 watts and require an external amplifier for anything higher.
The RGO One should also play for a long time on battery power as the receive current drain is a modest 0.65A with receiver preamp on.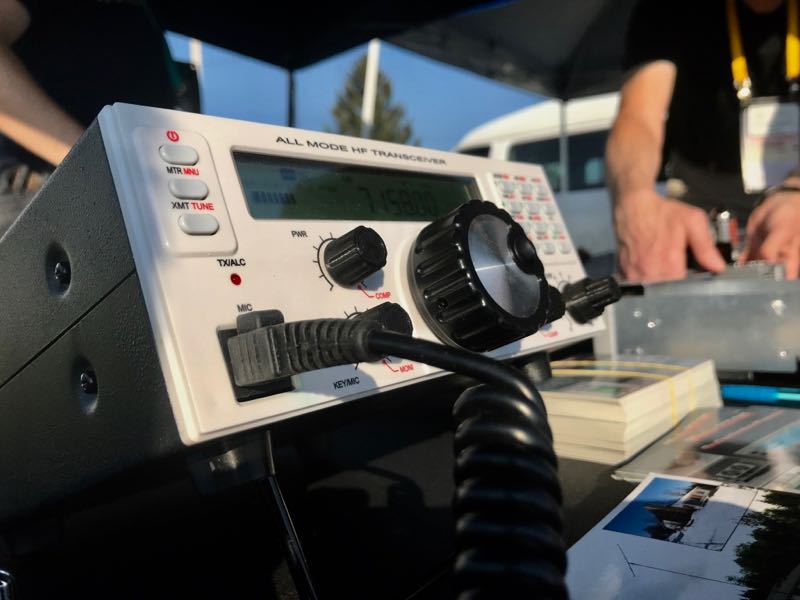 The RGO is also designed to encourage a comfortable operating position. The bail lifts the front of the radio so that the faceplate and backlit screen are easily viewed at any angle.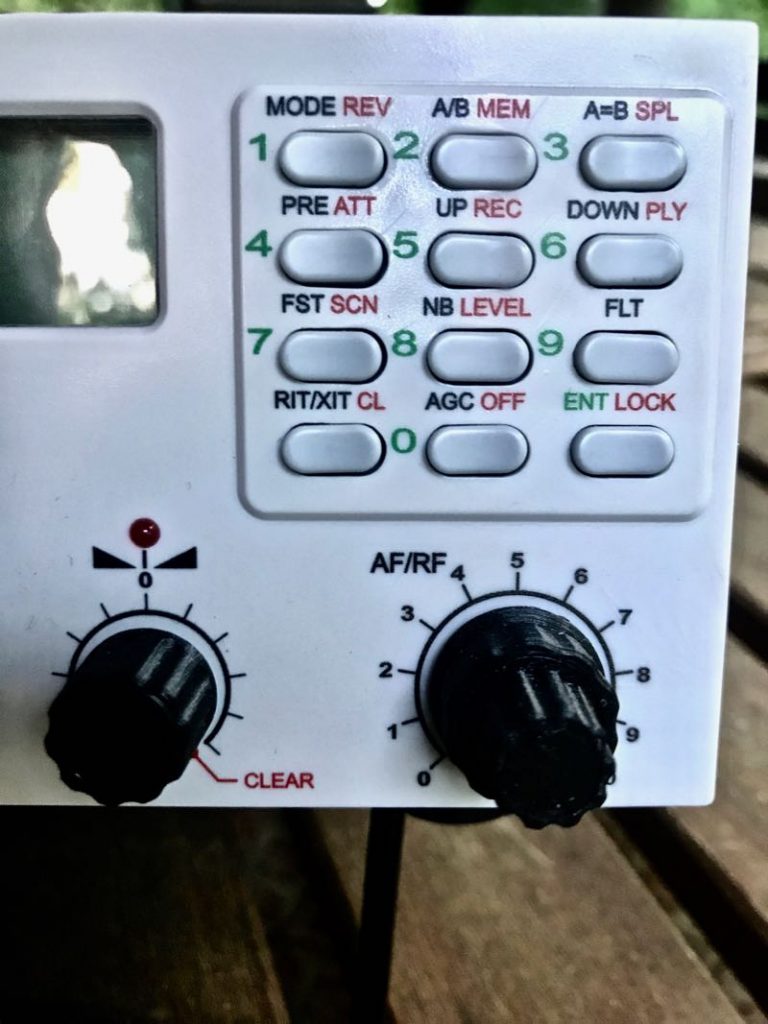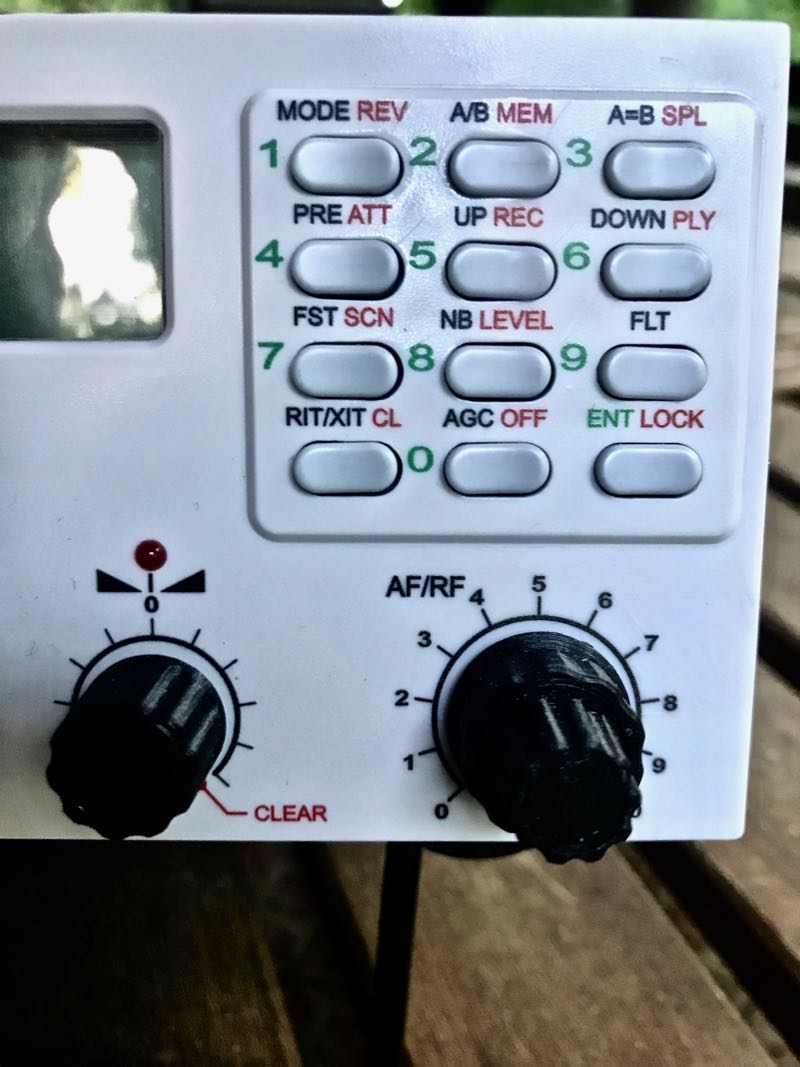 The keypad is intuitive and–hold your applause!–all of the important functions are within one button or knob press!
The front panel design is simple and clean. There are no embedded menus to navigate to change filter width, power level, RF gain, keyer speed, mic gain, pre amp, or audio monitor level. Knob spacing is excellent and I believe I would even be able to operate the RGO while wearing gloves.
Even split-operation is designed so that, with one button press, you can easily monitor a pile-up and position your transmit frequency where the DX station last worked a station. (This is similar to the Icom XFC button). The user-interface is intuitive; it's obvious to me that Boris built this radio around working DX at home and in the field.
Speaking of the field…
Parks On The Air (POTA) with the Mission RGO One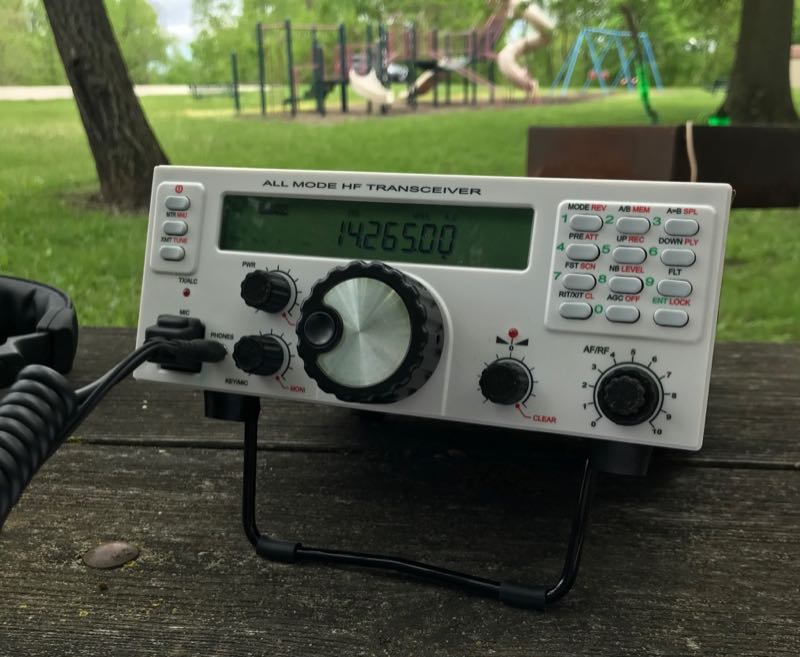 At my request, Boris has kindly loaned me one of the first production run units to test and review over the next few months. I intend to evaluate this radio at home, in the field, and (especially) on Field Day. By July, I should have a very good idea of how well this Bulgaria-born transceiver performs under demanding radio conditions!
I had planned to begin my RGO One evaluation after returning home from Hamvention, but I couldn't resist taking it to the field, even though the propagation forecast was dismal.
The first leg of my journey home from Hamvention took me to Columbus, Ohio, on Monday, so I scheduled a Parks On The Air (POTA) activation of Delaware State Park, K-1946.
My buddy Miles (KD8KNC) and I met our mutual friend Mike (K8RAT) at the park entrance and quickly found a great site with tall trees, a little shade, and a large picnic table.
We set up the RGO One and, for comparison, my Elecraft KX2 for the POTA activation.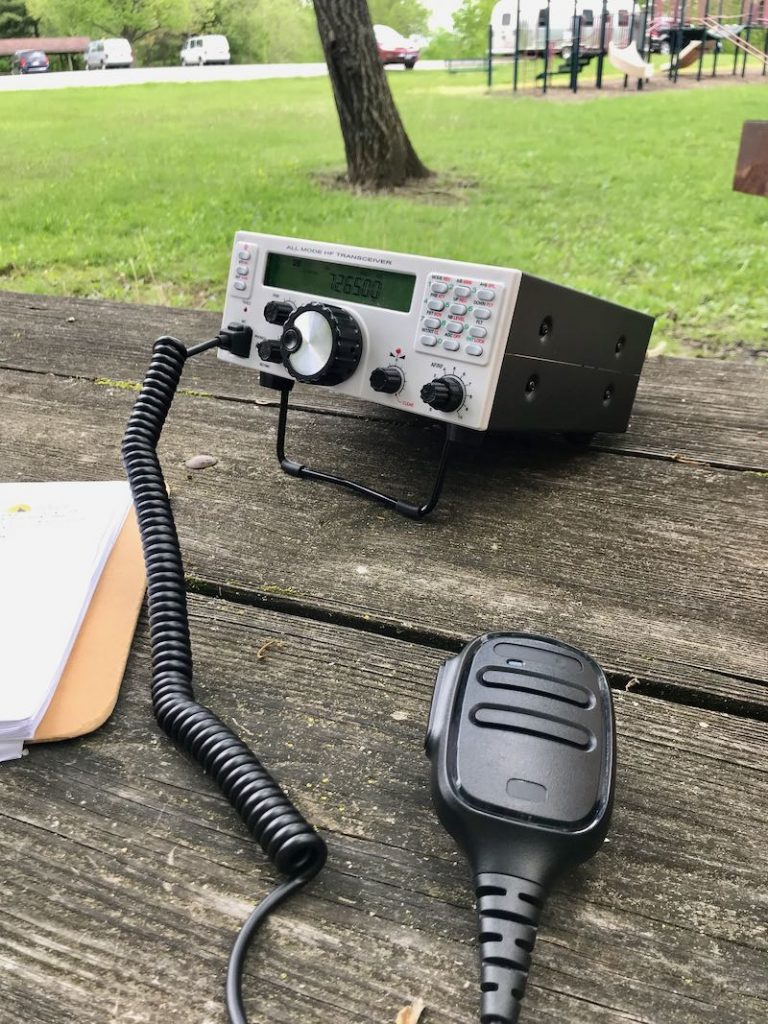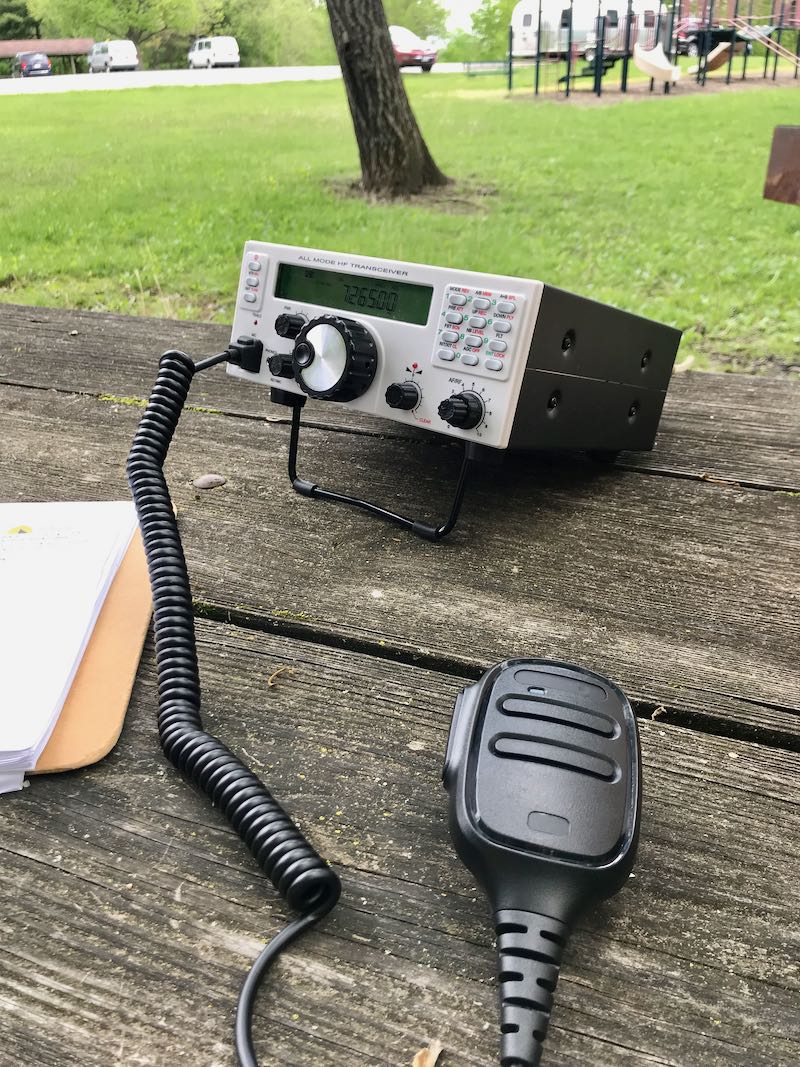 I won't lie: band conditions were horrible. Propagation was incredibly weak, QRN was high, and QSB was deep. Yuck!
Still, this activation gave me a chance to test the RGO One in proper field conditions.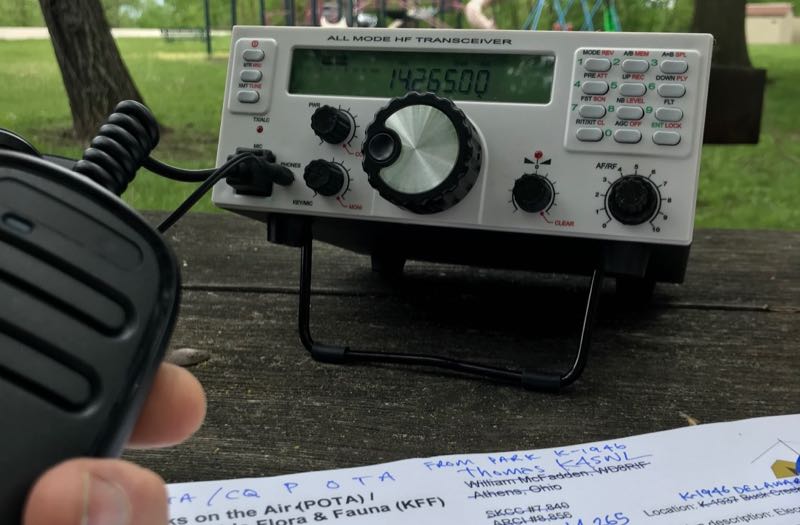 I was limited to SSB since the only CW key I had with me, the paddle specifically designed to attach to the front panel of the Elecraft KX2, wouldn't work with the RGO One. In addition, I was limited to 25 watts output because the antenna I deployed, the LnR Precision EFT Trail-Friendly end-fed antenna, can only handle power up to 25 watts.
Although I had never operated the radio before, I was able to sort out most of its functions and features quickly.
The receiver audio was excellent and the noise floor seemed quite low to my ears. The internal speaker does a fine job producing audio levels that are more than ample for a field setting.  Still, I prefer operating with a set of earphones in the field–especially important on days like this when propagation equates to a lot of weak signals.
Although I failed to make a total of ten contacts to claim a proper POTA activation, I was pleased with offering up K-1946 to seven lucky POTA hunters/chasers. I simply didn't have enough time available to work three stations more at such a slow QSO rate.
Of course, my signal reports were averaging "5 by 5" and were never more than "5 by 7" regardless of which rig–the RGO One or the KX2–I was using. The reports on the RGO One transmit audio reports were great.
Stay tuned!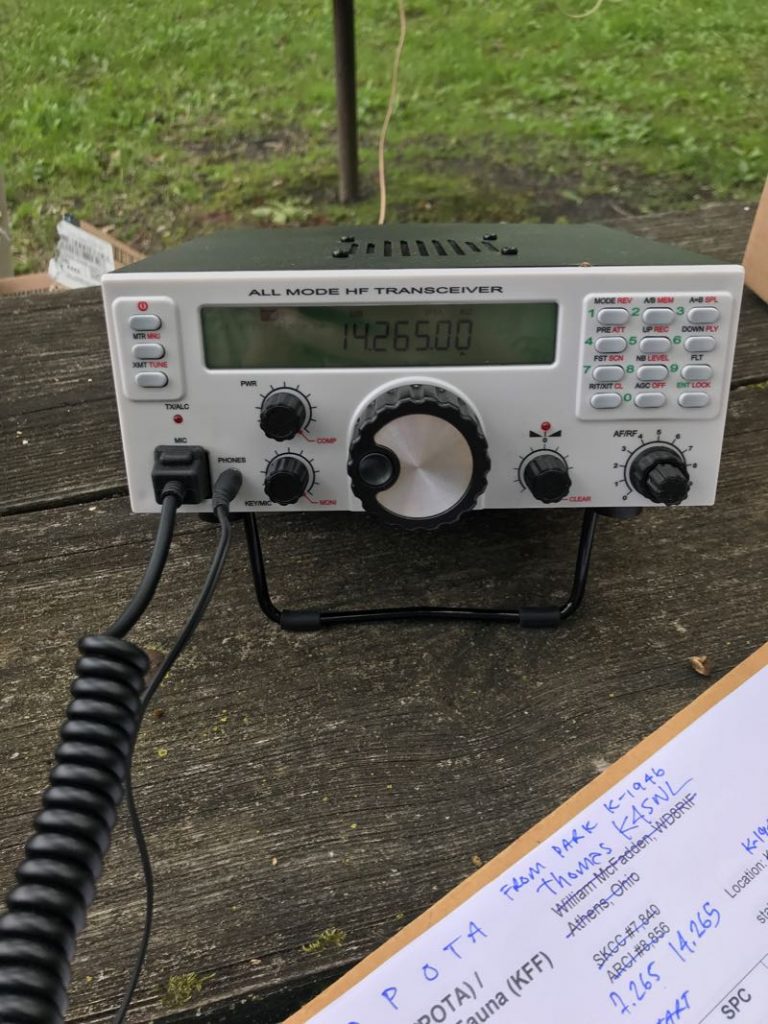 I will publish my first review of the Mission RGO One in The Spectrum Monitor Magazine, most likely in August or September.  In the meantime, I will post updates here as I put the RGO One through its paces. I'm especially excited about using it during Field Day with my buddy Vlado (N3CZ) to see how it holds up in such an RF-dense environment.
And now that the POTA bug has bitten me?  Expect to catch me on the air with the RGO One over the next few weeks!
If you're interested in following the Mission RGO One, bookmark the tag: RGO ONE.
---
Do you enjoy the SWLing Post?
Please consider supporting us via Patreon or our Coffee Fund!
Your support makes articles like this one possible. Thank you!