Many thanks to SWLing Post contributor, Gary DeBock, who shares the following guest post and update from the August 2019 Rockwork DXpedition:
---
Once again the largest FSL antenna collection on the planet made its way across the Columbia River bridge during an overnight trip to NW Oregon, finally being deployed at the original Highway 101 plunging cliff turnoff– Rockwork 4. There has been a drastic decrease in the squatter population, so that Craig Barnes and I were able to easily set up all four PVC bases for all-out DU-DXing at the dream site this morning (see photo). Unfortunately Chris Black came down with a health issue at the last minute, and needed to cancel out.
Craig and I had some excellent signals from the regulars (including 531-More FM, 558-Fiji and 1017-Tonga), although it wasn't quite a stellar morning for rare DX. We were kind of spoiled last year with 1017-Tonga staying a S9 practically throughout the session, but this morning it was "only" at S9 for a few minutes at a time. This meant that as soon as I notified Craig of 1017's potent status, the signal tended to nosedive. Maybe the cumulative effects of humidity and salt water exposure are beginning to take their toll on the Tongan big gun? 558-Fiji showed up with decent signals for a couple minutes at a time, which meant that Craig got the short end of the stick after I notified him of the potent signal. 531-More FM hit an awesome S9 peak around 1312 (including the usual split-second female ID), making it once again seem totally bizarre that no trace of the 2 kW modern rock station has ever been received at Grayland for the duration. The Rockwork Cliff is typically focused in like a laser on New Zealand, and this was a typical morning!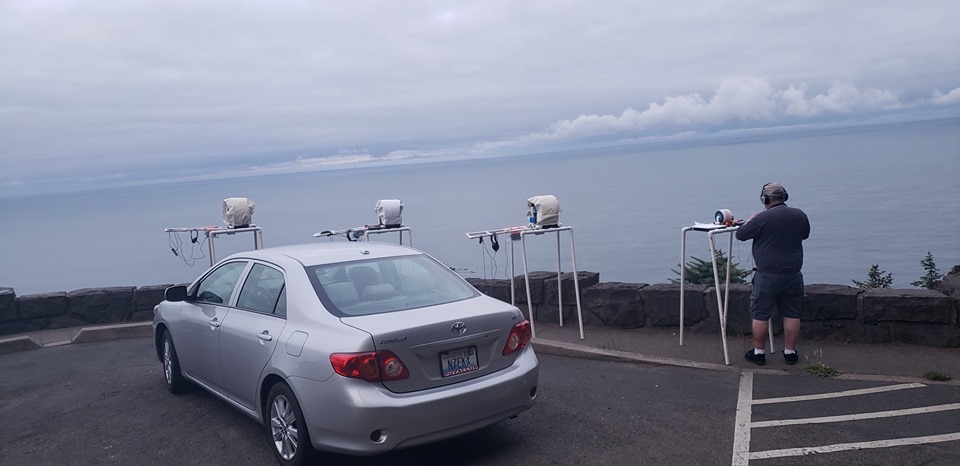 531 More FM Alexandra, NZ 2 kW Potent S9 modern rock signal from this Rockwork regular, with female "More FM" ID at 19 seconds:
558 Radio Fiji One Suva, Fiji 10 kW Island music at temporary potent level at 1257; typically hit the skids after reaching this level:
1017 A3Z Nuku'alofa, Tonga 20 kW Female Tongan speech at S9+ level at 1317:
1017 Newstalk ZB Christchurch, NZ 10 kW Presumed the one under A3Z's meltdown-level signal:
73 and Good DX,
Gary DeBock (DXing with Craig Barnes at the Rockwork 4 ocean cliff near Manzanita, Oregon, USA)
DXpedition equipment:
7.5″ loopstick CC Skywave SSB and XHDATA D-808 Portables
15″, 15″ and 17″ Airport Unfriendly FSL antennas (see photos above)
---
Again, thank you so much for sharing your DX, Gary! I'm so amazed by the signals you snag each year with your homebrew loopstick antennas!