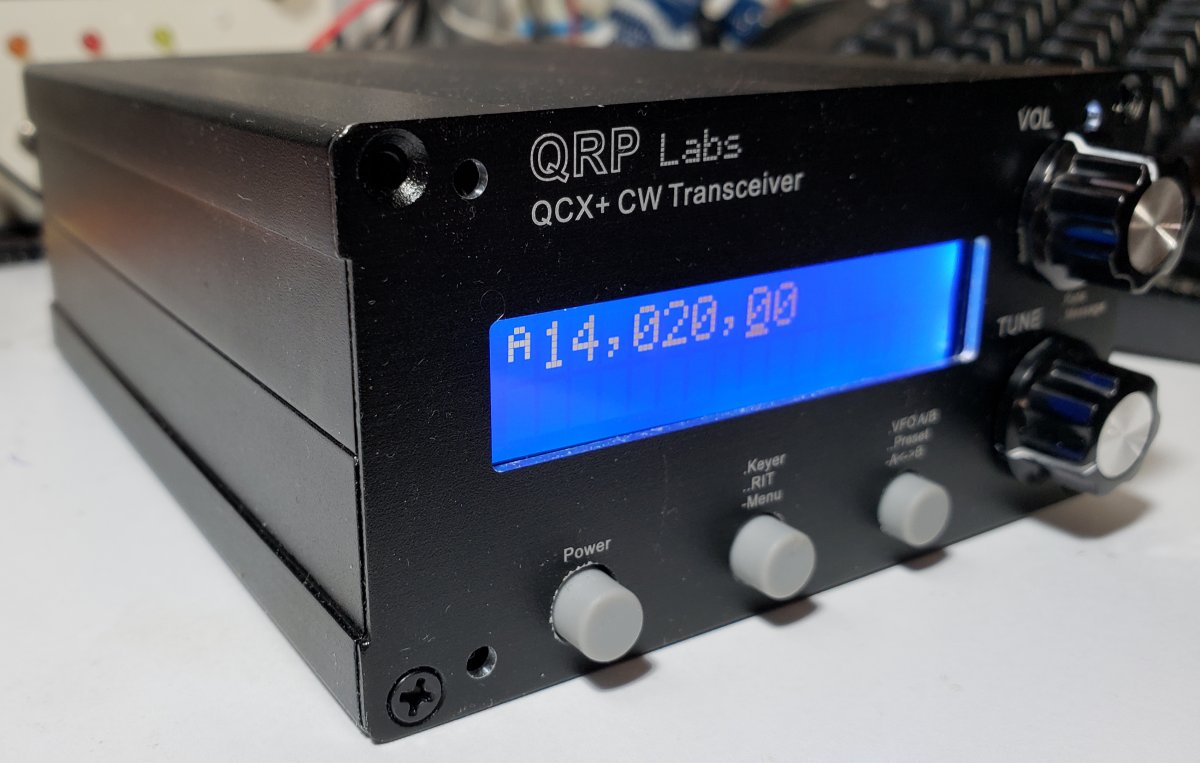 I'm a real sucker for kits of any stripe.
A few days ago, my buddy, Pete (WB9FLW), sent me a tip about the new QCX+ CW/WSPR transceiver by QRP Labs. I posted an announcement on QRPer.com.
I've yet to build a QRP Labs kit, but I've only heard positive reviews from readers and friends. QRP Labs' president, Hans Summers (G0UPL), is an amazing kit designer and, indeed, won the 2019 Homebrew Heroes Award.
Last year, at the 2019 Hamvention, QRP Labs had a table across from ours and, based on the amount of people huddled around his table all day long, I'm certain he was one of the busiest vendors at Hamvention.
His new QCX+ transceiver is an upgraded/updated version of the original QCX transceiver which has sold nearly 10,000 units. In the following video, Hans describes in detail how the QCX+ is designed and the differences between it and its predecessor:
Since I've quite a few things on my Social DX bucket list–including the recent addition of QRP EME (I mean, what am I thinking?)–and since I don't really need yet another CW QRP transceiver, I required a good excuse to buy and build this kit. So I turned to my editor at RadCom who very much wanted review. Fantastic excuse! Thank you!
The amazing thing about the QCX+ is you getting a full-featured single band QRP transceiver for $55 US plus a modest shipping fee. This means pretty much anyone can afford to buy and build one.
I just placed an order for the transceiver ($55) with a 40M band module, the optional custom aluminum enclosure ($25), and the optional GPS receiver ($23). If I had a 3D printer, I might have skipped the enclosure because I'm willing to bet that shortly after the transceiver's release, someone will share an enclosure design one can print at home. Then again, since I know I'll take this little rig to the field, an aluminum enclose will provide excellent protection.
I purchased the optional GPS receiver because I plan to eventually put this rig into use as a dedicated WSPR beacon. The GPS module will calibrate the frequency, time, and Maidenhead Locator grid square in WSPR mode. It can also be used to precisely calibrate the transceiver's synthesizer reference oscillator.
Kit anticipation time!
According to the QRP Labs website, they plan to start shipping the QCX+ in mid-June. I opted for FedEx delivery, so hopefully it'll arrive sometime around my birthday (Happy Birthday to me!).
More than anything, I simply enjoy building kits and really look forward to building the QCX+, then putting it on the air! I'll post updates and a few photos here, but look for my full review likely this fall in the pages of RadCom.
Post readers: Please comment if you've built a QRP Labs kit or have any other kits in the pipeline this summer!