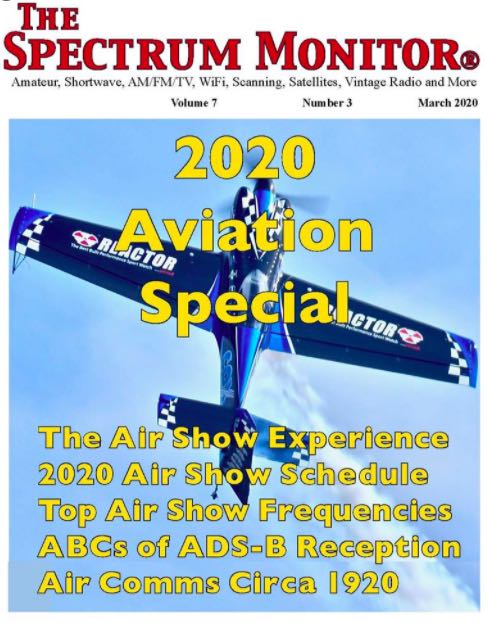 Many thanks to SWLing Post contributor, Bill Hemphill, who writes:
I was very happy to see your post about The Spectrum Monitor magazine. Like you, I am a big fan of it and have subscribed for several years and have purchased the archived years.

Usually, I am not a fan of digital magazines. They either are in special formats requiring special programs or even special versions of Acrobat. Like you, I was happy to see that it is in standard PDF format.

But that still brought up a problem. With my eyesight, I need to zoom in on the page to read it, even when using a 10" tablet and definitely if using a smaller screen such as my phone. Normally it means panning around the page, reading column one down and then going back to the top of the page to read the second or third column.

But there is some good news that many people may not be aware of. The Acrobat Reader app on the Android system allows for a mode called "Reading Mode". What reading mode does is stack the columns up into a single column thus allowing for reading straight down – no more scrolling back to the top of the next column. And you can tap on the screen to enlarge the text and the text will reformat in a larger font to fit the margins of the screen.

I took some screen shots of TSM using Adobe Reader on my Android phone.

On the left is the complete page, on the right I have tapped on the page and while it enlarged it, I now need to scroll around to read it:
Following screen shot shows the "View Setting" Settings and "Page-by-Page" is the default setting.

What you want do is change this to "Reading Mode":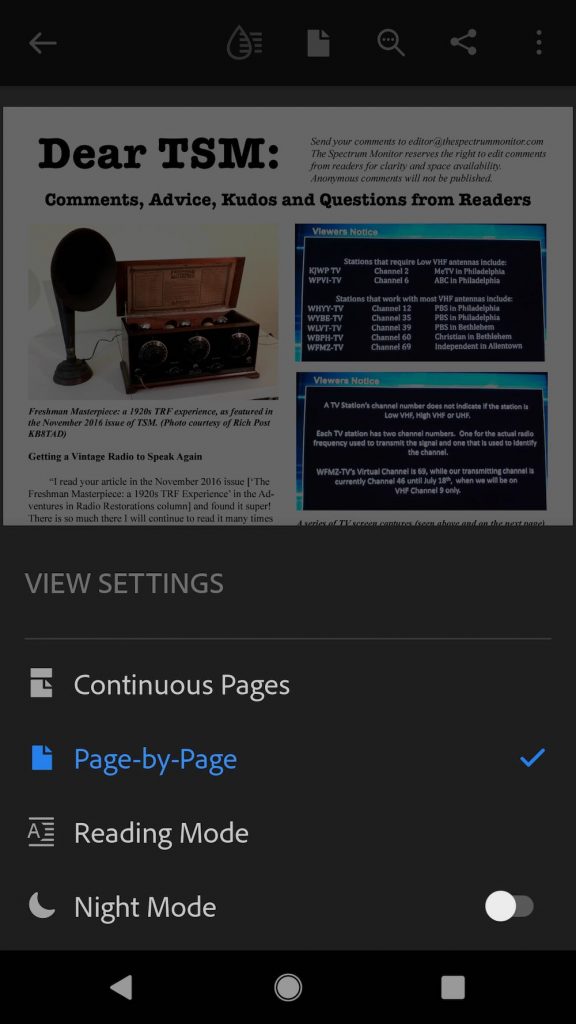 Once you have selected "Reading Mode" you will find that the columns are now stacked vertically and you can read my just scrolling down. No more going back to the top for the next column. Also, taping on the text will enlarge it and reflow it to fit the device screen.

Left screen shot is after selecting "Reading Mode" and right is after tapping the screen to enlarge the text:
With Reading Mode, I find I can even read TSM on my Cell Phone Screen as well as my tablets.

Note: Reading Mode only works with PDF's that have been created with this is mind. It obviously won't work with PDF's created from scans.

Unfortunately, while there is a "Read Mode" in Acrobat Reader DC for Windows, it does not stack the columns like the Android version does. I'm not sure if the Acrobat Reader for iPhone works the same way as Android.

Hope this is of help to others.

73
Bill Hemphill
WD9EQD
Smithville, NJ
Thank you so much, Bill, for sharing your tip! You make a really good point, too, that PDF publications give you the flexibility to change text size and adjust layout through Adobe Reader so that it's quite easy to read even on a small device. I'm also a huge fan of PDF documents and wish other radio publications would consider adopting the PDF format instead of replying on proprietary readers and apps.