Many thanks to SWLing Post contributor, Dan Robinson, who shares the following guest post:
---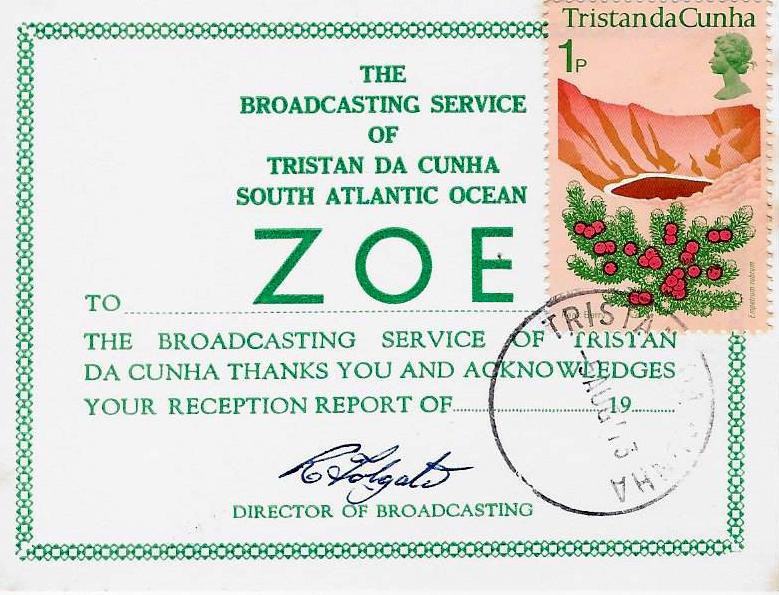 SWLing Post readers may recall the story we published last year about the appearance of a rare QSL card from Tristan da Cunha. ZOE Tristan was for decades one of the most sought after stations — it used 3,290 kHz and had a power of 40 watts.
Recently, I received correspondence from a former editor of the old SPEEDX club bulletin who provided copies of two pages from the bulletin from decades ago. These pages make clear that the QSL I obtained in an Ebay auction was not the card that Dave Sharp received:
Dave was, at one point, editor of the DX Montage section of SPEEDX. As can be seen, the ZOE card that he received was signed by a A.L. Patterson while the one I obtained through auction contained a different signer consistent with a QSL received by South African DX'er Eddie de Lange in 1973. However, the card I received was NOT the one pictured in a story about Tristan published in 2010 — the postmark date is different.
That story noted that three DX'ers from South Africa "did manage to receive and QSL ZOE Radio Tristan – Ray Cader, Gerry Wood and Eddie de Lange were among a handful of fortunate Radio Tristan QSL recipients. I am aware of only two other verifications – UK DX'er Anthony Pearce received a QSL in 1973 and Florida DX'er David Sharp received a verification in 1983."
Since Dave Sharp noted that his QSL collection was unfortunately lost, the ZOE card I obtained through the eBay auction in 2019 was most likely one received by others in the South African group or possibly by the UK DX'er noted in the 2010 story about Tristan.
The headline out of all of this is that it's quite possible that other Tristan QSLs are floating around out there.
– Dan Robinson
---
Wow! Thank you for sharing this follow-up story, Dan!
Readers: Please comment if you have a Tristan Da Cuhna QSL card in your collection! These are rare indeed!