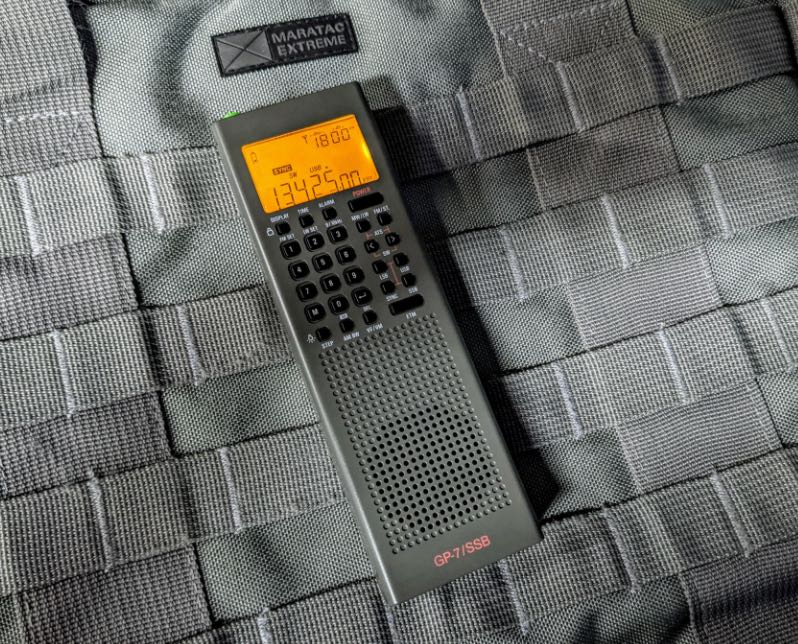 Many thanks to SWLing Post contributor, Dan Robinson, for the following guest post and review:
---
CountyComm GP7 / Tecsun PL-368:  Is It All You Need?
by Dan Robinson
It's been a long wait, but CountyComm, that supplier of all kinds of neat and useful stuff, finally released the GP7 SSB (Gen 4).
As the name states this is the 4th generation of the series of radios adapted by the company from the Tecsun PL-36xxx series of receivers (there was at one point a GP6 that was a never-released special project).
This walkie-talkie style, though receive-only, portable has undoubtedly been a big seller for CountyComm since the first model came out.  It's popular not only with SWLs and amateur operators but also with preppers.
When OEM Tecsun finally did what everyone was clamoring for – redesign the radio with a keypad and including features associated with the PL-880/330/990x/501x receivers – the ground shook.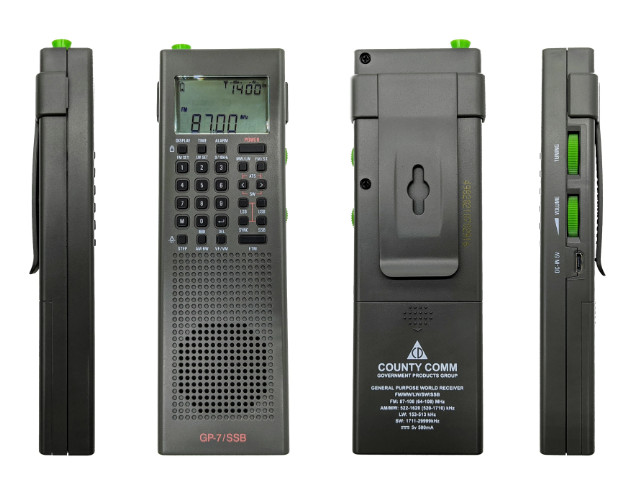 Finally, here was a slim, handy receiver that could be put on a belt clip or handheld that didn't require endless thumb wheel tuning and memory gymnastics to listen to shortwave broadcasts, AM and FM.
Thus, we now have Tecsun's PL-368, the first version of which emerged from Asia in early 2021 and which is now being sold by Anon-Co and other online sellers.  Then CountyComm, based in California, announced its GP7 SSB.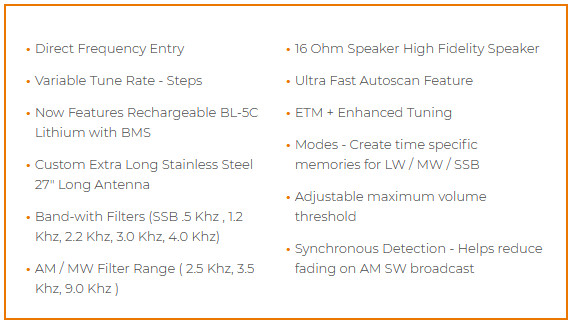 GP7 SSB v Tecsun PL-368 Antenna Differences
There's one major change from the PL-368 – in place of the chrome-plated brass telescopic antenna Tecsun uses, the GP7 has what CountyComm calls a "custom extra long stainless steel 27" antenna" which the company says is better.
The antennas are the same exact length. The tips are different. The County Comm has a colored plastic tip that I find is actually easier to grab hold of than the metal one on the Tecsun.
I also find the antenna on the 368 to be easier to extend.  Asked about this, CountyComm notes that this is due to the chrome plating on the Tecsun, adding that the GP7 is solid stainless steel and a bit stiffer and stronger.  A bit of a trade off there.
Otherwise, the receivers are the same.  Note that the gray GP7 has colored tuning and volume thumb wheels. See the video here showing both receivers side by side tuned to 9,395 kHz as WRMI relays Supreme Master TV at 2100 UTC:
I can discern no significant difference in audio quality.  CountyComm says the GP7 has a 16 ohm "high-fidelity speaker" and I have no reason to think that the PL-368 is any different.  All operations are the same, and that includes re-calibration.
But I want to re-visit an issue that was apparent in the early days of the PL-368 when samples of that receiver were first making their way from Asia to the United States for first reviews.
Some early samples suffered from "phonics" – when the case of the radio was tapped, particularly around the keypad, the receiver exhibited distortion.  This was particularly visible when in SSB.
I noted that this was likely due to inadequate strength of the PCB and suggested that Tecsun pay more attention to this in production.  A later unit of the PL-368 did not seem to exhibit this issue, nor does the GP7 SSB.
But CountyComm acknowledges that body integrity, which a representative described accurately as "flex" remains an overall concern.  I have to think that unless Tecsun as OEM decides to strengthen the PL-368/GP7 body and PCB, this will be an ongoing issue.
CountyComm Has Wide Array of Accessories
The PL-368 and GP7 come with pretty much the same accessories:  the well-known rotating ferrite antenna that inserts in the top of the receiver for directional AM/MW reception, a fabric carrying case, a set of earphones and a micro-USB cable.
But the GP7 comes with a Lithium Ion BCL5 battery.  And CountyComm has other items on its site specifically for or related to the GP7.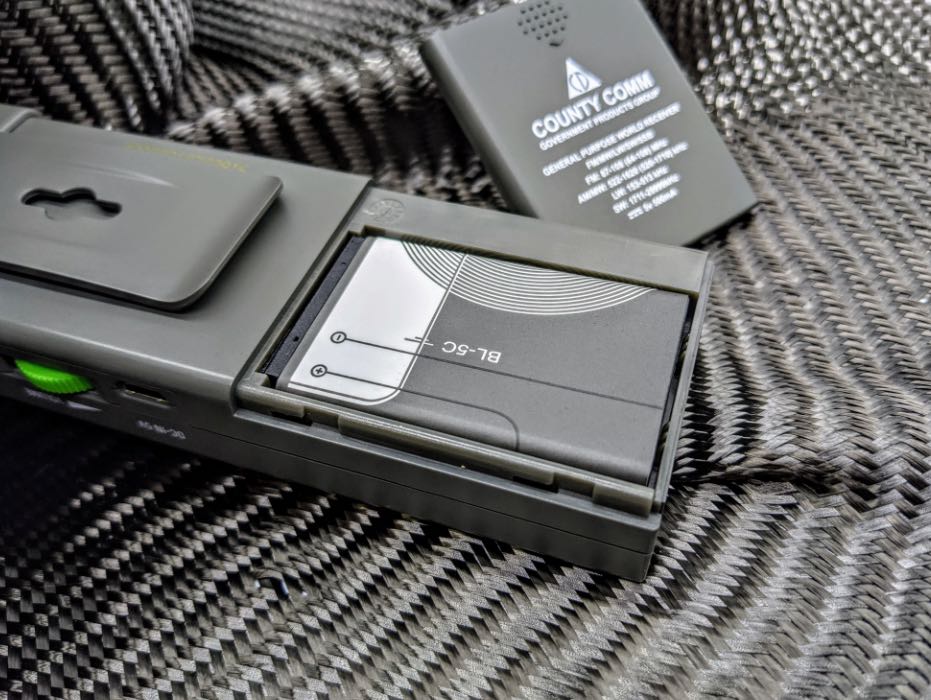 The most impressive of these is an Armored Silicone Case (available in 3 colors) that perfectly fits the GP7.  You have to take the belt clip off the GP7 for this to fit – and I still find the plastic belt clips a bit of a hassle to get on and off.
This silicone case increases the bulk of the radio, but also happens to make it easier to use the radio standing up, lessening the risk of having the radio damaged if it topples over on a flat surface.  I would highly recommend obtaining one of these silicone cases for the GP7.
CountyComm offers an Extended Runtime Kit for the GP7 – a travel charger for the BL-5C battery, helpfully with a LCD display and fold out AC plug.  This comes with two 1,000 mAh BL-5C batteries.  That is 3 total in addition to the one that comes with the GP7.
The GP Radio Desk Pod is something I obtained when I acquired a PL-368, and it is the perfect answer to the problem of standing the GP7 or 368 up, though it will not allow a radio with the silicone case to fit in the base.
CountyComm offers two other superb items:  the XL APX Multi-Purpose Dual Zip Case by Maratac, and the mid-size version of the same.  The latter is perfect for holding the GP7.
Also found on the CountyComm site is a replacement antenna for the older GP5 radio (which is still being sold) and a helpful video – but note (and this is stated there) that replacement antennas for the GP5 do not work for the new GP7 which lacks the removal screw on the right side of the GP5.
However, there is new information that you likely will read first only here, CountyComm informs me that soon (they say about a month from when this is being written) replacement antennas will also be available for the GP7 that can be installed using the screw located on the bottom of the receiver.
Stability Remains An Issue
Stability has never been the strong point of the PL-36xxx series of receivers.  The reality is that these radios are just not built for it.
This is a bit of a annoyance for people like myself with high expectations.
On both the GP7 and PL-368 if you tap or shake the radio enough, especially when in SSB and after performing re-calibration (see below) on a particular station, you may notice that doing this can end up varying the calibration and requiring yet another re-calibration.
Again, as mentioned earlier this is no doubt related to the "flex" in the OEM PL-368 body and PCB and is just something to get used to if you decide to dive in to owning the PL-368.  I have been trying to recall if the older PL-360/365 (non-keypad) units I owned exhibited stability issues, but I just can't recall and both have been sold.
Re-calibration:  A Valuable Feature
I covered the subject of re-calibration in a recent update piece here on SWLing Post.  There are basically two methods, as I learned recently, and these can be applied to the PL-368/GP7 and to Tecsun's PL-330, 990x and 501x.
Method one:  Switch to USB or LSB, then press the STEP indicator twice to move the cursor over to the far right, zero beat, then hold in USB or LSB depending on which you have selected until the display flashes.
Method two:  Switch to USB or LSB, hold in USB or LSB until the display flashes twice, then move STEP to the far right fine tune position, zero beat, then hold in USB or LSB depending on which you have selected until the display flashes again.
These may seem like they're the same.  I prefer the second method in my experience appears to allow the receiver to remain in fine tune mode for a longer period to achieve exact zero beat.
But the headline here is that re-calibration does not zero the radio for much distance – if you re-calibrate on 9,420 kHz (Greece) it's more than likely you need to repeat the process if you tune to 9,630 or 9,330 kHz.  The GP7 and PL-368 are just not stable enough for that calibration to hold.
Is The GP7 / PL-368 Really All We Need in Today's HF World?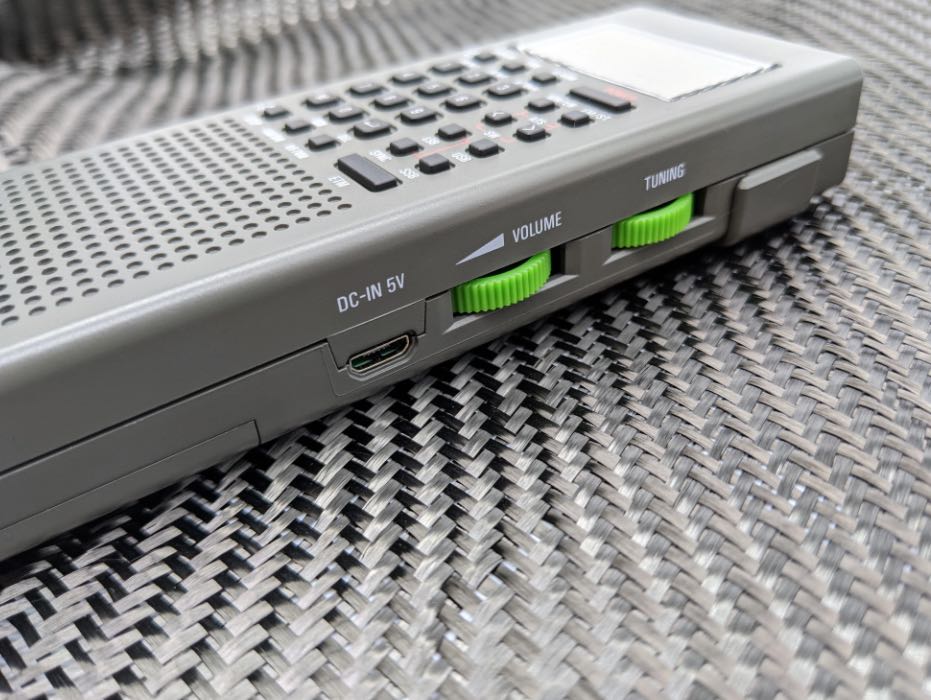 Now, briefly I venture into the question that for many people has already been answered – does anyone really need much more than a GP7 or PL-368 in today's HF environment, for easy basic yet fully satisfactory reception, especially for preppers and listening to signals while on the go?
The reason I pose this question is that in parallel with my testing of Tecsun receivers over the past few years, I recently dove into the interesting world of the Malahit receivers, both the Russian version by Malahiteam, and Chinese clones.
Just the existence of these radios makes things more interesting.  Malahit software  turns a small box (Chinese clones are available in various designs, some of them quite attractive with varying quality) into a full communications receiver with numerous options available to process/shape signals, including superb noise reduction.
However, here is where the big BUT comes in.  For portable listening, are these receivers significantly better than something like the CountyComm GP7 / Tecsun PL-368, or Tecsun's 990x and 501x?
The answer I have come to for myself is, NO.
What I have found is that if I want to listen to shortwave, MW, or FM quickly and without a need for "twiddling" of controls and settings, a GP7/PL-368 answers that need perfectly.
So do other Tecsun portables, and other receivers such as the XHDATA (also available under the Sihuadon and RADIOWOW labels) D-808, which also offers AIR band, multi-bandwidths in SSB.  I will note that to me the D-808 appears to have a bit more stability when in SSB.  But it lacks the re-calibration feature found on the GP7 / PL-368.
I raised this topic with a CountyComm representative who said that while not perfect, the GP7 outperforms any of the Malahit software based radios when using a whip antenna.  And based on the gymnastics I have been through with the Russian and Chinese receivers, I have to agree.
Sitting on my front porch with a Malahit using only a telescopic whip (note that some users have modified the radios to use stronger BNC connectors and use amplified antennas made in Greece) I find that I spend countless minutes tweaking everything from RF gain to NB and other levels.
With a GP7 or PL-368 it's a matter of powering on, entering frequency by keypad and sitting back and listening, with a quick re-calibration if I want exact zero beat and SSB.  Add to that the new capability with the GP7/PL-368 to use multi-bandwidths in SSB and AM modes, and you have a portable giant.
In a perfect world, Tecsun would reinforce the body and strengthen the PCB to eliminate the "phonics" problem that may still be seen on some units.  But this isn't a perfect world.  Re-tooling the existing structure is not something we're likely to see.
Summary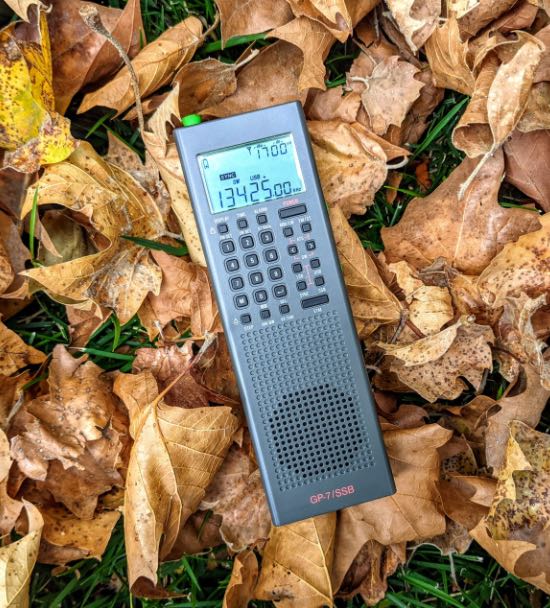 So, I hope my observations have been useful to those who are considering purchasing a CountyComm GP7 or Tecsun PL-368 and those who already have the radio.
As I have observed in the past, the addition of a keypad to this radio was a game changer.  Arguably, unless you have set your sights on owning one of the more premium receivers such as the 990x or 501x, a GP7 or OEM Tecsun is really all one needs.
But then it doesn't have to be an either/or choice!  As I always like to say, the more merrier!
Click here to check out the CountyComm GP7 SSB on CountyComm's website.