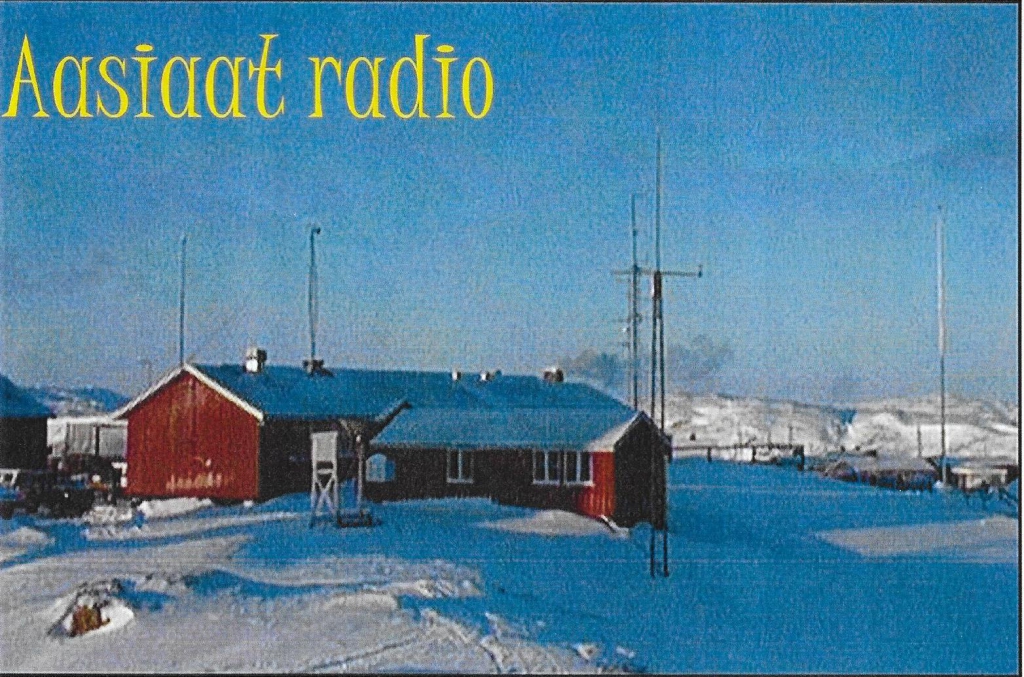 Many thanks to SWLing Post contributor, Don Moore–author of  Following Ghosts in Northern Peru–for the following guest post:
---
Monitoring the MF Marine Bands
By Don Moore
For me, DXing has always been about the challenge of receiving difficult-to-hear radio stations, regardless of the type of station or frequency range. In my five decades in the radio hobby I've logged a lot of different kinds of stations – shortwave broadcast, medium wave, shortwave utility, longwave beacons, etc. But some of my favorite catches have been in the upper end of the medium frequency range.
Technically speaking, medium frequency (MF) is the range from 300 to 3000 kHz and includes the standard medium wave (AM) broadcast band. The upper end of the MF band, from 1600 to 3000 kHz (except for a small portion reserved for amateur radio),  has always been assigned to various types of utility uses including broadcasts and other voice communications from regional maritime stations. And while digital modes and satellites have done a lot to change the nature of communication with ships at sea, there is still a lot of good human-voice DX to be heard.
Several dozen stations, mostly in Europe and North America, broadcast regularly scheduled marine information broadcasts in the MF range. These broadcasts are usually between five to ten minutes in length and include weather forecasts, navigational warnings, and other notices to keep ships at sea safe. On occasion it's possible to hear two-way voice communication here between ships and shore stations, although that's much less common today.
The Equipment
Nothing special is needed to DX the marine MF band other than a receiver that covers the frequency range and can receive USB mode (which all these broadcasts are in). However, for reasons explained below, I highly recommend using an SDR to make spectrum recordings of the entire band to go through later.
As always, the antenna may be more important than the receiver. The ultimate way to hear these stations is on a DXpedition with a long beverage antenna. But a lot can be heard on a random wire or even an inside loop if your location isn't too noisy. I've had good luck over the years using simple wire antennas and a small tunable ferrite loop while living in Pennsylvania, Michigan, and Iowa in the USA.
The final key to DXing these stations is persistence. The stations aren't high powered and propagation on these frequencies can be fickle. You might go days without hearing a trace of a station and then one day there it is, nice and clear. The need for persistence is one reason why I recommend using an SDR. For those of us in North America, some of the best DX is in the middle of the night and not many of us can stay up all night DXing every night. (I'm not sure I'm up to doing that even one night any more.) It makes more sense to set up the SDR to record at certain times during the night and then check the recordings the next day. You'll never have to worry about sleeping through a good opening that way!
Hang Out on 2182 kHz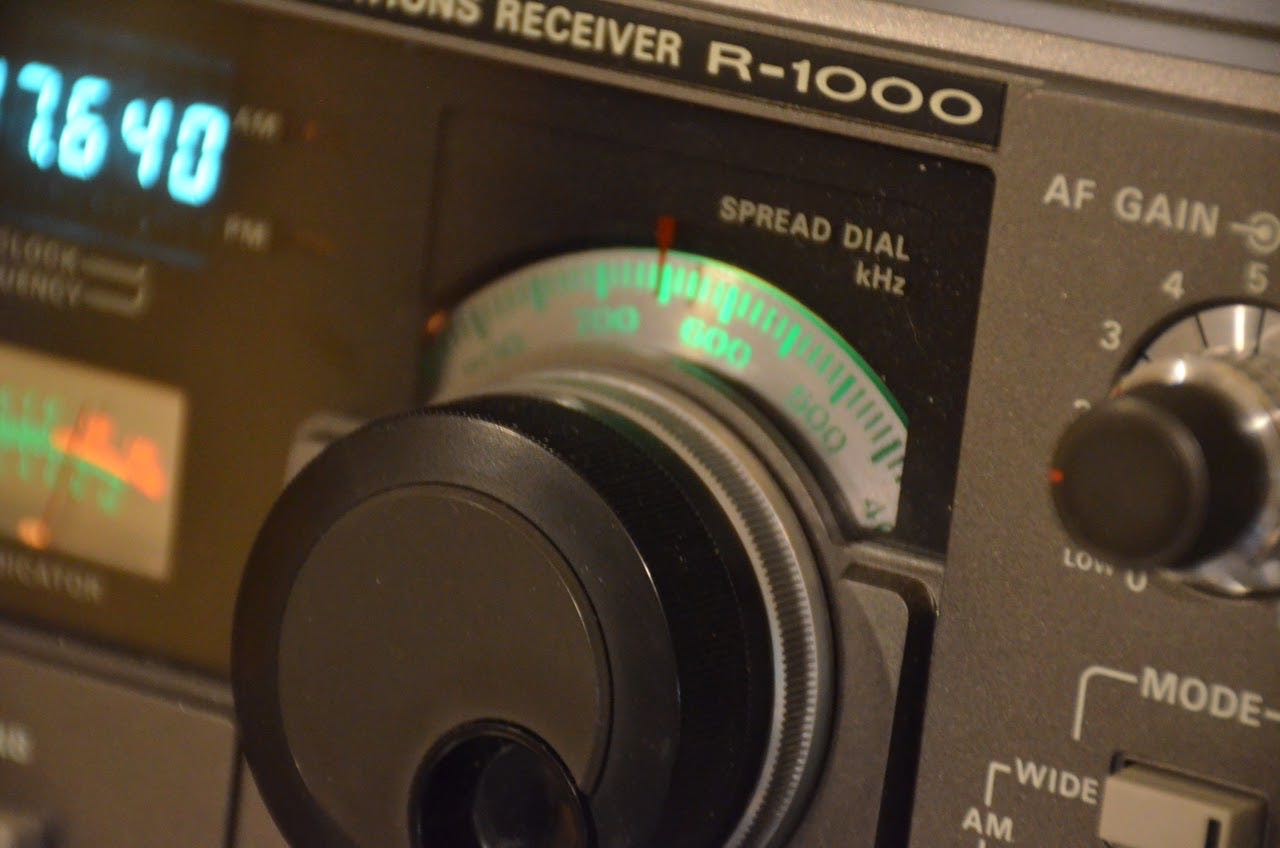 The most important frequency to remember for DXing MF marine stations is 2182 kHz.
Decades ago this was assigned as an international distress, calling, and announcements frequency. Until a few years ago all stations were required to remain silent for three minutes at the top and bottom of the hour to monitor 2182 kHz for distress calls. Distress calls have moved to other modes and frequencies so you aren't likely to hear a sinking ship here anymore. Today 2182 kHz still gets some use as a calling frequency, where a ship and a shore station quickly arrange to have a conversation on another frequency. But the more common use now is for shore-based marine broadcasters to pre-announce marine information broadcasts they are about to transmit on other frequencies. The announcements, like the broadcasts to follow, are usually in both English and the station's national language. Which one comes first varies by station.
For example, here's a recording made in Newfoundland at 2304 UTC on 10 November 2021 of an announcement on 2182 kHz of an upcoming marine broadcast by Finisterre, Coruña, and Machichaco Radios in Spain:
A lot of stations can be heard by just hanging out on 2182 kHz. The problem is that often several stations make broadcasts at about the same time so sometimes these pre-announcements pile up on top of one another. Separating them is part of the challenge. The most common times for this to happen are at roughly three to five minutes and thirty-three to thirty-five minutes after certain hours. That's a legacy of the old days when stations scheduled information broadcasts just after the three minutes of silence.
This recording made in Newfoundland starts out with Las Palmas and Arrecife Radios from the Canary Islands which are then joined by Aasiaat Radio in Greenland and Valentia Radio in Ireland. There is at least one more station in the background that I can't make out.  Recorded at 2233 UTC on 13 November 2021:
Here Torshavn Radio from the Faroes Islands is immediately followed by Placentia Coast Guard Radio in Newfoundland. Recorded in Newfoundland at 2235 UTC on 12 November 2021:
Finding References
This article is meant to serve as an introduction to DXing the MF Marine Bands. I believe the main reason most DXers don't know about these stations is that there aren't many good authoritative references about what there is to hear. The information is out there, but it's scattered all over the Internet. I've spent many hours doing Google searches to look for schedules. Sometimes the ones I find are several years old. That's not necessarily a problem. Unlike SWBC stations, marine stations almost never change their times and frequencies. But there has been a trend of networks consolidating and automating operations. Others have become more reliant on VHF or digital modes. Because of this some stations have gone off the air.
For some time I've wanted to seriously focus on DXing these stations and trying to confirm what is still on the air. Well, that's something good that has come out of the pandemic. During the past two winters I spent long periods at my parents' place in rural Pennsylvania DXing on 200 and 300 meter long beverage antennas. Then in November of 2021 I had the opportunity to DX for eight days with beverage antennas on coastal Newfoundland. Those aren't typical listening conditions for most DXers, but they have given me the chance to thoroughly examine what is on the air.
To help other DXers also log these stations I've created this webpage of links to resources I've found, including my spreadsheet of schedules.
It will also include links to logs, audio recordings, SDR spectrum recordings and more.
The Stations to DX
Following is a summary of what I think are most likely stations between 1600 and 3000 kHz to be heard from North America and Europe. For DXers in most of North America anything below 1710 kHz will probably be covered by interference by AM stations in the X-band. And everywhere there may be QRM from amateur radio operators between 1800 and 2000 kHz as they also use that band. But even if you have no chance to hear Spain on 1698, 1707, and 1677 kHz there's a good chance you can still hear them on 2182 kHz.
Always allow a little variability with the listed times. After doing a pre-announcement on 2182 kHz stations have to switch the transmitter to their regular frequency. One day that might take thirty seconds and the next day two or three minutes. Some stations are fully automated and everything takes place right on schedule all the time. Others are still run by humans and are less predictable. Pre-announcements and the following broadcasts can sometimes start a few minutes late. One station, whose name I won't mention, is often up to four minutes late.
Unless otherwise specified, all these stations make a short pre-announcement on 2182 kHz. 
North America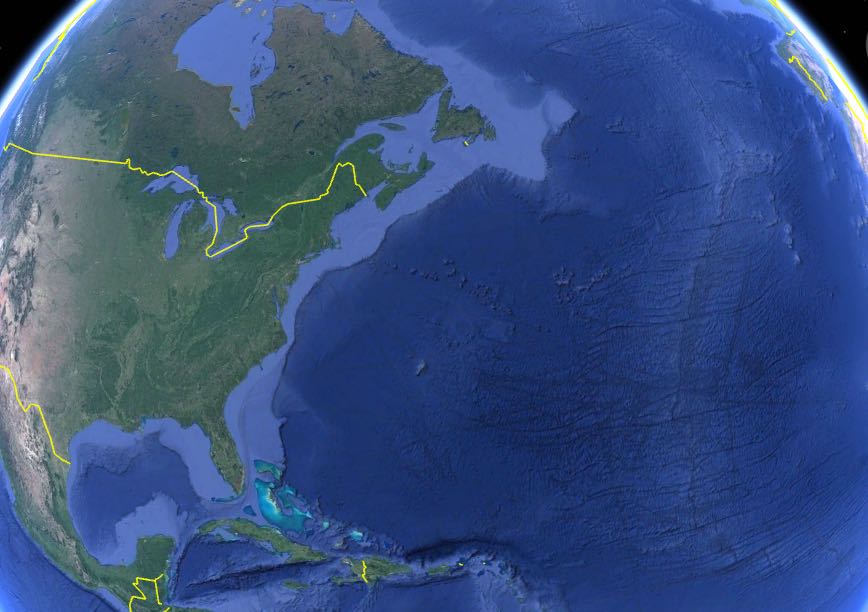 Bermuda – Bermuda Harbour Radio has weather broadcasts on 2582 kHz at 0035, 0435, 0835, 1235, 1635, and 2035 UTC. These are easy to hear in North America. They sometimes ID as just Bermuda Radio.
Greenland – Aasiaat Radio has navigational warnings in English, Danish, and Greenlandic at 2135, 0035, 0335, 0635, 0935, and 1235 UTC. These are broadcast simultaneously over a network of ten regional transmitter sites. The pre-announcement on 2182 goes out over all ten transmitters, which can create an interesting echo effect. On a couple of occasions I've heard pre-announcements that there was nothing to broadcast and then there weren't any broadcasts on the other frequencies.
2116 Nuuk
2129 Qaqortoq
2225 Paamiut
2250 Tasiilaq
2265 Ikerasassuaq
2304 Qeqertarsuaq
2400 Maniitsoq
3125 Sisimiut
3276 Upernavik
3280 Uummannaq
The first two frequencies are generally the strongest, but with decent conditions all of them should occasionally be heard in most of North America. I've logged all of them in Pennsylvania except for 2304 kHz and that one was heard in Newfoundland. Several years ago I heard a couple of these at a DXpedition in Michigan using just a random-wire antenna but at the time didn't know what they were. Aasiaat Radio is a perfect example of the value of DXing on SDR spectrum recordings as with 'live' DXing it would be very difficult to check all ten frequencies in the few minutes the broadcasts lasts.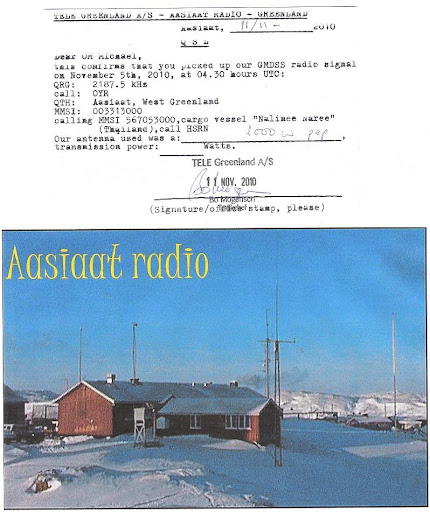 Here's a recording of Aasiaat Radio via the Qaqortoq transmitter site on 2129 kHz as heard in Pennsylvania on 23 January 2021 at 0937 UTC:
Canada – The Canadian Coast Guard has done a lot to consolidate its vast network of stations over the past few decades but they continue to provide the best targets for North American DXers. There are still seven stations in eastern Canada using eleven different transmitter sites and one station in British Columbia using three sites.  In addition Iqaluit Radio in the Canadian Arctic broadcasts only during the Arctic navigation season, roughly from late June until early November. They use seven transmitter sites on 2 MHz plus some higher frequencies. The time to try for these is in October and early November before they shut down for the year.
As the Canadian schedules are complex I've created a webpage listing them by time.
I heard Iqaluit Radio on 2514 kHz at 2235 UTC on 13 November 2021 while in Newfoundland this year. I also heard this in Michigan a few years ago:
It's not common to hear ships on 2182 kHz anymore but the Canadian Coast Guard still uses the frequency sometimes for communications between its vessels and shore stations. Wikipedia has a list of Canadian Coast Guard ships should you hear one.
The United States – A few decades ago there were dozens of private radiotelephone stations and US Coast Guard stations broadcasting on two MHz. The radiotelephone stations were gone by the 1990s and the US Coast Guard ended all use of 2 MHz in 2013. Sadly, there's nothing left to be heard from the USA.
Europe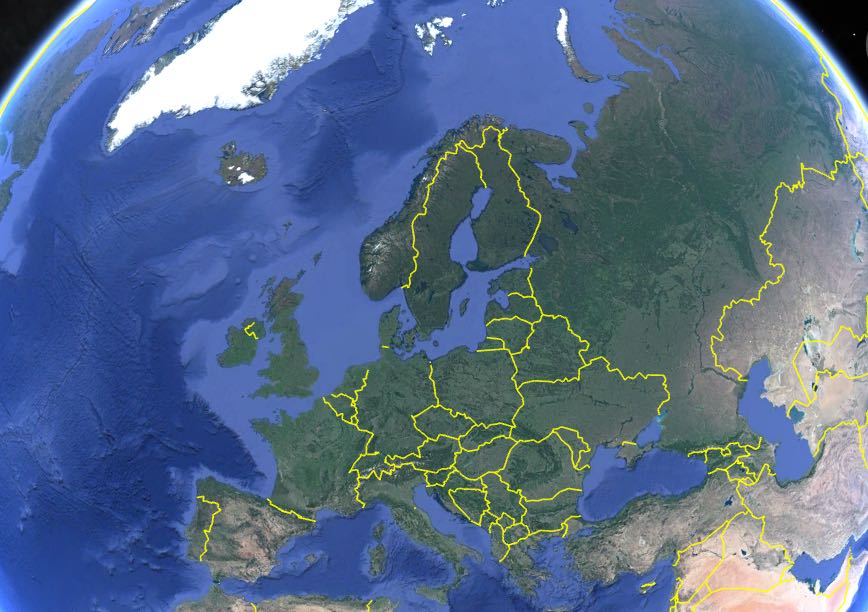 Belgium – Oostende Radio from Belgium is the easiest European MF station to hear in North America. They broadcast on 2761 kHz at 0233, 0633, 0820, 1033, 1433, 1720, 1833, and 2233 UTC.
Oostende Radio on 2761 kHz heard in Newfoundland on 13 November 2021 at 0234 UTC:
Spain – Spain is the next easiest country to hear in North America. Or maybe I should say the next three easiest countries as the Canary Islands and the Balearic Islands are usually considered to be distinct radio countries.
The Cellnex company operates nine different MF stations using twenty-eight different transmitter sites. I've organized the schedules and sites at this webpage. 
For announcements on 2182 kHz, Spanish stations all use the same format as on this English/Spanish announcement from Tarifa Radio heard in Pennsylvania on 14 January 2021 at 2303 UTC:
Spain's Balearic Islands can be heard on shortwave via Palma Radio, heard here in Newfoundland on 2182 kHz at 2319 UTC on 09 November 2021. (Don't confuse this with Las Palmas Radio, which is in the Canary Islands.):
To prove that these stations can be heard in the middle of North America, here's a recording of four Spanish stations on 2182 kHz made at 0535 UTC on 20 January 1997 in Davenport, Iowa. In order they are Palma Radio, Machichaco Radio, Cabo de Gata Radio, and (no longer active) Chipiona Radio:
Italy – Like Spain, Italy offers DXers three different radio countries to log. The Guardia Costiera operates seventeen different stations, including three on Sicily and two on Sardinia. They all broadcast in both Italian and English using an easily recognizable mechanical-sounding computerized woman's voice (which I've dubbed 'the mechanical lady' in my logs).  They all sound the same, which is a good thing as station IDs are hard to come by on these stations. I haven't found a reliable schedule for Italy but broadcasts usually seem to start at  around thirty-three minutes after the hour with at least a few stations on every hour. The best thing to do is to check all the frequencies occasionally over several hours.
1852 Palermo Radio (Sicily)
1855 San Benedetto Radio
1876 Lampedusa Radio
1888 Civitavecchia Radio
1925 Livorno Radio
2579 Bari Radio
2591 Livorno Radio
2600 Mazarra Radio
2624 Trieste Radio
2628 Augusta Radio (Sicily)
2632 Napoli Radio
2642 Genova Radio
2656 Ancona Radio
2663 Crotone Radio
2680 Cagliari Radio (Sardinia)
2719 Porto Torres Radio (Sardinia)
2789 Messina Radio (Sicily)
Until recently I had never heard a pre-announcement on 2182 kHz from the Italian stations. Then on several days in Newfoundland at 2315 UTC I heard at least a dozen stations making announcements in a crazy pile-up less than two minutes long. I've picked out Palermo, Porto Torres, and Bari. See if you can do any better:
In Pennsylvania I've heard 1852 kHz and all the stations from 2628 to 2789 kHz. I added a few more in Newfoundland.  The stations on 2579 and 2591 are always blocked by digital transmissions and a few of the others are occasionally blocked.
Ireland – Valentia Radio has navigational warnings on 1752 kHz every four hours from 0233 until 2233 UTC and weather broadcasts at 0303, 0803, and 2103 UTC.  That frequency is a very tough catch but the pre-announcement on 2182 can often be heard if it isn't being blocked by the Spanish stations that announce around the same time.
Valentia Coast Guard Radio as heard in Pennsylvania on 2182 kHz on 17 January 2021 at 0235 UTC:
Malin Head Radio has navigational warnings on 1677 kHz every four hours from 0033 to 2033 UTC, which is all but impossible in most of North America. They make a pre-announcement on 2182 kHz but it's harder to hear than Valentia.
Denmark – Lyngby Radio broadcasts in Danish and English at listed times of 0133, 0533, 0933, 1333, 1733 and 2133 UTC but has also been heard at 2033 and 2200. Frequencies are 1734 (Blaavand), 1758 (Skagen), and 2586 (Ronne on Bornholm Island). Broadcasts are pre-announced on 2182 kHz. All have been heard in Pennsylvania. The best bet in North America is 2586 kHz.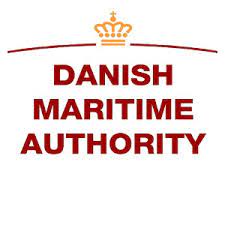 Lyngby Radio as heard in Pennsylvania on 1758 kHz via Skagen at 0110 UTC on 30 December 2020:
France – The French CROSS group has three stations and they only broadcast in French. The online schedules I've seen for these don't fully agree with my own logs and the logs of others. CROSS La Garde in the Mediterranean uses 1696 and 2677 kHz at scheduled times of 0900, 1400, and 2100 UTC. I've also heard them at 0203 and 0603 in Pennsylvania.
CROSS Corsen uses 1650 and 2677 at scheduled times of 0715, 1515, and 1915 UTC. I've also heard them at 2303 in Pennsylvania and at 0503 in Newfoundland. CROSS Griz Nez used 1650 and 2677 at scheduled 0733, 1533, and 1933 UTC. The 0733 broadcast has been heard in Pennsylvania.
England and Scotland – The United Kingdom has cut back significantly on marine voice broadcasts over the past few decades. There are four stations left, one in north England and three in Scotland, including one in the Shetland Islands. All four use just 250 watts into vertical antennas, which makes them tough DX. The best way to hear all of these is the pre-announcements on 2182 khz, although I have heard the main frequencies for all of them in Pennsylvania. (BTW, the British stations spell Coastguard as one word.)
The most interesting one to hear is Shetlands Coastguard which has weather broadcasts on 1770 kHz. No radio club considers these islands to be a separate radio country, but given their distance from the rest of Scotland, I think they should.  Shetlands broadcasts every three hours from 0110 to 2210 UTC.
Moving south, Stornoway Coastguard broadcasts from the amusingly named Butt of Lewis on the Outer Hebrides islands off the west coast of Scotland.  Stornoway uses 1743 kHz every three hours from 0110 to 2210 UTC, the same as the Shetlands.
Here Stornoway Coastguard and Shetlands Coastguard overlap in their announcements on 2182 kHz. Recorded in Pennsylvania at 0710 UTC on 23 January 2021.  Note, even if the station names weren't clear, these could still be identified based on the frequencies given – 1743 and 1770 kHz:
Also from Scotland is Aberdeen Coastguard broadcasting every three hours from 0130 to 2230 on 2226 kHz. Humber Radio from northern England is on every three hours from 0150 to 2250 on 1925 kHz, in the middle of the amateur radio band.
Norway – See my recent article 'The Rarest DX?' on monitoring stations from Norway and its Arctic Islands.
Iceland – Reykjavik Radio is scheduled at 0205, 0505, 805, 1105, 1405, 1705, and 2305 on 1659 (Hornafjordur), 1713 (Vestmannaeyjar), 1761 (Nes), 1876 (Reykjavik), 1883 (Siglufjoerdur), and 2724 (Isafjoerdur). I've heard 1876 and 2724 in Newfoundland at the first three listed times.
Reykjavik Radio as heard in Newfoundland on 1876 kHz on 11 November 2021 at 0805 UTC:
Faroes Islands – These islands between Denmark and Iceland have a broadcast at 2234 UTC on 1641 kHz, pre-announced on 2182 kHz. I've only heard this in Newfoundland.
Sweden – Stockholm Radio is on at 2200, 0200, and 0600 UTC on 1674 (Stavnas), 1710 (Grimeton), 1779 (Bjuröklubb), 1797 (Gislovshammar), and 2733 (Harnosand).  I've heard 1779 and 1797 in Pennsylvania and the other frequencies have been reported in Europe.  I've never heard a pre-announcement on 2182 kHz and I believe they don't do one. This is one of the hardest to hear countries in North America.
Final Thoughts
As DXers I think we often pigeon-hole ourselves too much. One guy only does AM broadcast DX while someone else only does SWBC. But there's plenty of good DX out there if you look around. I hope this article has helped you learn about a part of the radio spectrum that is often forgotten about. And, I hope it helps you log some new stations.
Happy tuning!
---
Thank you for sharing this brilliant primer on DXing the MF Marine Bands, Don!
SWLing Post readers: make sure to check out Don's excellent website with numerous MF Marine Band resources.