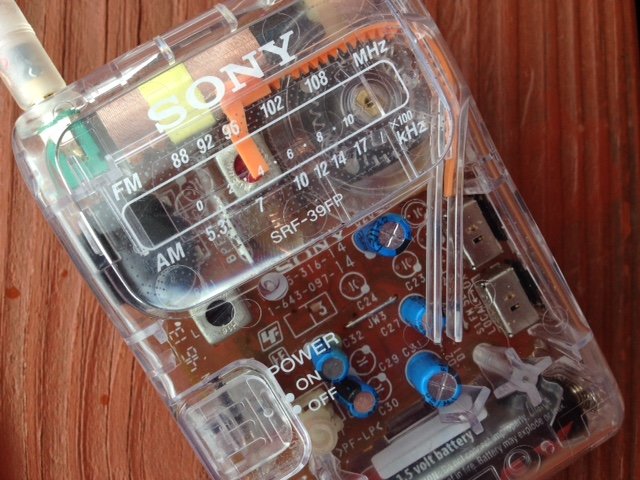 Radio Waves:  Stories Making Waves in the World of Radio
Because I keep my ear to the waves, as well as receive many tips from others who do the same, I find myself privy to radio-related stories that might interest SWLing Post readers.  To that end: Welcome to the SWLing Post's Radio Waves, a collection of links to interesting stories making waves in the world of radio. Enjoy!
---
Inside Wire, available 24/7 to incarcerated people in Colorado and to online listeners around the world, is said to offer a chance for prisoners and those they harmed to heal.
LIMON, Colo. — Herbert Alexander stares at the sound waves jumping on the computer screen in front of him, his shaved head partially covered by headphones. He's editing a short audio feature on incarcerated fathers, a subject with which he is intimately familiar.
His two sons will soon hear his voice and his story because Alexander, 46, an inmate at Limon Correctional Facility, is preparing a segment for Inside Wire: Colorado Prison Radio, billed as the first radio station to be produced inside a prison and available to the world outside.
Other radio stations created in prisons generally air only within the walls of their lockups, but Inside Wire, which premiered March 1, reaches all 21 prisons in the state and beyond, online and by app, making the first of its kind in the country, organizers said.
"In spaces where isolation continues, this medium can cut through that," said Ryan Conarro, general manager and program director of Inside Wire and creative producer for the University of Denver Prison Arts Initiative, which oversees the program in partnership with the Colorado Department of Corrections. [Continue reading at NBC…]
This issue of ERN includes novel aeronautical experiments, life-detecting radars and non-wearable health monitoring, the latest on those mysterious shortwave trading stations and more.
Click here to read a wide variety of topics in Experimental Radio News 4.
The BBC has resurrected an old school way of broadcasting in order to reach people in the crisis area of Ukraine: Shortwave radio. What is shortwave, and why has the BBC decided to begin using it again?
It's almost a forgotten technology in the United States, except for some Americans of a certain age, or maybe their parents or grandparents or even great grandparents.
Shortwave was used extensively during World War II and the Cold War. For many years, shortwave broadcasts were spread around the world over Voice of America. Russia had Radio Moscow and other countries had their own shortwave broadcasts.
What exactly is shortwave radio?
John Figliozzi is an expert and author of The Worldwide Listening Guide, now, in its tenth edition. He explained it like this: "Shortwave radio is a legacy technology using the ionosphere to bounce radio signals over a wide and long distances."
That means it can be heard thousands of miles away. [Continue reading at TPR…]
Shortwave Collective is a 10-member feminist art group founded in 2020. Collectively, we've been exploring the process of radio circuit assembly, considering the radio spectrum as an artistic material, and building self-powered radio receivers. Through an artist residency at Buinho Creative Hub in Portugal, we also spent a week of in-person and remote collaboration developing radio wave receivers and experimenting with designs with others in an open workshop.
Here are some of the lessons we've learned — and how to build your own radio wave receiver.
[…]What interests us about the radio wave receiver projects is their accessibility. It's a great way to learn about the physics of radio through practical experimentation.
SIMPLE RADIO CIRCUITS AND OPEN WAVE-RECEIVERS
Probably the most famous example of simple radio design in action is the foxhole radio. These were made from materials that were accessible to soldiers in the trenches (foxholes) during World War II. Though designs varied, they typically used a razor blade, pencil, and safety pin for parts. The official military vacuum-tube radios used during the war could be traced to reveal broadcast or reception locations, but foxhole radios operate without a power supply, and could not be detected. Thus, soldiers used them as a way to safely keep up with the world from their posts. [Click here to read the full article at Make Magazine…]
Swiss Radio International ceased broadcasting in 2004, an article on the site of its successor organisation Swiss Info looks at the history of the station
The post from 2019 says:
From the mid-1930s to 2004, Switzerland's international service was Swiss Radio International (SRI). The first few decades of SRI's existence were the heyday of shortwave – it was often the only way of getting news directly from other countries.
What began as the Swiss Short Wave Service in 1935, would grow from broadcasting programmes in German, French, Italian and English to include other European languages and Arabic, and eventually change its name to Swiss Radio International.
Read the full story at
https://www.swissinfo.ch/eng/multimedia/the-sounds-of—_when-the-world-got-its-news-from-shortwave-radio/45290852
---
Do you enjoy the SWLing Post?
Please consider supporting us via Patreon or our Coffee Fund!
Your support makes articles like this one possible. Thank you!