Radio Waves:  Stories Making Waves in the World of Radio
Welcome to the SWLing Post's Radio Waves, a collection of links to interesting stories making waves in the world of radio. Enjoy!
---
Summary
AM radio in the British Isles is now in terminal decline with audiences dropping and many transmitters closed already. The majority of the remaining transmitters will likely close by the end of 2027. Over the next few years, the BBC and major commercial broadcasters will be looking to minimise their AM transmission costs by reducing transmission powers at the high-power sites and closing some of the low-power transmitters serving small audiences.
A coordinated AM shutdown may then follow at some point, most likely in 2027, though some independent broadcasters may continue using AM beyond this. This article explores these issues in more detail.
Click here to download the full PDF of this article.
This episode of the Atomic Hobo podcast focuses on the role of the BBC before and after nuclear attack:
Click here to listen via Soundcloud.
Note: the The Alexander Association has announced that they will be unable to put SAQ on the air this year on Alexanderson Day. There are no more details other than the title of their post (the content still reads as if the transmission will happen as planned).
Check the Alexander Association website for more details.
By Nick Sinanis, callsign SV3SJ, President of the International Amateur Radio Club (IARC), and Attila Matas, callsign OM1AM, Vice-president and Station Manager, IARC
Did you know that the United Nations specialized agency for information and communication technologies owns and operates its very own radio station?
Residing at the headquarters of the International Telecommunications Union (ITU), the 60-year-old amateur station operates under the callsign 4U1ITU.
It started broadcasting on 10 June 1962 and was officially inaugurated the following month by then UN Secretary-General U Thant and ITU Secretary-General Gerald Gross – himself a ''ham" radio enthusiast known by the personal callsign W3GG.
Recognized as a unique "country" in the ham radio community, 4U1ITU operates in accordance with privileges extended by ITU and the Government of Switzerland. It has also earned the DXCC (or ham radio "century club") award from the American Radio Relay League (ARRL), confirming air contacts with 100 or more countries.
From its long-time home on the 5th floor of the Varembé Building in Geneva's international district, this unique broadcasting outlet still today serves as a model for the highest standards of amateur radio station operation everywhere.
From one to a million
4U1ITU's first contact, or "QSO" in ham radio parlance, was made with a German station called DL4VK. Further QSOs followed, amounting to over 1,300 contacts worldwide in the first 24 hours.
In the six decades since, ITU's radio station has made over a million contacts using Morse code carrier wave (CW), voice (SSB), and digital operational modes, based on more than 20,000 two-way QSOs with radio amateurs around the world.
4U1ITU can operate on most of the frequency bands allocated to amateur and amateur-satellite services as identified in Article 5 of the Radio Regulations.
Aside from letting licensed radio amateurs in ITU, its Member State representatives, and its conference and meeting delegates contact fellow radio hams, the station promotes international goodwill and cooperation across the community. It also allows hands-on demonstrations of amateur radio communications for delegates and meeting participants. [Continue reading…]
RRI Voice of Indonesia: International Quiz 2022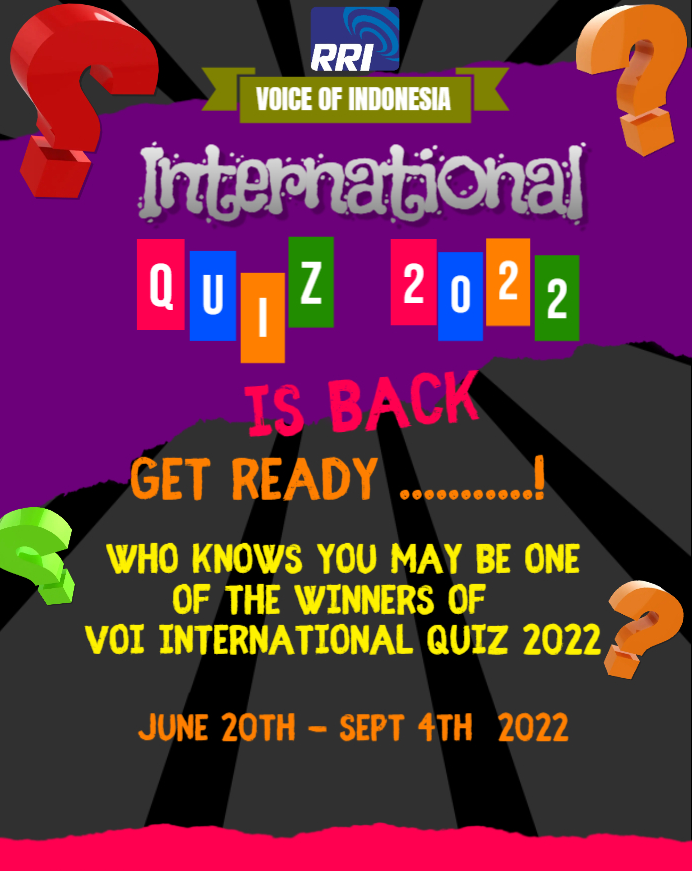 ---
Do you enjoy the SWLing Post?
Please consider supporting us via Patreon or our Coffee Fund!
Your support makes articles like this one possible. Thank you!