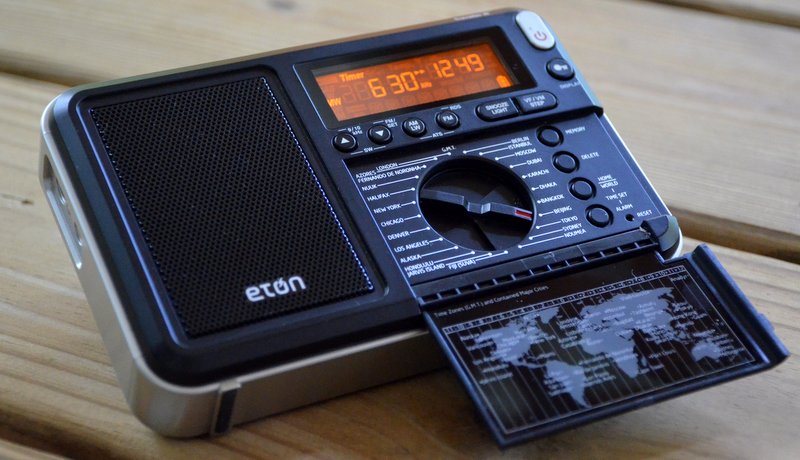 Radio Waves:  Stories Making Waves in the World of Radio
Welcome to the SWLing Post's Radio Waves, a collection of links to interesting stories making waves in the world of radio. Enjoy!
---
Shortwave retains a role in serving particularly difficult-to-reach audiences
Russia's horrific invasion of Ukraine and its simultaneous blocking of Western media outlets has renewed public interest in shortwave radio broadcasters like the federally funded Voice of America.
Now managed by the U.S. Agency for Global Media or USAGM, VOA's roots go back to 1941, when the U.S. government leased a dozen commercial broadcaster owned/operated shortwave radio transmitters for the VOA's predecessor, the U.S. Foreign Information Service. (These shortwave transmitters were previously used by U.S. broadcasters to share content between their AM radio stations.)
The VOA came into being in 1942. It played a major role in broadcasting U.S. news and views to the world during World War Two and the Cold War. After the fall of the Berlin Wall, shifting government priorities, the emergence of platforms competing with shortwave, and budget cuts led to VOA's language services, broadcasts and programming being reduced.
Today, "USAGM operates transmitting stations around the world, including in the U.S., Africa, Europe and Asia," Laurie Moy, USAGM's director of public affairs said in an email earlier this year.
"All of these stations are equipped with multiple shortwave transmitters, and four of these stations have a medium-wave (AM) transmitter each. In total, USAGM's network consists of about 75 shortwave (ranging from 100 to 250 kW) and medium-wave (ranging from 100 to 1000 kW) transmitters."
The agency also has access to shortwave and medium-wave transmitters via leases and exchange agreements with other broadcasters.
At present, USAGM produces content in 63 languages, 35 of which are aired on shortwave and medium-wave. VOA itself produces content in 48 languages, 18 of which are aired on shortwave and medium-wave.
"In terms of the agency's shortwave network, shortwave continues to reach particularly difficult-to-reach audiences, such as in North Korea, western China, Afghanistan and elsewhere," Moy told Radio World. [Continue reading…]
If a tornado or flash flood is imminent, most Americans find out about it through a smartphone or a television.
But as the National Weather Service was reminded in the wake of the deadly Dec. 10, 2021 Kentucky tornado, one segment of the population uses neither of those things: the Amish, who shun technology.
As meteorologists studied damage in the days that followed that storm, which killed 80 people and damaged hundreds of homes, they encountered an Amish community in Ohio County, Kentucky, and asked: How do you get severe weather information?
"They basically said they listen for the weather sirens from town," said Derrick Snyder, a meteorologist with the National Weather Service. But as loud as storm sirens are, not everyone is close enough to hear.
A solution may be on the way, as the agency teams with a national radio maker as part of the Weather Awareness for a Rural Nation initiative. Snyder and other meteorologists are part of a project developing weather radios that will be both effective in relaying information immediately, but also acceptable for the Amish lifestyle.
It will be a stripped-down, hand-crank model with absolutely no modern amenities.
Midland Radio is working on prototypes, hoping it can deploy at least some of the radios in Amish communities by the time severe weather season arrives in the spring.
There is plenty of need. The Amish population in Kentucky is estimated at 14,215. In neighboring Indiana, it's more than 60,000, while another 7,500 live in Illinois. All three states endure severe weather on a regular basis.
In an age where almost every product is built to be state of the art, the Amish radio project is an exercise in making things simpler, said Bruce Jones, a meteorologist and spokesman for Midland Radio.
Jones said they've started with Midland's ER40 model and have started figuring out what they can and can't include on a model that would be acceptable to the Amish. That has meant outreach to Amish bishops. And like in every religion, not all Amish sects are alike. [Continue reading…]
When Portland Redditors discover a myriad of bizarre broadcasts on 96.7 FM, a rabbit hole was quickly born. Unbeknownst to them, the mystery in which they were traversing had gone back much further than they initially believed.
A book review by Rob Wagner
Many years ago (in the late 70s or early 80s? – I forget!), I toured the studios of Radio Australia here in Melbourne along with other Australian Radio DX Club members. This was during what could be called the heyday of shortwave broadcasting. Radio Australia (RA) reputedly had millions of listeners around the world. Indeed, the audience numbers throughout Asia were huge, especially in Indonesia and Japan. I remember the tour guide telling us that listener letters from Indonesia alone numbered not in the hundreds but literally in the thousands each month! Such was the global impact of this radio station in those days.
So, I was eager to purchase a copy of Australia Calling – The ABC Radio Australia Story by respected author and former ABC/RA broadcast journalist Dr Phil Kafcaloudes. The author provides a highly readable account of the history behind RA and the role that it was to play as a significant world shortwave broadcaster. The book describes all the drama, and the many twists and turns in the Radio Australia story.
In his six-page Introduction to the book, Kafcaloudes sets the tone by reflecting on the station's founding in 1939, radiating the Australian voice out to Europe and Asia during the Second World War and throughout the Cold War of the 50s. Indeed, when the Australian government was considering shutting down RA in 1950, the British Secret Service made a public plea not to go ahead with the closure! In the 60s, Australia's involvement in the Vietnam War and its concern over the Sukarno government's actions in Indonesia saw a major refocus towards Asia with the inclusion of broadcasts in Vietnamese, Bahasa Indonesia, Japanese, Thai and Mandarin.
The 70s saw conflicts in Cambodia, Laos, and Timor-Leste (East Timor), along with Australia's moves to initiate Papua New Guinea's independence. And from the 80s through to the 2000s, there were coups in Fiji, plus ongoing issues in Solomon Islands, Vanuatu and Timor-Leste, resulting in another refocusing towards Pacific broadcasting. Then in 2017, the RA shortwave services closed, defeated by budget cuts and the massive trend towards digital platforms and FM services to the Pacific. [Continue reading on the Mount Evelyn DX Report…]
The "Gerät 32620 (Sprach/Morsegenerator)" was used to either generate speech or morse code for numbers, that was then broadcast using shortwave radio. It was operated by the Stasi (GDR Staatssicherheit) to send messages to its agents around the world.
Thanks to the work of the Crypto Museum (https://www.cryptomuseum.com/) the ROM images and documentation for this machine is available. A preliminary driver was written by natarii (https://twitter.com/agirisan/status/1584354878427496449) which I've taken and reworked.
More info about this machine is available here: https://www.cryptomuseum.com/spy/owvl/32620/index.htm
---
Do you enjoy the SWLing Post?
Please consider supporting us via Patreon or our Coffee Fund!
Your support makes articles like this one possible. Thank you!