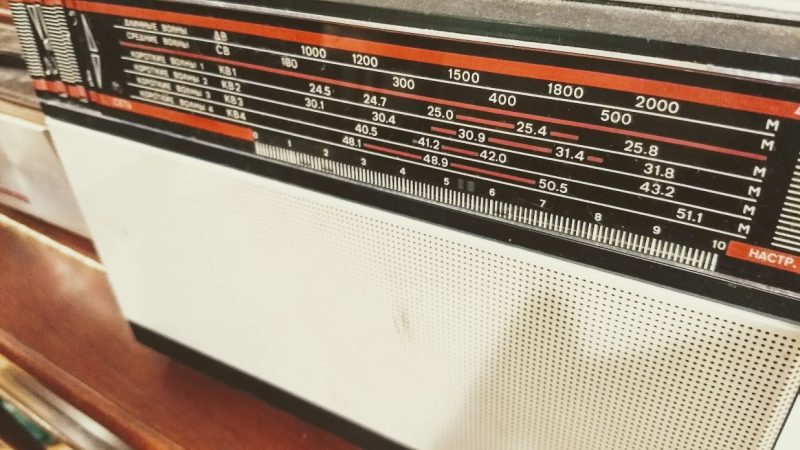 Radio Waves:  Stories Making Waves in the World of Radio
Welcome to the SWLing Post's Radio Waves, a collection of links to interesting stories making waves in the world of radio. Enjoy!
Many thanks to SWLing Post contributors Ron Chester, David Iurescia, and Dennis Dura for the following tips:
---
A new ultra-low-power method of communication at first glance seems to violate the laws of physics. It is possible to wirelessly transmit information simply by opening and closing a switch that connects a resistor to an antenna. No need to send power to the antenna.
Our system, combined with techniques for harvesting energy from the environment, could lead to all manner of devices that transmit data, including tiny sensors and implanted medical devices, without needing batteries or other power sources. These include sensors for smart agriculture, electronics implanted in the body that never need battery changes, better contactless credit cards and maybe even new ways for satellites to communicate.
Apart from the energy needed to flip the switch, no other energy is needed to transmit the information. In our case, the switch is a transistor, an electrically controlled switch with no moving parts that consumes a minuscule amount of power. [Continue reading…]
It's about paid subscriptions — to the manufacturer, not the radio station
Apps for everything from optional equipment to entertainment is a big attraction for auto manufacturers.
For AM or even FM radio in cars, the solution could be worse than the problem: When manufacturers stop including radio as an in-console function, the workarounds make radio less local and face unimaginable competition, but what will roll out next is even more concerning.
The straight scoop
AM interference in electric vehicles, leaving radio out of the entertainment center, making radio more difficult to access — these are the real problems that the radio industry now faces.
Fact: Electromagnetic fields generated in non-gasoline engines make AM virtually unlistenable, spurring manufacturers to leave it out.
FM is more resistant to electromagnetic fields so for the present it survives.
Ford's popular F-150 Lightning, Tesla, Volvo, Porsche and Audi have removed AM from their electric cars.
Tesla will sell consumers an app to get radio or satellite radio for a rental fee through internet delivery that gets around the electromagnetic interference. [Continue reading…]
We need to show carmakers that free OTA radio is still wanted and needed
his is one in a series of occasional commentaries produced through the National Association of Farm Broadcasting.
In 2012, I became the licensee of WRDN 1430 AM Radio in Durand, the seat of Pepin County in Wisconsin, which has one of the smallest county populations in the state.
Many colleagues in the farm broadcasting industry told me I was crazy for buying a standalone AM, much less one in such a small, rural community. Many told me, "AM is dead or is dying" and that I would not last six months.
This year, we celebrated our 10th anniversary of returning the station to the air. All station debt is paid, and the station is an integral part of our community.
Since agriculture is a $1.5 billion industry in our listening area, agricultural and farm-related news is a critical part of our daily programming. We carry seven hours of farm content each weekday plus local news, high school sports and other community events. Many farmers listen to us in their vehicles, trucks, tractors and combines.
Recently, I was concerned to hear that Ford Motor Co. had decided to remove AM radio from the F-150 Lightning electric vehicle starting in 2023.
I don't expect that many of our farmer listeners will purchase an EV anytime soon, but I am concerned that this decision could spread to non-EV vehicles and even farm equipment [Continue reading…]
A court in Kyrgyzstan's capital Bishkek has rescheduled for March 15 the hearing of a request by the country's Culture Ministry to close down Radio Free Europe/Radio Liberty's local branch, called Radio Azattyk
MOSCOW — A court in Kyrgyzstan's capital Bishkek on Thursday rescheduled for March 15 the hearing of a request by the country's Culture Ministry to close down Radio Free Europe/Radio Liberty's local branch, called Radio Azattyk.
Radio Azattyk's website was blocked in Kyrgyzstan in October 2022 and its bank accounts frozen under national money laundering laws, over a video report about clashes on the Kyrgyz-Tajik border in the Batken region. [Continue reading…]
In honor of World Radio Day, Radio Taiwan International (Rti) released the following statement:
World Radio Day is February 13 and this year's theme is "Radio and Peace". During times of war, radio has been an important tool to promote access to accurate news and information.
Due to the Ukraine War, Russia has blocked foreign and independent media from operating in Russia. In response, the BBC resumed its shortwave broadcasts so that people in Ukraine can access news and information, demonstrating the value of the medium. Radio Taiwan International, for its part, has increased its Russian language shortwave broadcasts to Ukraine by one hour. It has also started a Ukranian Facebook fan page to show its support as people in Ukraine fight for their freedom.
Rti's Chairperson Cheryl Lai said, "Taiwan is constantly facing threats of the mind rather than of gunpowder, so we need to be on our guard. Rti continues its mission to broadcast the truth, foster dialogue and safeguard Taiwan's values in order to build a foundation for peace."
The United Nations has said that radio is a pillar to prevent conflicts and build peace. Radio programs can help people have deeper clarity and conversations about current affairs, which can help prevent misunderstandings and conflicts.
RTI is one of the world's oldest radio stations in operations today and was established in 1928 by the Republic of China (ROC) government as the Central Broadcasting System (CBS) in Nanjing, China. It followed the ROC government from city to city during and after WWII, eventually coming to Taipei, Taiwan. It now broadcasts news, audio and video features about Taiwan in 18 languages.
Click here to view on YouTube.
---
Do you enjoy the SWLing Post?
Please consider supporting us via Patreon or our Coffee Fund!
Your support makes articles like this one possible. Thank you!