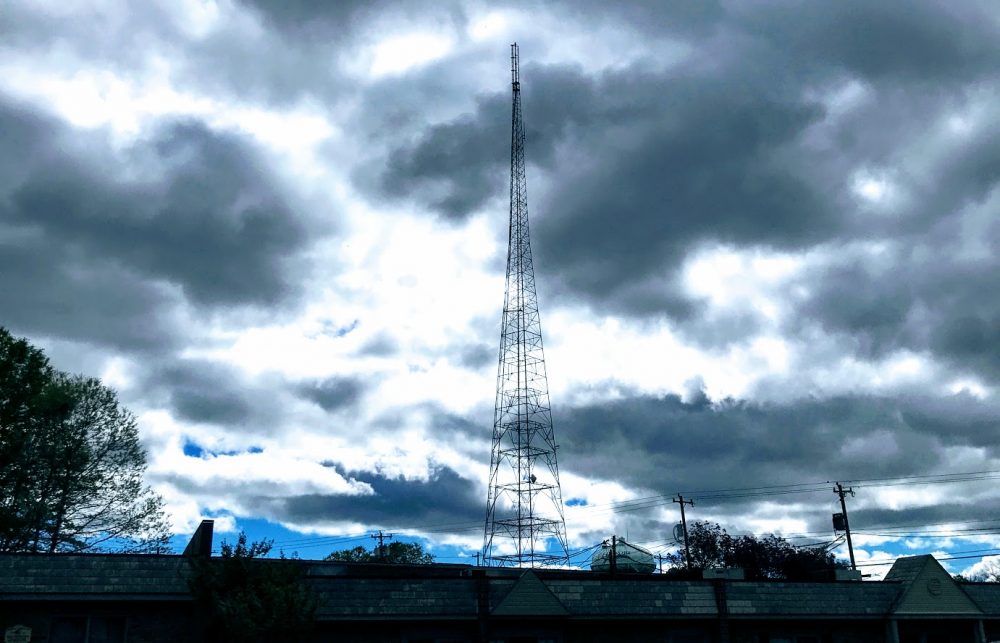 Radio Waves:  Stories Making Waves in the World of Radio
Welcome to the SWLing Post's Radio Waves, a collection of links to interesting stories making waves in the world of radio. Enjoy!
Many thanks to SWLing Post contributors Dennis Dura, Rich Cuff, Ron Chester, and David Iurescia for the following tips:
---
The father and son team of Joe and Jeff Geerling have teamed up on radio-related projects before.
Joe is a broadcast engineer, working into his fifth decade in the St. Louis market. He was market chief for CBS Radio for 20 years and today is the director of engineering for Covenant Network.
His son Jeff has spent nearly 15 years as a software architect and developer. He founded Midwestern Mac LLC and is active in many open-source software communities. Jeff recalls that one of his first web programming projects in the late 1990s was to construct an interface to display the current song on 98.1 KYKY(FM)'s initial website for his dad.
Last February, Joe appeared on a video on Jeff's YouTube channel to install a Raspberry Pi IP KVM in a Covenant Network studio. That collaboration went so well that commenters on Jeff's videos began clamoring for more appearances by the senior Geerling.
Over a family vacation, Joe and Jeff came to the realization that the iconic Crestwood Master Tower in Shrewsbury, Mo. — nicknamed by its original engineering community as "the Supertower" — would make for a perfect showcase for a new Geerling Engineering YouTube channel.
Given Joe's expertise with the site, the idea for a video was a natural. In fact they ended up making two. [Continue reading…]
The investment activity of Amancio Ortega in the United Kingdom does not stop. Pontegadea, the group that manages the equity investments of the founder of Inditex (Zara, Massimo Dutti, Bershka…) and the richest man in Spain, is negotiating the purchase of a new office building in London, as revealed on Wednesday by the specialized website CoStar News. This, citing market sources, indicates that the operation would be around 80 million pounds (89.7 million euros, at current exchange rates). The building, originally a printing press built in the twenties, is close to the BBC headquarters and, in fact, for years served as offices for the commercial division of British public broadcasting.
The property, renovated in 2015 by the construction company Kier and the firm Brimelow McSweeney Architects, currently houses a business of coworking (flexible office rental). Of the more than 3,000 meters built, 2,100 are available for rent, according to the building's commercial brochure. Some websites advertise their tables for a price that exceeds 840 euros per table per month. It offers, in addition to parking for bicycles or changing rooms, a kitchen, private offices, meeting rooms or terraces on the upper floor (the fifth) and on the roof. To this we must add a privileged location in the center of the British capital, in the Fitzrovia neighborhood. The building is close to Soho, the British Museum and Regent's Park. [Continue reading…]
Our smartphones have become our constant companions over the last decade, and it's often said that they have been such a success because they've absorbed the features of so many of the other devices we used to carry. PDA? Check. Pager? Check. Flashlight? Check. Camera? Check. MP3 player? Of course, and the list goes on. But alongside all that portable tech there's a wider effect on less portable technology, and it's one that even has a social aspect to it as well. In simple terms, there's a generational divide that the smartphone has brought into focus, between older people who consume media in ways born in the analogue age, and younger people for whom their media experience is customized and definitely non-linear.
THE KIDS JUST DON'T LISTEN TO THE RADIO ANY MORE
The effect of this has been to see a slow erosion of the once-mighty reach of radio and TV broadcasters, and with that loss of listenership has come less of a need for the older technologies they relied on. Which leaves a fascinating question here at Hackaday, what is going to happen to all that spectrum? Indeed, there's a deeper question behind all that, is lower frequency spectrum even that valuable any more?
In the old days, we had analogue TV in several-MHz-wide channels spread across a large part of the UHF bands and some smaller chunks of VHF. Among that we had 20 MHz of FM broadcasting around the 100 MHz mark, and disregarding shortwave, then a MHz of AM down around 1 MHz. Europeans got a bonus band down there too: we've got Long Wave, over 100 kHz of AM goodness roughly centered around 200 kHz. [Click here to continue reading at Hackaday…]
Some electric vehicle (EV) manufacturers are eliminating AM radios from their cars, which government officials fear could put people at risk in an emergency.
Why it matters: AM radio is one of the critical ways that federal, state, and local officials communicate with the public during natural disasters and other emergencies.
If drivers don't have access, they might miss important safety alerts.
What's happening: Automakers say EVs' electric motors interfere with AM frequencies, creating annoying buzzing noises and faded signals.
Sen. Ed Markey (D-Mass.), a member of the Commerce, Science, and Transportation Committee, wants car companies to maintain free access to broadcast radio as a public safety measure.
Seven former Federal Emergency Management Agency (FEMA) administrators also raised the issue in a recent letter to Transportation Secretary Pete Buttigieg and several congressional committees, per the Wall Street Journal.
The other side: Automakers say consumers are moving away from radio and television for news and information, and so the government's emergency management system needs to adapt to new technologies, too. [Continue reading…]
[Note that The Atlantic has a paywall but allows a free article per month. This article also dates from 2016, but the RPTF will be convening again in April 2023. The Shortwave Radio Audio Archive is a parneter of the Library of Congress Radio Preservation Task Force.]
A first of its kind Library of Congress project aims to identify, catalogue, and preserve America's rapidly deteriorating broadcast history.
By Adrienne LaFrance
It was the most amazing scoring performance in the history of the professional basketball. So remarkable, in fact, that conspiracy theorists have floated the idea that it never happened at all.
On March 2, 1962, Wilt Chamberlain scored 100 points in a Philadelphia Warriors victory over the New York Knicks. No NBA player had ever achieved the feat, and none has repeated it since.
But you had to have been there to begin to understand how electric the atmosphere became in the Hershey Sports Arena, in Hershey, Pennsylvania, when Chamberlain set the record.
The game wasn't televised. There is no known video footage of it. And newspaper accounts couldn't do it justice.
The New York Times acknowledged Chamberlain's performance was an "amazing feat," but also understated what he'd accomplished, calling it "simply another plateau" for Chamberlain. Then again, the man himself downplayed his performance: "I was hot that night," he said, according to the Times. "It was just one game."
The most visceral artifact we have from that night is a short segment of audio: 36 seconds of a radio broadcast that includes the moment Chamberlain made it official. You can hear the whooping and whistling of thrilled fans spilling out onto the court. You can hear broadcaster, breathless, shouting over and over again, "He made it! He made it! He made it!"
And you can hear all this because, somewhere along the way, someone saved this little piece of audio history. Today, those 36 seconds were entered into the National Recording Registry at the Library of Congress.
Most radio isn't so lucky. [Continue reading…]
---
Do you enjoy the SWLing Post?
Please consider supporting us via Patreon or our Coffee Fund!
Your support makes articles like this one possible. Thank you!