Many thanks to SWLing Post contributor, Mangosman, who shares the following review:
---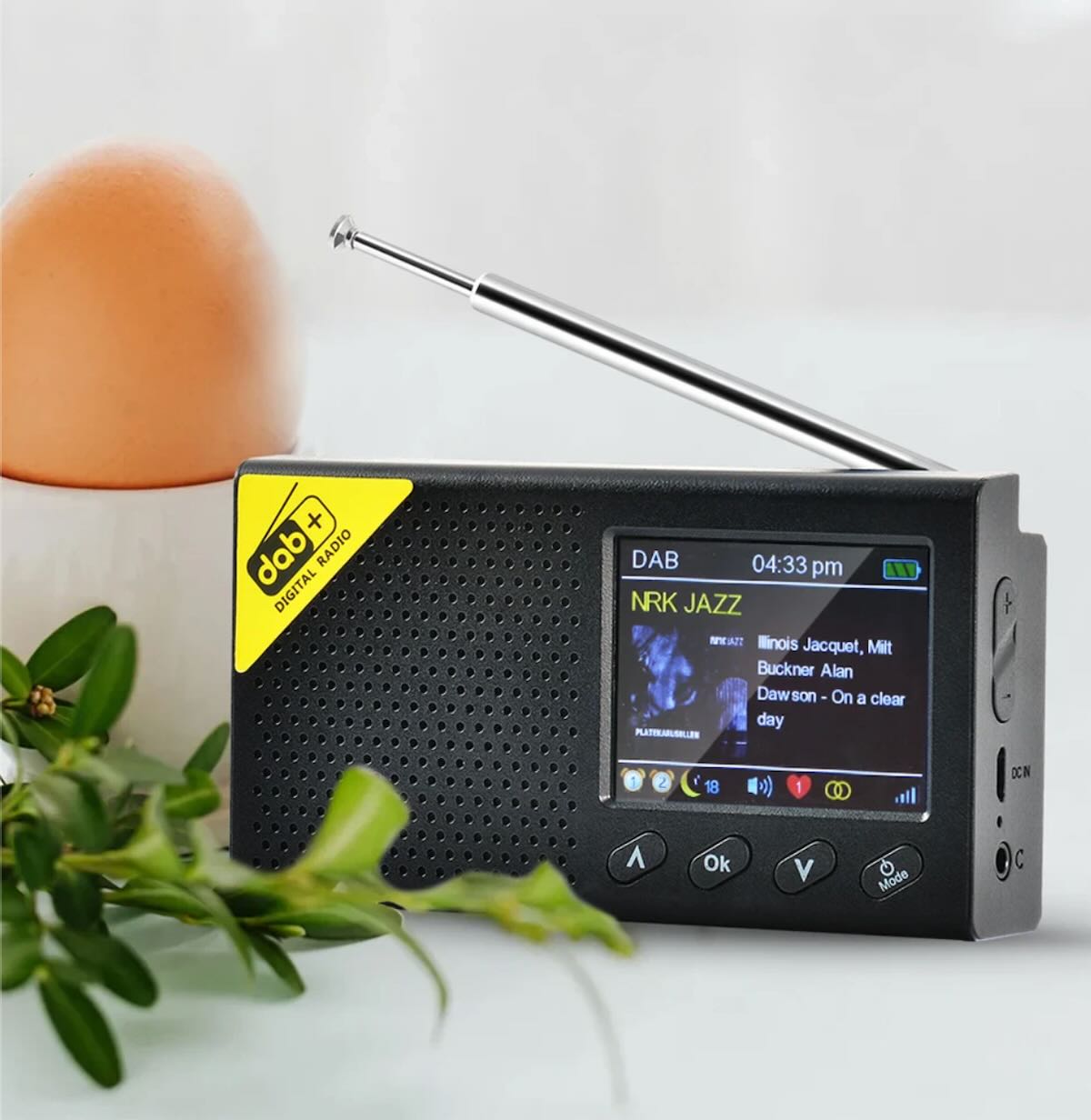 DAB+ digital audio/FM receiver and Bluetooth Audio Player with 2.4 inch LCD Display 
by Mangosman
Digital Audio Broadcasting with improved audio compression and error correction is called DAB+. I have had this radio for a few years.
Retail in Australia DAB+/FM radios are generally double the price and more. There has only been one model of DAB+/FM/AM radios which is now no longer trading.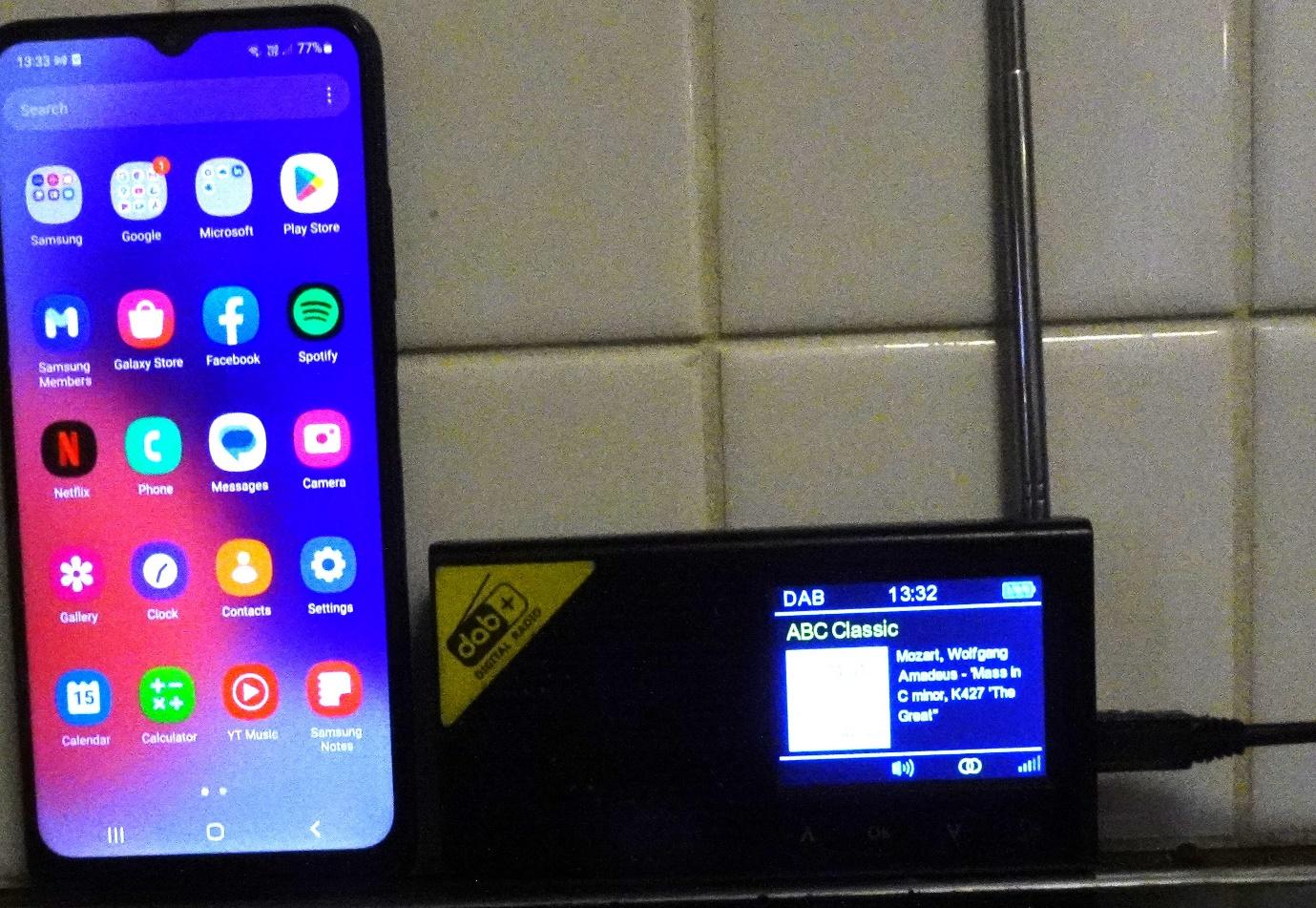 This is a size comparison, the sound is very clear and is surprisingly good on music as well, despite having such a small speaker. Even at maximum volume there is no audible noise or distortion. The stereo program HE AAC compressed and FM and Bluetooth and is available on cabled headphones. Such a small speaker cannot produce much in the way of bass, but it is present on headphones.  Since DAB+ is a pure digital system, there is, full stereo, no noise as the radiated signal deteriorates, until the receiver mutes when error correction fails. The radio has a 400 mm long telescopic antenna.
On FM this receiver will decode Radio Data System data, I have had more sensitive FM reception.
This is the most sensitive DAB+ receiver I have owned. I am also currently also using two BUSH clock radios. I also have used older headphone radios, but push buttons and headphone sockets haven't been very reliable.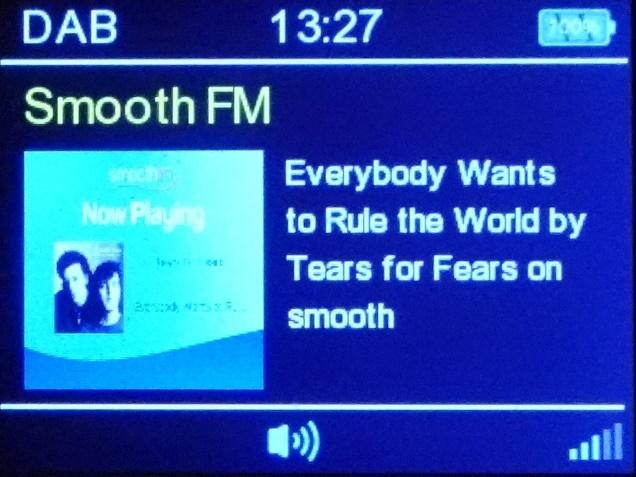 This screen shows a full  colour album cover which can fill the screen and title. Smooth FM is the broadcaster's name because it is simulcast in some other cities on FM and DAB+. The indicators on this screen are level of battery change, muting, stereo indicator, when decoded and the signal strength.
Not shown are screens showing signal strength and error rate, tuned frequency and the technical characteristics ie the bit rate of the transmission.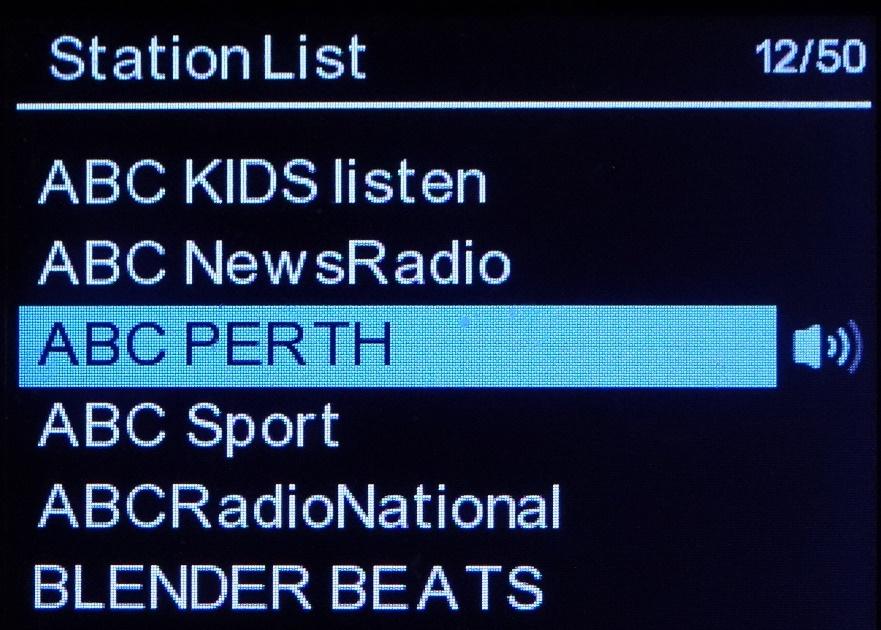 Tuning is by on installation, a scan of the full band, where the receiver stores the frequency and ensemble names shown to the left. Then the tuning buttons select from the screen shown.
ABC & SBS share one transmitter and transmitter channel frequency. There are 18 programs on that frequency.
On another transmitter, shares 28 commercial programs (including Blender Beats) as well community broadcasters.
Only 2 of the above programs are HE AAC audio compressed and this radio can decode the stereo for the headphone output. The rest of the programs are HE AAC V2 compressed in stereo, however this radio cannot decode the stereo which means it does not comply with ETSI TS 102 563 V2.1.1 (2017-01). All of the programs including AM simulcasts are transmitted in stereo, are transmitted in stereo except a few speech only programs. Most Australian major cities have had DAB+ full time high powered broadcasts since 2009.
This radio has a rechargeable battery which lasts 8 hours driving a speaker and 4 hour recharge time. It also has a digital recreation of an analog clock when on standby.
Stereo outputs are standard in DAB+ decoder chips as it is in FM receivers, which in small radios is available in a headphone socket and combined for the speaker.
Please note: The only location for DAB+ broadcasts are in Europe, Australia and South Korea. The transmission frequency range is 174 – 230 MHz which limits coverage to around 100 km radius from a high power transmitter with a tall TV antenna tower. The USA uses that frequency range for TV channels 7 – 13.
Click here to check out this DAB+ radio on AliExpress.
Mangosman