If you're looking for shortwave radio reviews, you've come to the right place. Whether you're looking for reviews of shortwave portables, tabletops, SDRs, or professional receivers, our site offers a rich treasury of curated information to help you find the right radio for your needs, to compare models–or just to learn about the unique world of radio, both past and present.
If you're in a hurry, find reviews on these pages: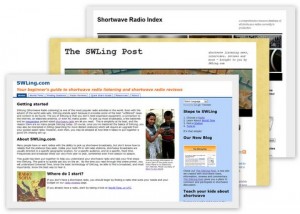 SWLing.com is actually three sites:
SWLing.com

– Our original site,  SWLing.com offers a simple, straightforward primer on how to effectively purchase and use a shortwave radio. Best of all, it has a popular Radio Reviews page that lists the best portable and tabletop shortwave radios on the market. The reviews, which focus on the effectiveness and usability of each model, are written in simple language for the benefit of those just starting in the hobby, who may not yet know the technical jargon, as well as for non-native English speakers and young users.  Clear instructions and definitions are provided.

The SWLing Post

– (here) We post up-to-date news, reviews, interviews and everything shortwave. New posts are made regularly, often daily. Here, you can easily find our own in-depth shortwave radio reviews. These reviews are comprehensive and typically focus on one model at a time, offering comparisons to other similar radios.

The Shortwave Radio Index

– At the SWRI we have curated an index of all shortwave radios currently on the market. That's right, all of them. We add new models each week as they come on the market.  The site is searchable by manufacturer, model, or type of radio. Each entry contains features and specifications of the radio with links to reviews on other sites, to retailers and resources for each model. This exhaustive index took some time to construct; as such, we continue to put a great deal of time into maintaining it. As with all our sites, this is a free resource for you to use and share.
What's more, you can contact us directly for specific instruction or advice.  In your email, keep descriptions brief, and questions and comments clear; this makes it easier for us to help.  Please note that we receive a lot of email, so do allow a few days for a response.
About review equipment
We always clearly indicate in each review how we acquire review units.
While most of the radios and equipment are purchased directly for the review, occasionally, manufactures give us review samples or loaners. This typically happens when the product cost is excessive, a new product has been launched (and we're receiving a pre or first production unit) and/or the review unit is not one the reviewer wishes to add to their own inventory.
When we indicate a "loaner" we're referring to a review unit that has been sent to us on loan. We typically keep these radios for the length of time it takes to complete a review, then we send the unit back to the manufacturer at our own cost (though sometimes the manufacturer pays return shipping).
When we indicate a "sample" we're referring to a review unit that has been sent to us at no cost and the manufacturer does not want the unit returned to them.
We actually prefer loaner review units since it eliminates what could be perceived as a conflict of interest when doing a review. In truth, though, many manufacturers find it a hassle to issue loaner units on products that are relatively low cost–it's cheaper for them to simply send it as a sample. In addition, items like field antennas, cables, and batteries, for example, can show wear and manufacturers would rather give them to us on a permanent "loan" than to pay two-way shipping and take a used item into inventory. Quite often we request a loaner, but are sent samples and don't discover this until the unit is received. We even frequently receive items without being contacted by the manufacturer in advance.
What do we do with samples after the review? Sometimes we keep them in inventory if they can be used as a benchmark for future comparison or if it's a product that quickly shows wear (a field antenna for example). Most often, though, we give them away shortly after the review.
If we had to purchase all of our review items, we'd likely review only a 1/3 of what we do now. Loaners and even samples give us exposure to items we'd otherwise not include.
To be clear: no matter how we acquire a radio or accessory for review, we always endeavor to provide our most accurate assessment; our integrity is more important than any piece of equipment. We always clearly indicate in the review how we acquired a product.
In addition, manufacturers and retailers know that our opinions can't be influenced. We only accept review items from manufacturers who appreciate a frank assessment. All of the sponsors you see in our ads agree and, indeed, embrace this idea. Quite a few times, we've posted reviews that upset manufacturers. We try to be as fair as possible, but we also call it like it is.
Thank you for visiting, and please send feedback if you have suggestions on how to improve any of our sites. We like compliments, too.
Welcome to the world of shortwave!  Happy listening!