It's hard for me to believe that it's been over three years since I published my first review of the Grundig G3 shortwave radio. My initial impressions were mostly positive, and since then, the G3 has become a staple in North America and a fixture in my radio collection. I bought one of the very first G3s in production in the summer of 2009, and about a year ago, I replaced it with a current model.
So, what do I think of it now? After having two different production-run models and traveling with my G3s for over three years?
The G3 now

I have to admit, I continue to love this radio.  In fact, if you write me an email inquiring about a good portable shortwave radio in the $100 price range, you can bet that I will still recommend the G3.
The G3's biggest competitors (roughly in the same price range) are the Sony ICF-SW7600GR and the Tecsun PL-660. I may very well review them all side-by-side in a portable showdown in the near future–but until then, it's worth noting that the G3 is the least expensive in this crowd, and is simply an excellent performer for the price.  So I just can't hesitate to recommend it.
Why do I like the G3?
Quite simply, the G3 features the following:
Superb shortwave sensitivity and selectivity for this class of portable
Effective sync lock (that is, if you adjust the frequency 1 kHz below the actual frequency with sync engaged)
Tuning is simple, fast and ergonomic
Adaptive tuning wheel–mounted on the right side–keeps speed with your thumb; it's a band-scanning demon!
Sync can be adjusted for USB or LSB
Audio, via built-in speaker, is pleasant
Line-in and line-out
Excellent backlighting
RDS on the FM band–a handy feature when traveling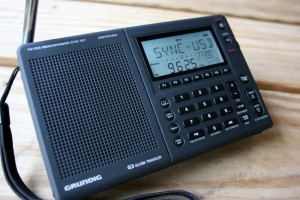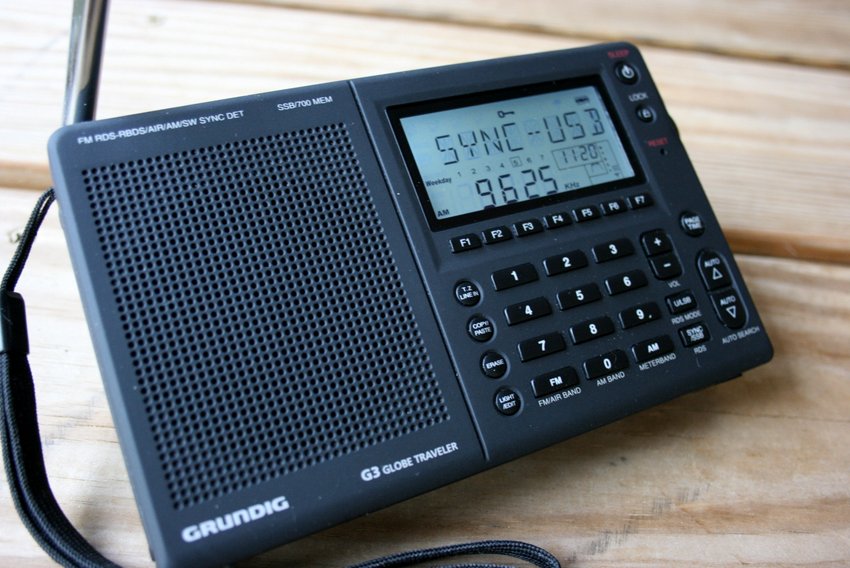 Simply put, the G3 functions as a portable shortwave radio should. It's easy to tune, great to listen to, it functions well, has SSB and line out, has an external antenna jack, has two well-apportioned filters (wide/narrow), and still manages to be relatively inexpensive.
Perfect?  Well…almost. Though I never use the Air band, and I rarely use the MW (medium wave) band (mainly for DXing), many reviewers and critics of the G3 point to less-than-stellar performance in these areas.
I'll admit, the Air band is a nice add-on, but is certainly no reason to buy the G3. I find MW listening quite pleasant and I've certainly heard a little DX on it, but it probably doesn't compare to some of the well-known ultralight radios which handle the MW amazingly well.
And a couple of years ago, some reviewers complained of quality problems; I assume these were associated with specific production runs. As I've had two radios from two different production runs and have never experienced a quality-control issue, I must have been luckier in obtaining solidly-produced units.
Perhaps it was my recent review of the Degen DE1129 that made me realize that many of the newer, smaller portables add features, but toss out many of the basics I expect from a shortwave radio. In other words, the things that make a radio pleasant to use, like ergonomics, performance, and an intuitive design.  The G3 has these in trumps.
So, if you're sitting on the fence about a $100 shortwave radio, I would snag the G3. I did–and haven't looked back.
NOTE: At time of this posting, Universal Radio is selling the G3 with a Grundig Mini400 for $99.95 US. I have no idea how long this promotion will last, but I certainly believe it's a good deal. Check it out…