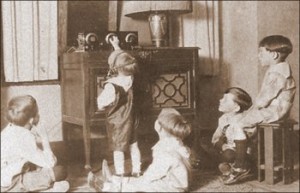 Several months ago, I wrote a post confessing that I recently embraced internet radio, and since then have been using a very affordable Cricket Android Phone as an inexpensive, portable wi-fi radio. You see, though I prefer listening to shortwave radio, and though there are notable exceptions, it's not always the best source to pipe music through the hi-fi system in our house.
At one point, I actually subscribed to XM satellite radio. I eventually dropped it, and found there were only two things I really missed from XM: Tom Petty's Buried Treasure, and the 40s on 4 station, which played music from the 1920's, 30's and 40's.
Introducing The UK 1940s Radio Station
Fortunately, there is an excellent radio station–indeed, better than XM/Sirius' 40s on 4–that fills my need for nostalgic radio,  The UK 1940s Radio Station.
The UK 1940s Radio Station runs 24 hour a day and plays an amazing mix of 1940s era music. Unlike 40's on 40,  The UK 1940s Radio Station has authentic recordings of news clips and even original advertisements they play throughout their music mix.  The 40s on 4, at least when I last listened, still had a pseudo-1940s-sounding announcer (Ed Baxter) and often reproduced news broadcasts; I prefer the real period recordings, personally. Also, The UK 1940s Radio Station has interviews and commentary from experts on the era.
The UK 1940s Radio Station are supported by their listeners, so if you like their programming, consider supporting them with a donation via PayPal.