This has been a very crazy and radio-active weekend!
It started with a busy Friday that was capped off with the BBC Midwinter Broadcast and then continued into Saturday with a Parks On The Air activation and  Field Day at Mount Mitchell State Park.
In short: it's been a lot of fun!
I'll plan to give a short report of Field Day later–it was one to remember–but first let's talk about the 2019 BBC Midwinter Broadcast to Antarctica…
To the field!
The Midwinter Broadcast has never been an easy catch here in North America–after all, the BBC aim their signals to Antarctica–but I always manage to receive the program with only a portable and I'm almost always travelling on the day of the broadcast.
This year, I was actually at home and could have used one of my SDRs at home to snag the broadcast, but it's become a bit of a tradition to listen in the field, so that's what I did.
Knowing how difficult it would be to receive the broadcast–especially given the poor propagation–I reached for one of my "Holy Grail" portables: the Panasonic RF-B65.
I never take only one radio to the field, though, so I decided it was time to give the hefty GE 7-2990A a little outdoor time on the Blue Ridge Parkway.
I've only had the GE 7-2990A for a few months. It came from the estate of my dear friend Michael Pool (The Professor) who passed away earlier this year.
This particular radio has quite an amazing history–remind me to share the story someday–but I'll always cherish the 7-2990A because it was one of Michael's favorites.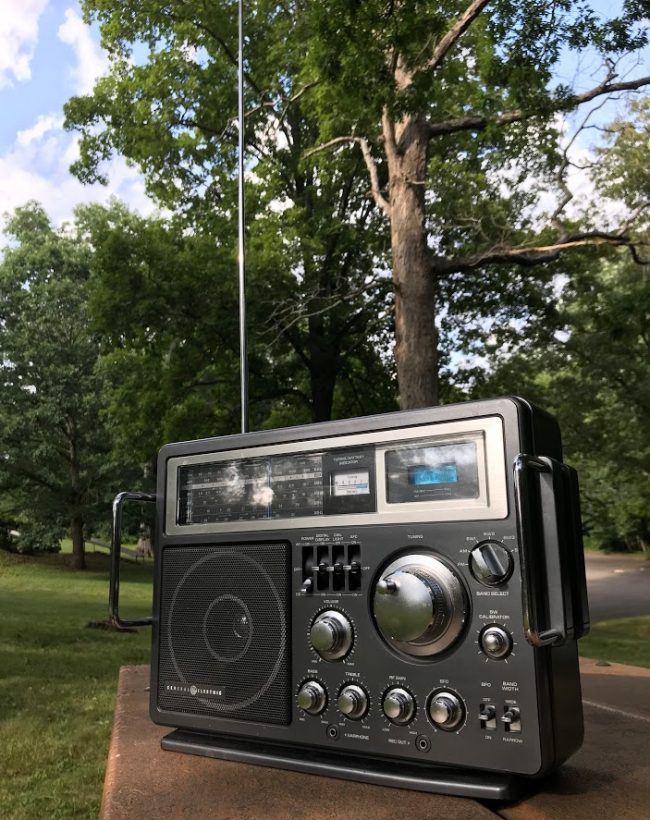 I knew the GE was one of Michael's favorite mediumwave receivers, but I wasn't sure how well it would perform on the shortwaves. Turns out, it's quite an amazing HF receiver!
Out of the the three Midwinter Broadcast frequencies (5875, 7360, and 9455 kHz), I could receive the 7,360 kHz signal from Ascension Island best.
Here's a short (informal) comparison video:
Click here to view on YouTube.
I was quite surprised with the 7-2990A's ability to pluck this weak signal from the ether. Although the video doesn't do it justice, the GE's excellent audio fidelity made listening more enjoyable compared with the much smaller RF-B65.
Click here to view on YouTube.
And, yes, that's my faithful brown and white listening companion, Hazel, in the background. In truth, she was less interested in the broadcast and more interested in finding squirrels!
Your Midwinter recordings–stay tuned!
I've already received about twenty emails from SWLing Post readers with audio and video recordings of the Midwinter Broadcast. Thank you!
If you would like to submit your recording, and you haven't yet, please do so by email (thomas *at* swling.com) so I don't overlook it. Remember to link to your video so that I can easily embed it on the upcoming post. Please don't send me duplicate emails as it makes the sorting process more difficult.
I'll try to find recordings linked via Twitter and Facebook, but it's much more difficult to sort those in comments and know for sure that I've discovered them all.
Please note that, due to my schedule, it will likely be two weeks before the final post is published. I appreciate your patience and understanding!
---
Do you enjoy the SWLing Post?
Please consider supporting us via Patreon or our Coffee Fund!
Your support makes articles like this one possible. Thank you!