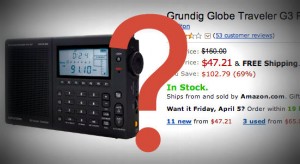 After posting the Grundig G3 deal from Amazon.com last week, many of you sent a message saying that you had snatched one up at that excellent price. However, readers Gary and Dave will be sending theirs back.  Here are their comments:
From Gary:
I received my $52 Grundig G3 today. Unfortunately, it appears to have been a re-sold defective unit. The whip antenna is bent, MW AM sensitivity is far worse than my Sony 7600GR, there is lots of internal noise on MW AM, and sync locks only on the strongest stations (and 1 kHz low).
From Dave:
Well, when I got to it it was up to $59 but that's still a great deal so I snagged one.  It arrived today.  I suspect like Gary (above) that it was a returned unit.  Lots of scuffs and signs of use.  So… I've sent it back to Amazon asking for a replacement.  We'll see what shows up.  I see now that it's selling for $96.    I would hate to think that Amazon would be selling off returned stuff at a discount and yet presenting it as new.
Gary and Dave, I certainly hope that Amazon replaces your G3s with new-in-box units; I expect they will. These G3s were certainly advertised as new and sold by Amazon.com (not anther vendor). Let us know if you get a proper replacement.
Any one else experience the same problem from this Amazon sale? Please comment.
[Update: Also check out this thread on the Herculodge. Thanks, Gary.]