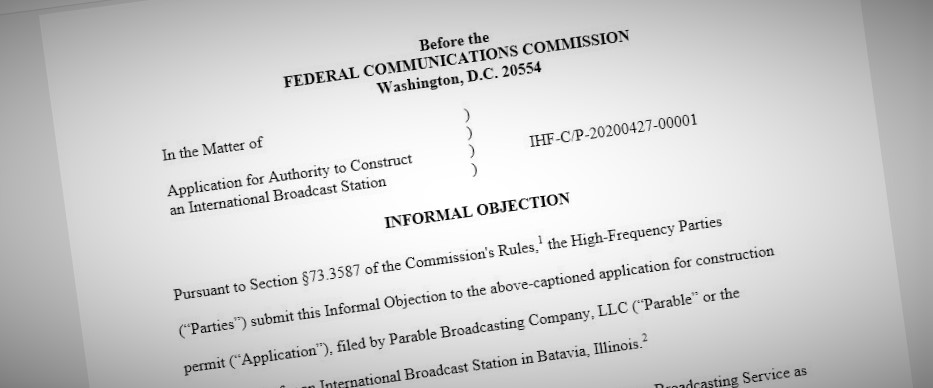 Many thanks to SWLing Post contributor, Bennett Kobb, who shares an FCC Informal Objection he drafted and filed together with Kim Elliott and Christopher Rumbaugh.
Click here to download the Informal Objection. (PDF)
Radio World published a great summary of the filing today:
There's a plan in the works to build a new international shortwave radio station in Illinois, one that would use the Digital Radio Mondiale modulation system. But now several prominent members of the U.S. shortwave community are asking the Federal Communications Commission to take a closer look first.

Parable Broadcasting Co. in April asked the FCC to allow it to build the station in Batavia, Ill., west of Chicago, using the call sign WPBC. It wants to offer "broadcasting and data services."

Specifically, Parable wrote that the station would "serve the areas of Europe that may be authorized by the commission. The planned broadcast content includes religious and educational programming, as well as data content provided by third parties." It added that it wants to "take advantage of the recent push by the National Association of Shortwave Broadcasters to develop and provide content for the growing DRM market."

Now three individuals, collectively called the High-Frequency Parties, filed an informal objection. It's that wording about data content that concerns them.

Bennett Z. Kobb, Kim Andrew Elliott and Christopher D. Rumbaugh said international broadcast stations in the U.S. are intended "to be received directly by the general public in foreign countries."

Now they told the FCC that it is impossible to tell from the Parable application whether all of the data services and data provided by third parties will qualify. [Continue reading at Radio World…]
Bennett clarified with me:
The [FCC] rules require these [broadcasters] to be 100% broadcast stations, not a cover for some other kind of service.

Because there is no established radio service for international shortwave trading, some have used the workaround of calling them "experiments". Quite a few such "experimental" stations have been licensed, some at rather high power levels.

See for example this article.

But legally, the Experimental Radio Service is supposed to be for temporary scientific purposes, not ongoing for-profit operations. We don't know what those stations are really up to because the FCC has kept the details secret. All we know is some technical data such as callsigns, frequencies, QTH.

Instead of experimental stations, others wanting to get into the data business — including the Turms Tech station in New Jersey, and this Parable station in Batavia IL — seem to be using the work-around of the International Broadcast service. That is, proposing an audio programming station that uses the DRM data channel for trading messages.

We are not in the 1970s or 80s. There's not enough money today in broadcasting audio to other countries, to justify the millions spent on real estate, engineering, antennas and transmitter plant. Most SW broadcasting around the world is not commercial. So it is very peculiar for new entrants to drop major bucks in this field.

The new guys are probably not getting in to spread the gospel. That is a surface paint. There are already several U.S. HF stations with religious content, as you know, including WTWW, WWCR, WRMI, WRNO, WINB, WWRB, WHRI, WBCQ, WJHR etc. and most would welcome new customers for airtime.

No need to construct new stations.

So what is this new station really? Get it out in the open and ask them how they intend to comply with the existing rules. If they are in the business of carrying secure messages for traders, that does not qualify and will need some special FCC action to allow it. Let the public see the reasoning.

The rules that exist are very old. We think FCC needs to do a top-to-bottom review of the HF broadcast rules and scrap a lot of it. FCC should permit stations to be built for U.S. domestic audiences, and they should reduce the minimum AM power (50 kW) to lower this barrier to
entry.

And they should perhaps consider how data communications could be formally authorized. Maybe it wouldn't be just a broadcast service any more, it could be a HF Communications Service with the old restrictions on languages and advertising discarded and more opportunities for people to try out creative ideas.

So we're pressing the issue that this needs to be examined. Thanks for reading.
Thank you for sharing this, Bennett! We hope your filing gets its due attention. I also agree on one of your final points, that the FCC lower its 50 kw AM power requirement of a shortwave station as it places a huge barrier in front of would-be shortwave broadcasters.