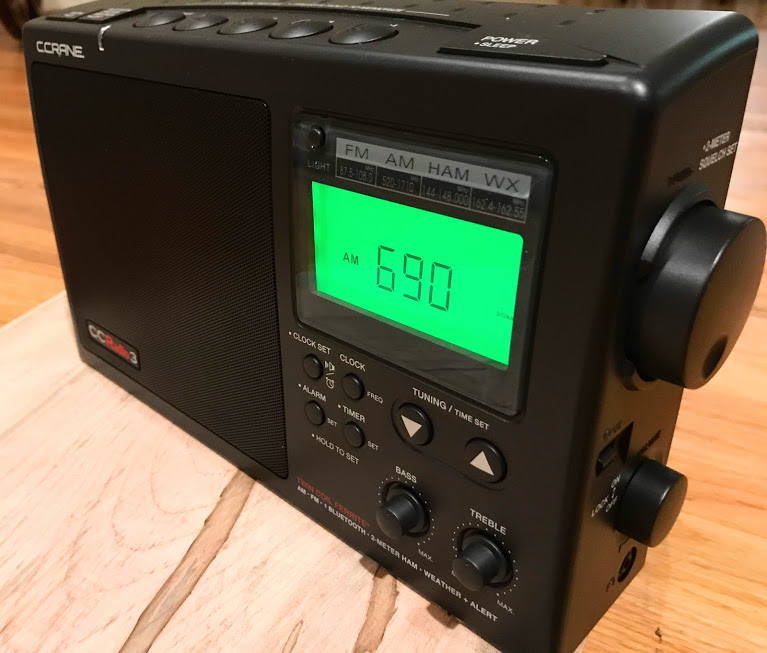 Radio Waves:  Stories Making Waves in the World of Radio
Welcome to the SWLing Post's Radio Waves, a collection of links to interesting stories making waves in the world of radio. Enjoy!
Many thanks to SWLing Post contributors Dennis Dura and Harry Dence for the following tips:
---
The Baader-Meinhof effect is the common name for what scientists call frequency illusion. Suppose you are watching Star Trek's Christopher Pike explain how he makes pasta mama, and you've never heard of it before. Immediately after that, you'll hear about pasta mama repeatedly. You'll see it on menus. Someone at work will talk about having it at Hugo's. Here's the thing. Pasta mama was there all along (and, by the way, delicious). You just started noticing it. We sometimes wonder if that's the deal with Morse code. Once you know it, it seems to show up everywhere.
One of the strangest places we've ever heard of Morse code appearing is the infamous case of Tojo's teeth. If you don't remember, General Hideki Tojo was one of the main "bad guys" in the Pacific part of World War II. In particular, he is thought to have approved the attack on Pearl Harbor, which started the American involvement in the war globally. Turns out, Tojo would be inextricably tied to Morse code, but he probably didn't realize it. [Continue reading at Hackaday…]
A 'radio' that lets you listen in to broadcasts from cities around the world…but there's a catch.
Have you ever felt the options for Morse code communication were too limited? Well, look no further than [marsPRE]'s open source WristMorse communicator that can connect over WiFi, can act as a Bluetooth keyboard or just be used as a Morse Code trainer.
[marsPRE] uses the M5StickC Plus as the base device and attaches a custom "hat" consisting of a 2.5 mm plug for a radio connection and two capacitive touch paddles that act as the Morse Code keyer. The add-on is housed in what looks like a custom 3D print and hangs off of the end of the M5StickC Plus, connecting the hat through an eight 0.1 inch pin header. [Continue reading at Hackaday…]
Sister Boniface episode "Dead Air" is a pirate radio-themed
Many thanks to SWLing Post contributor, Harry Dence, who writes:
Do you watch BritBox? Hope so!
Today they released Season 2, Episode 8 of the Sister Boniface mysteries, called "Dead Air."
Set in England of the Radio Caroline era, the episode concerns a pirate radio station called Radio Catherine, a bit of humor along with the mystery, and an homage to Radio Caroline in its ending. Also a sight gag that will please Spinal Tap fans and reference to the GPO controlling the airwaves.
Thank you for the tip, Harry! 
Note: this is a petition managed by WeAreBroadcasters in opposition to a proposed tax:
Encourage Congress to support local radio!
Legislation that would force local radio stations to pay new fees simply for playing music has been introduced in Congress. The American Music Fairness Act (AMFA) would put stations out of business and impact their ability to provide the news, traffic, weather, emergency information and entertainment you rely on every day. The Local Radio Freedom Act opposes new performance fees on local radio stations and recognizes radio's vital role in every community. Please take action today and encourage your members of Congress to oppose the AMFA and cosponsor the Local Radio Freedom Act. Your voice matters!
---
Do you enjoy the SWLing Post?
Please consider supporting us via Patreon or our Coffee Fund!
Your support makes articles like this one possible. Thank you!