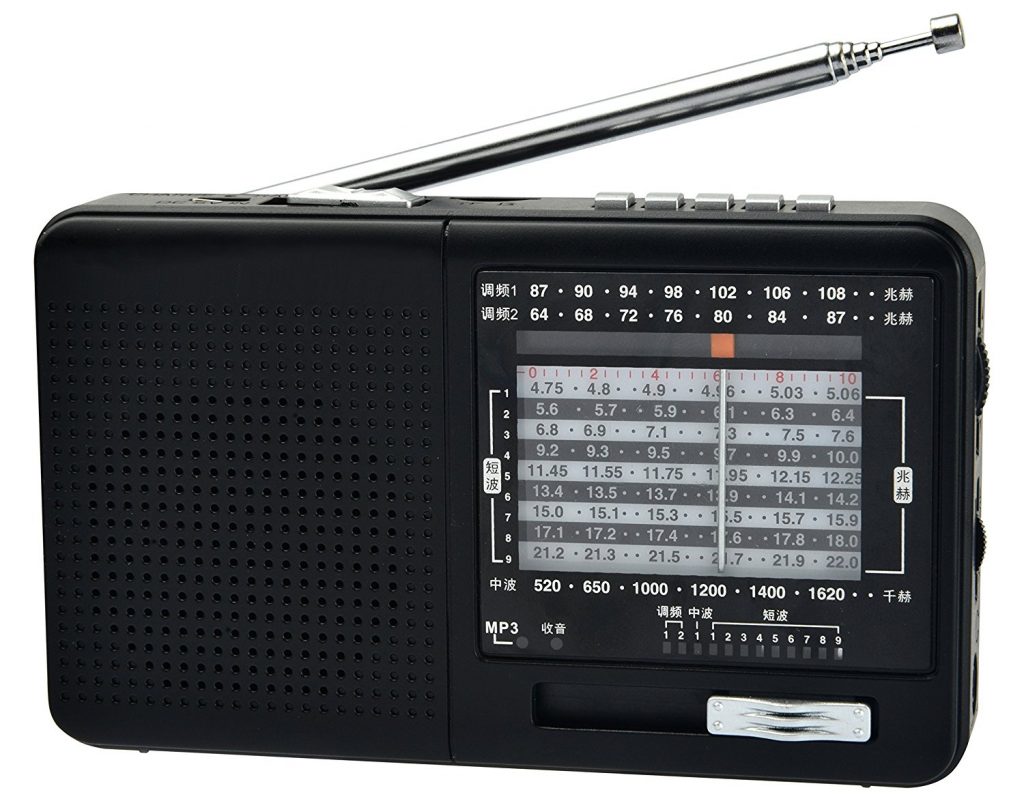 Many thanks to SWLing Post contributor, The Professor, who shares the following review of the XHDTA D-328:
First off, this is the best radio I've ever operated… that cost me less than ten dollars new. When I saw the promotion on the SWLing Post for free or half price radios, I had to bite, especially because the deal was that the first ten to respond would get a free XHDATA D-328. They told me I was the 15th caller, so I was allowed one for half price. And since they were going for just under fourteen bucks on Amazon, it felt like it was almost free.

Of course, I didn't expect much. But as they wanted the people who received these free or very inexpensive little radios to leave reviews, I figured the Chinese manufacturers knew there were some good features radio folk might notice. And there are. And I'm not sure if I'll post part of this brief review on Amazon, but I'll do so here in this comment.

If you want a radio that will reliably pick up local AM and FM stations and play some MP3 files, this will work, and work pretty well. And it doesn't sound bad at all for the size. I personally don't have much love for these new analog-style tuning DSP radios, but I suppose people who aren't as radio wise as readers of the SWL Listening Post won't notice the less than poetic effects of moving between stations on these sets. Most probably tune in their desired stations and just listen to it, and this radio does this well enough.

I don't really listen to FM much, but the XHDATA D-328 seems adequate enough. And with headphones on it sounds quite rich on FM. AM isn't bad either, but it's far from selective. I was able to dig out clear channel regional biggies like Zoomer Radio at 740kHz and WHAS at 840kHz in Louisville from here in Brooklyn at night, but in between often easy to find fifty-thousand watt stations like WBBM or CKLW weren't there. The DSP tuning just defaulted to the next local station like WNYC or WABC when I turned the dial.

Shortwave was worse. Beyond the U.S. powerhouses like WWCR this radio doesn't seem a very worthy shortwave set for those of us in North America. But I can imagine in that in third world countries where international and local broadcasters still target broadcasts that this radio might be an inexpensive way to access that programming.

I must admit that listening to MP3 music files was kind of pleasing. Again, the audio is really good for a radio at this price point. However you are listening blind, there's no screen to tell you what you're hearing, and no shuffle function to make a folder full of MP3s into unique sequences of songs each time. What you get are the songs in the alphabetical order of the file titles, although you do have the option to jump ahead 10 files before or after the one you are playing. So the best use of an MP3 player like this would be to listen to podcasts or whole radio programs with it. What I would do is copy the files onto the SD card and then perhaps number the filenames in the order I would like to hear the shows.

So, for the price there's not a lot to complain about. People have already mentioned the off-center small kickstand, and that's a little cheesy. But the tuning thumb wheel moves smoothly thru the imperfect DSP tuning function, and the volume thumb wheel is actually analog which make it much easier to get the exact volume you want out of this radio. But the sliding band selection switch under the tuning scale is a bit worrisome, as I've had a few cheap Chinese radios with a switch like this and just normal use eventually rendered them unable to switch bands adequately. This one feels a little bit more stable then they did, but time will tell.

All that said, there are radios that are not too much more expensive than this radio that offer much more in a number of ways. The small and inexpensive analog Tecsun radios from a few years ago are a case in point. Selling for twenty to thirty dollars, those multi-band radios are a little challenging to tune (a stiff thumb wheel on some), and the tuning scale may be a little off and they may drift a little, but the analog tuning is a much better experience. And you can DX with them. I remember listing to All India Radio with a decent signal one afternoon on my Tecsun R-9710.

There's a lot of similar analog radios which I believe are probably just about the same radio – the Tecsun R-9012, the Tecsun R-911, the Tecsun R-909 and the Kaito WRX-911, among others. Once you get a look at these you'll recognize other similar radios in this family. I'd say they're the best really cheap receivers I know of. They generally run between twenty to just over thirty bucks. I believe these radios appeared on the scene in the early 2000s.

I have this fear that they'll start turning these radios into DSP sets. That would be a real shame, but I've heard no mention of that. However I did notice that the marketers of the XHDATA D-328 didn't even mention that it was based on a DSP chip. And Chinese manufacturers are notoriously not very open about how they are altering radios that they're putting out, so be aware of that.

As far as MP3 playback, the one radio I would really recommend is the Meloson (or Tesslor) M8 (or the Meloson M7 or S8 if you can find one). It's simply the best audio you'll hear in a really small radio, AND you can shuffle the MP3 files in a folder with these. While it only give you the sequential number of the song in the display, it will generate a unique sequence of songs each time you shuffle. Fill a folder on a card full of songs and let it rip. It's the perfect micro music player if you make a good folder of music. And the DSP radio in these is not bad either. It's digital, not fake analog tuning, and most AM clear channel targets you can usually find at night in your region will show up on these. They used to go for less than thirty bucks, but right now I see they cost close to fifty dollars.

Two other radios I have that I can recommend for MP3 playback, are the Tecsun ICR-110 and the Tivdio V-115. Neither one offers playback shuffle, but they will play the files in alphanumeric order just fine. But they both have a cool feature in that you can press a button and record the broadcast you're hearing as an MP3 file. And they both also sound great. The Tivdio has incredible sound for a tiny radio, but the ICR-110 is even more impressive. I believe it has the same speaker setup as the much more expensive Tecsun PL-880 and it also has similar warm and clear audio.

The reception with the V-115 is OK, nothing stellar, but the ICR-110 is kind of a monster on medium wave. I've been impressed. The ICR-110 is rather big compared to the other radios I've mentioned, closer to the PL-880 in size, but quite a bit lighter. The ICR-110 used to be cheaper, but can be found for around forty bucks. The Tivdio V-115 still goes for just under twenty if you look around. A bargain. Tecsun, Tivdio, Degen and other Chinese manufacturers have all sorts of inexpensive radios for sale out there, and others I haven't used or mentioned might be quite good as well. If one appeals to you, do a little online research.

Of course, since I'm talking about small and inexpensive radios I should mention that the Tecsun digital DSP sets like the PL-310ET, the PL-360, PL-380, PL-390 and other variations are all amazing inexpensive radios that will run you around 35 to 50 bucks. The ultralight DX community loves these things, and for good reason. And there's a version of the PL-390 that plays MP3 files from an SD card and another that offers bluetooth playback. No, none are perfect, but they're solid sets, and all would have been dream radios thirty years ago.

So, that's my evaluation of the XHDATA D-328, well worth fourteen dollars, but for a few dollars more you can get radios with similar features that do much more. It's small, it doesn't sound bad, and it's fairly well-built. It will pick up all your favorite local stations and play all your MP3 podcasts effortlessly. Not bad. Like I said, it's the best super cheap radio I've ever used.
Excellent review!  I'm impressed that the D-328 has enough AM performance to grab some  night time clear channel stations. It's disappointing, however, that it lacks performance on the shortwave bands.
Thanks for posting your review–always great to hear from The Professor!
The XHDATA D-328 is available on Amazon.com (affiliate link).