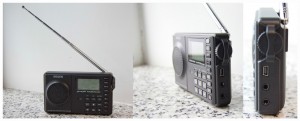 Thanks to a tip from the Herculodge, I discovered the DE1129A: a version of the recently reviewed Degen DE1129 with RDS. RDS is a very useful feature–especially for instant FM station ID on the go.
The DE1129A is available from Anon
, a trusted Degen distributor from Hong Kong, on eBay
. I have purchased from them before and have been very pleased with their service. Click here to view their listings.
If you've been sitting on the fence about purchasing the DE1129, perhaps RDS will sway you toward purchasing this portable radio with integrated digital recording and playback.
Frankly, I was unimpressed by the DE1129. Though the radio has very good FM reception and an impressive little speaker with bass response,  I believe the majority of shortwave and medium wave radio listeners would be upset with its overall performance.  I can't imagine that Degen's updates would bring dramatically improved performance on the shortwave and mediumwave bands. If nothing else, the lack of a number pad to directly input frequencies, would put me off. Cruising through the shortwave bands at slow 5kHz steps with noted muting between frequencies make band-scanning a chore on the DE1129.
DE1129 Number Keypad?
Speaking of a number pad…earlier this year, TecsunRadio.com told me that there would soon be a version of the DE1129 with a number keypad.  They published a prototype image (see right). When I first saw this image, I could instantly see that it had been Photoshopped; obvious use of cloning tools and the fact that the number pad characters are not in alignment with the buttons really stand out. Still, for a prototype image, it gives you a good sense of what the final product will look like.
Within weeks, I started noticing the keypad version of the DE1129 appearing in search results on eBay and had assumed it was in production.
This morning, I opened an eBay listing of the DE1129 keypad version (see image on right) from pbuying.usa. Their listing clearly shows the same Photoshopped image from above. I then noticed that neither the product description nor any other image they feature indicates a number pad on the DE1129. I wrote a message to them this morning asking for clarification and will update this post with their response.
UPDATE: pbuying.usa confirmed that his radio does not have a number pad and was apologetic and thankful that it was pointed out. The image has been removed.
I mention this as a note of caution: On eBay, you should always confirm any discrepencies before purchasing.  Though you could rightfully return the radio and get a refund, return shipping to Hong Kong/China (which you would pay for) could be in excess of $20-25 US.
By the way, though the addition of a number keypad on the DE1129 would make this radio at least 50% more usable, it would not sway me to recommend it because receiver performance is so mediocre. Check out my other review notes here.
I'm very curious if any SWLing Post readers have actually received a keypad version of the DE1129–please comment!