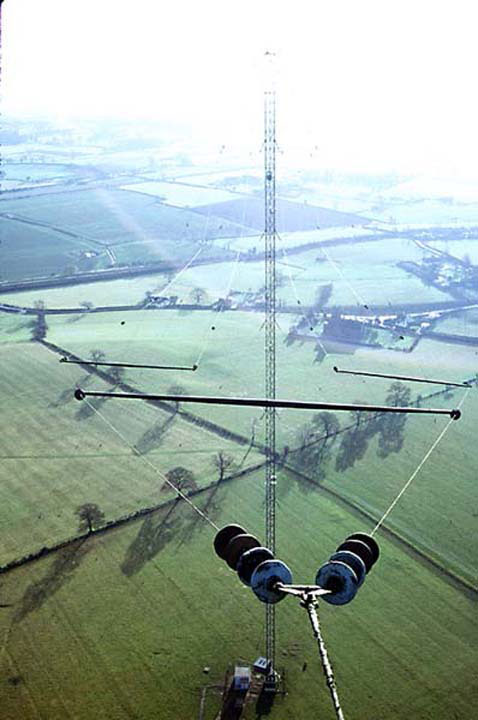 Many thanks to SWLing Post contributor, Dave Porter, who writes:
This picture [above] has just emerged, photographer unknown but most likely a rigger from the top of one of the 700′ masts there!

This was taken at Droitwich sometime after colour photography came in (late 1960's) and before 1986 when the four wire Tee was replaced by a new design developed by BBC Antenna Engineer Tony Preedy, G3LNP that improved upon the 11-j85 Ohms driving point impedance giving a few more ohms and less capacitive reactance for the 2 x 250kW B6042 transmitters and a greater radiation efficiency.

Tony's present LF array does not look so symmetrical as it comprises four separate Tee wires with the drops as a square box rather than the centre-joined drops of this one.

Tony also developed a low profile Tee antenna over 3 x 17m wooden telegraph poles for MF at up to 1 kW that was used when planning restrictions were enforced. Efficiencies were up to 40% at the 1500 kHz end of the band. However, if used by birds as an overnight roost it could provoke VSWR trips on solid state transmitters, the fix was to use a sliding reduced power detector that wound down the power to a level that did not trip the VSWR monitoring. Old tube transmitters were not affected!

The operating frequency for this LF Tee was 200 kHz at that time, now the antenna is on 198 kHz
Wow–thank you, Dave, for sharing this photo. We truly appreciate your impressive knowledge of UK broadcasting and history! And, wow! The views those riggers took in!