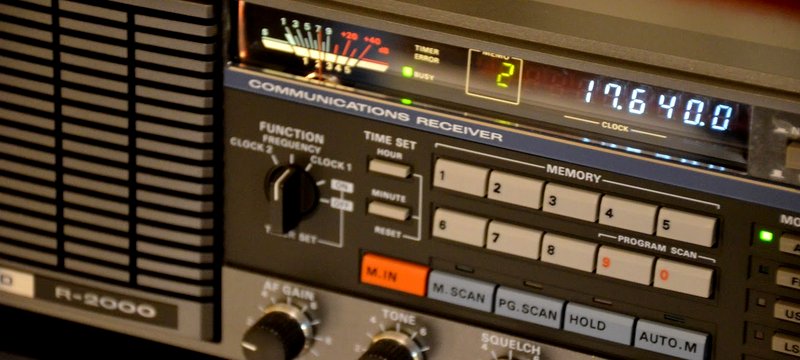 Radio Waves:  Stories Making Waves in the World of Radio
Because I keep my ear to the waves, as well as receive many tips from others who do the same, I find myself privy to radio-related stories that might interest SWLing Post readers.  To that end: Welcome to the SWLing Post's Radio Waves, a collection of links to interesting stories making waves in the world of radio. Enjoy!
Many thanks to SWLing Post contributors Mike Terry, Tracy Wood, John Palmer, and Greg Jasionek for the following tips:
---
On Sunday December 13, a SpaceX Falcon 9 rocket successfully lifted off from SLC-40 at Cape Canaveral Space Force Station in Florida, carrying the SXM-7 satellite to a geostationary transfer orbit. The flight came two days after SpaceX's first launch attempt on Friday, which was aborted at t-minus 30 seconds. The company tweeted the reason for the scrub, "Standing down from today's launch attempt to perform additional ground system checkouts." While SpaceX did not point to a specific reason for the hold call, it can be assumed that either the onboard computers or ground controllers found something off-nominal in the final seconds before liftoff.

[…]The payload, the SXM-7 satellite, is the latest addition to Sirius XM's constellation of satellites aimed at delivering an extensive library of music and entertainment to most parts of the world. SXM-7, along with its sister satellite SXM-8 launching in 2021, are aiming to replace the company's aging XM-3 and XM-4 satellites. Contracted and built by Maxar for Sirius XM, the 7,000 Kilogram satellite is based on the SSL-1300 Bus and utilizes a host of S band transponders to provide satellite radio to customers in North America.

"Maxar and SiriusXM have worked together for more than two decades to build world-class digital audio radio satellites that bring entertainment to almost every new car in America," said Megan Fitzgerald, Maxar's Senior Vice President of Space Programs Delivery. "We are proud to have built the latest addition to the SiriusXM constellation and look forward to the launch of their next Maxar-built satellite, SXM-8, next year."[…]
Look inside the facility that broadcasts voice time signals in two languages

It is nestled in a farmer's field in southwestern Ottawa, Canada, in a protected area known as the Greenbelt, surrounded by miles of sprawling suburbia.

It is CHU, Canada's own automated time station.

Operating from a 1940s-era transmitter building and three vertical antenna towers, CHU broadcasts automated voice time signals in both English and French 24/7.

Its broadcasts are transmitted on 3.33, 7.85 and 14.67 MHz, and are heard through central/eastern Canada and the eastern United States, plus many other areas of the planet on a regular basis.

CHU's time service is operated by Canada's National Research Council, with the station being remotely controlled from the NRC's Montreal Road headquarters central Ottawa some 12 miles away. The time signals are based on CHU's trio of atomic clocks on-site, which are constantly checked against the atomic clocks at NRC headquarters.

"We are equipped with 1960s-era 10 kW transmitters that have been highly modified over the years," said Bill Hoger. He is the Research Council officer who maintains the unmanned station as part of his overall duties along with two other off-site technicians.[…]
Thank you for your continued patronage of Icom products.

Regarding the 144 / 430MHz dual band 5W digital transceiver "ID-52" released in October 2020, there is a delay in the supply of parts from external partner companies, and additional production is significantly delayed. We sincerely apologize for the inconvenience caused to customers and retailers who are waiting for ID-52.

We will inform you about the timing of resuming production as soon as it is confirmed.

We are doing our utmost to resume production as soon as possible, and we appreciate your understanding.
There has been a lot of testing over last few month, with the new working prototype AM receiver. It has taking almost two years to get to this point with a lot of testing to find out what works and what does not.

The performance on Long wave and Medium wave is outstanding with the external loop configuration, this has many advantages over a ferrite rod antenna design. The Short wave performance is OK, where the front end RF transformers need to be improved with more testing. It out performs my Tecsun PL-398 that uses Digital Signal Processing (DSP), and comes close to what is possible within the high noise floor that you get in buildup areas.

The adaptive processing works very well, where you can set in software to work based on the signal level and if there is a pilot tone been detected (stereo indicator), this works for both the AM bands and for FM. As with the adaptive processing the noise reduction also works with both AM and FM bands, that has been use with Short wave and Long wave stations. The de-emphasis cave is design for 50 ?s, to pass a wider modulation bandwidth through up to 12.5 kHz.

The Denon TU-680NAB has been the reference receiver throughout all the testing to get to this test point. As this was designed for the high end audio market in the 1990's, to provide the best possible performance for HiFi systems of the day.

[…]This will be marketed as a high end broadcast receiver, the aim is to stay well clear of low cost products from China, that are all too common these days. This is a Canadian product, showing that there are many new ideas and what possible in this area of development. With all these advancement it possible to provide a high quality music programming using AM radio that sounds as good as FM, with the advantages of larger coverage areas.[…]
---
Do you enjoy the SWLing Post?
Please consider supporting us via Patreon or our Coffee Fund!
Your support makes articles like this one possible. Thank you!